ProLite™ Orange Protein Gel Stain *5000X*
Ordering information
| | |
| --- | --- |
| Price | |
| Catalog Number | |
| Unit Size | |
| Quantity | |
Additional ordering information
| | |
| --- | --- |
| Telephone | 1-800-990-8053 |
| Fax | 1-800-609-2943 |
| Email | sales@aatbio.com |
| Quotation | Request |
| International | See distributors |
| Shipping | Standard overnight for United States, inquire for international |
Physical properties
| | |
| --- | --- |
| Molecular weight | 486.72 |
| Solvent | Water |
Spectral properties
| | |
| --- | --- |
| Excitation (nm) | 484 |
| Emission (nm) | 586 |
Storage, safety and handling
| | |
| --- | --- |
| H-phrase | H303, H313, H333 |
| Hazard symbol | XN |
| Intended use | Research Use Only (RUO) |
| R-phrase | R20, R21, R22 |
| Storage | Freeze (< -15 °C); Minimize light exposure |
| UNSPSC | 12171501 |
Prolite™ Orange is an alternative protein stain that can be used to replace SYPRO Orange Protein Gel Stain (SYPRO is the trademark of ThermoFisher). Prolite™ Orange is a sensitive, ready-to-use fluorescent stain for total protein detection in 1D gels. The sensitivity of Prolite™ Orange is as good as or better than traditional silver staining techniques. Stained proteins can be viewed with a standard UV or blue-light transilluminator or imaging equipment containing the appropriate filters or lasers. Fluorescent stains are rapid, and highly sensitive for detecting total protein in protein electrophoresis gels and membranes. The Prolite™ Orange fluorescent stain can be used for total protein quantitation and can be viewed using a standard UV or blue-light transilluminator or with imaging instruments equipped with appropriate light sources.
Example protocol
AT A GLANCE
Storage and Handling
Store at -20 °C protected from light. Product is stable for at least 12 months from the date of receipt when stored as recommended. The ProLite™ Orange diluted in acetic acid or buffer can be stored in glass or plastic bottles at 4 °C for three months, protected from light. Before opening, each vial should be allowed to warm to room temperature and then briefly centrifuged in a microfuge to deposit the DMSO solution at the bottom of the vial. If dye particles are present, briefly sonicate the tube or vortex the tube vigorously.
Safety
We advise researchers to follow universal laboratory safety precautions when handling ProLite™ Orange dye.
PREPARATION OF WORKING SOLUTION
ProLite™ Orange solution (5000X)
Dilute the 5000X ProLite™ Orange stock solution to make 1X ProLite™ Orange stock solution using 7.5% (v/v) acetic acid and mix vigorously.


Note

     The working solution can be reused up to four times. However, we observed significant reduction in response after the second reuse. It's highly recommended to use fresh working solution for the optimal result.
SAMPLE EXPERIMENTAL PROTOCOL
The following protocol is recommended and can be used as guideline. However some comparisons might be needed to determine which one better meets your needs.
Staining Proteins after Electrophoresis
Run gels as per your protocols.

Pour the working solution into a small plastic dish.


Note

     For one to two standard size minigels, use about 50 mL of working solution. For larger gels, use between 500 to 700 mL of working solution.


Note

     Make sure to add enough working to completely immerse the gels.

Place the gel into the working solution.


Note

     Cover the container with aluminum foil to protect the dye from light.

Gently agitate the gel at room temperature for 10 to 60 minutes.

Rinse briefly with 7.5% acetic acid.

Gels may be visualized on a standard 300 nm UV transilluminator or with a blue-light transilluminator.

Destaining: Gels can be mostly destained by incubation overnight in 0.1% Tween® 20. Alternatively, incubation in several changes of 7.5% acetic acid will eventually remove all of the stain. 
Calculators
Common stock solution preparation
Table 1.
Volume of Water needed to reconstitute specific mass of ProLite™ Orange Protein Gel Stain *5000X* to given concentration. Note that volume is
only
for preparing stock solution. Refer to sample experimental protocol for appropriate experimental/physiological buffers.
| | | | | | |
| --- | --- | --- | --- | --- | --- |
| | 0.1 mg | 0.5 mg | 1 mg | 5 mg | 10 mg |
| 1 mM | 205.457 µL | 1.027 mL | 2.055 mL | 10.273 mL | 20.546 mL |
| 5 mM | 41.091 µL | 205.457 µL | 410.914 µL | 2.055 mL | 4.109 mL |
| 10 mM | 20.546 µL | 102.728 µL | 205.457 µL | 1.027 mL | 2.055 mL |
Molarity calculator
Enter any two values (mass, volume, concentration) to calculate the third.
Mass (

Calculate

)
Molecular weight
Volume (

Calculate

)
Concentration (

Calculate

)
Moles
/
=
x
=
Spectrum
Open in Advanced Spectrum Viewer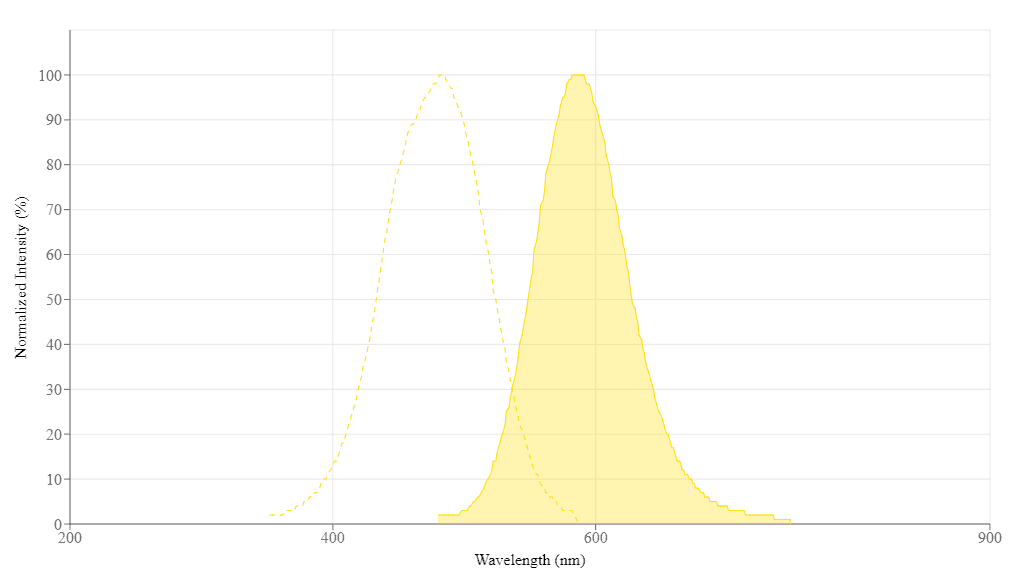 Spectral properties
| | |
| --- | --- |
| Excitation (nm) | 484 |
| Emission (nm) | 586 |
Images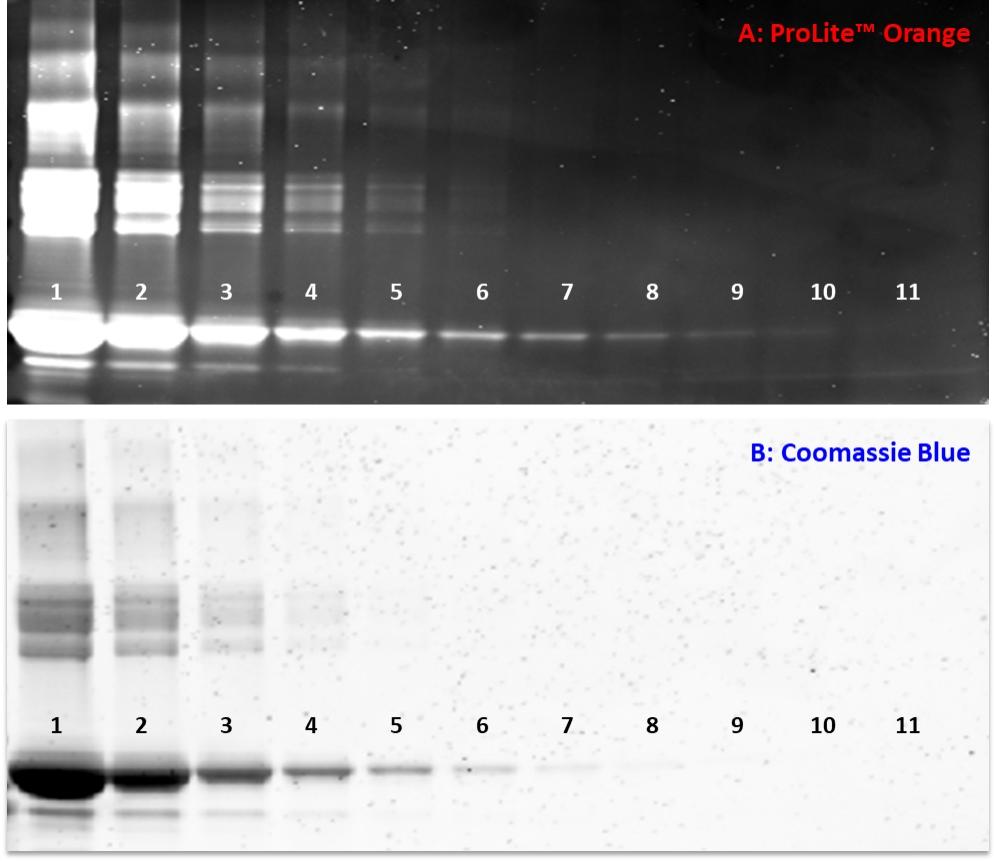 Figure 1.
Three-fold dilution series of BSA standards were separated on a NuPAGE® 4–12% Bis-Tris gel and stained with A) ProLite™ Orange Protein Gel Stain or B) Coomassie brilliant blue (CBB) according to standard protocols. The ProLite™ Orange stained gels were photographed using a SYPRO Orange filter. The CBB-stained gels were photographed using transmitted white light without an optical filter.
Lane 1: 15ug, Lane 7: ~20ng, Lane 10: ~0.8 ng BSA.
References
Ligand binding to a humanized anti-cocaine mAb measured by dye absorption spectroscopy.
Authors:
Kirley, Terence L and Norman, Andrew B
Journal:
Biochemical and biophysical research communications
(2021)
: 93-98
Fluorescent thermal shift-based method for detection of NF-κB binding to double-stranded DNA.
Authors:
Leitner, Peter D and Vietor, Ilja and Huber, Lukas A and Valovka, Taras
Journal:
Scientific reports
(2021)
: 2331
Thermal Shift Assay for Exploring Interactions Between Fatty Acid-Binding Protein and Inhibitors.
Authors:
Hao, Jiaqing
Journal:
Methods in molecular biology (Clifton, N.J.)
(2021)
: 395-409
Thermal shift assay to probe melting of thrombin, fibrinogen, fibrin monomer, and fibrin: Gly-Pro-Arg-Pro induces a fibrin monomer-like state in fibrinogen.
Authors:
Crossen, J and Diamond, S L
Journal:
Biochimica et biophysica acta. General subjects
(2021)
: 129805
SYPRO Orange - a new gold standard amyloid probe.
Authors:
Mora, Aruna K and Nath, Sukhendu
Journal:
Journal of materials chemistry. B
(2020)
: 7894-7898
A novel differential scanning fluorimetry analysis of a humanized anti-cocaine mAb and its ligand binding characteristics.
Authors:
Kirley, Terence L and Norman, Andrew B and Wetzel, Hanna N
Journal:
Journal of immunological methods
(2020)
: 112676
nanoDSF: In vitro Label-Free Method to Monitor Picornavirus Uncoating and Test Compounds Affecting Particle Stability.
Authors:
Real-Hohn, Antonio and Groznica, Martin and Löffler, Nadine and Blaas, Dieter and Kowalski, Heinrich
Journal:
Frontiers in microbiology
(2020)
: 1442
Intrinsic Differential Scanning Fluorimetry for Fast and Easy Identification of Adeno-Associated Virus Serotypes.
Authors:
Rieser, Ruth and Penaud-Budloo, Magalie and Bouzelha, Mohammed and Rossi, Axel and Menzen, Tim and Biel, Martin and Büning, Hildegard and Ayuso, Eduard and Winter, Gerhard and Michalakis, Stylianos
Journal:
Journal of pharmaceutical sciences
(2020)
: 854-862
Evaluation of fluorescent dyes to measure protein aggregation within mammalian cell culture supernatants.
Authors:
Oshinbolu, Sheun and Shah, Rachana and Finka, Gary and Molloy, Mike and Uden, Mark and Bracewell, Daniel G
Journal:
Journal of chemical technology and biotechnology (Oxford, Oxfordshire : 1986)
(2018)
: 909-917
Destructive twisting of neutral metalloproteases: the catalysis mechanism of the Dispase autolysis-inducing protein from Streptomyces mobaraensis DSM 40487.
Authors:
Fiebig, David and Storka, Juliana and Roeder, Markus and Meyners, Christian and Schmelz, Stefan and Blankenfeldt, Wulf and Scrima, Andrea and Kolmar, Harald and Fuchsbauer, Hans-Lothar
Journal:
The FEBS journal
(2018)
: 4246-4264