Introducing CytoCite™ Fluorometer with Cloud-Integration
The CytoCite™ Fluorometer is the first cloud-integrated, handheld fluorometer. This device, when paired with the appropriate bioassays, can be used to quantify biomolecules " proteins, nucleic acids, bacteria and other small molecules " with a high degree of sensitivity, accuracy and repeatability. It can also be used as a standalone single-channel fluorometer for assay development.
Features of the CytoCite™ Fluorometer include:
A comprehensive library of optimized CytoCite™ bioassays and fluorimetric reagents
A blue fluorescence channel: excitation of 457 " 487 nm & emission of 515 " 565 nm
Greater selectivity and more accurate quantification than absorbance measurements
Detection of as little as 1 nM of fluorescein (Green channel only)
Large dynamic range " encompassing five orders of magnitude
High sensitivity " requires as little as 1 µL of sample volume, perfect for working with precious or limited samples
Compact design for a small benchtop footprint
In addition to providing quantitative measurements that are simple and reliable, the CytoCite™ Fluorometer features an intuitive cloud integrated platform, powered by Device Cloud. This sophisticated piece of software enables researchers to easily monitor instruments, read samples and organize results. When paired with the Device Cloud website, users can access additional functions of the software and instrument through popular web browsers. These include further integration with AAT Bioquest's Quest Graph™ data analysis suite for linear regression modeling, IC
50
and EC
50
calculations, as well as provide real-time data synchronization and backup across any authorized computer.
Features of the Device Cloud platform include:
End-to-end encryption algorithms to protect valuable data
Free unlimited storage of your data
Seamless synchronization of data across multiple platforms, easily accessible from any authenticated device
Automated daily backups to prevent unexpected data loss
Convenient data export to Microsoft Excel (*.xls, *.xlsx) as well as comma separated values (*.csv)
Integration with Quest Graph™ data analysis suite for linear regression modeling, IC50calculations and more analysis
Product Specifications
---
The general layout of the CytoCite™ Fluorometer is shown in the following figure.
They key components are as follows:
Micro-USB B cable port. The CytoCite™ Fluorometer must be connected to a computer through the micro-USB port, located on the back of the device, in order to function.
Sample chamber. This is where the sample containing assay tube must be placed before initiating fluorometric analysis with the instrument.
Power indicator. LED strip that lights up when the device is successfully paired with the AAT Bioquest Device Cloud software. Please note that simply plugging the CytoCite™ Fluorometer into a computer will not cause the power indicator to light up. It will only light up when actively running through the AAT Bioquest Device Cloud software.
Authenticity sticker. All authentic CytoCite™ Fluorometer devices will have a hologram sticker as well as a Certificate of Conformity (COC) shipped with the device. Please contact devices@aatbio.com if either is missing.
Table 1. The following table lists the physical, electrical, and optical properties of the CytoCite™ Fluorometer
Instrument

CytoCite™ Fluorometer

Dimensions
3.54"L x 2.83"W x 1.54"H (9.0 cm x 7.2 cm x 3.9 cm)
Weight
~0.3 lbs (135 g)
Operating Ranges
10 - 30 °C; < 80% relative humidity
Installation location
Indoor use only
Typical Power Consumption
2.5 VA
Power Requirements
5 VDC, 0.5 A
Computer Interface
Micro-USB B, USB 2.0
Dynamic Range
5 orders of magnitude
Light source (device dependent)
Blue LED (max ~470 nm) (Cat No. CBG100)
Green LED (max ~530 nm) (Cat No. CGR100)
Excitation Filter (device dependent)
Blue 457 - 487 nm (Cat No. CBG100)
Green 517 - 547 nm (Cat No. CGR100)
CytoCite™ Fluorimetric Quantification vs. UV " Absorbance Measurements
---
Quantification of DNA or protein concentration in a sample is critical for the success of downstream applications such as next-generation sequencing, expression of proteins or qPCR. It can also prevent time consuming troubleshooting and reduce costly errors. For these reasons, scientists prefer a method of quantification that is high in sensitivity and accuracy.

Historically, DNA and protein quantification have been determined using spectrophotometry. This method uses spectrophotometers to measure concentration based on a molecule's absorbance profile at specific wavelength: 260 nm for nucleic acids or 280 nm for proteins. Unfortunately, UV"absorbance suffers from poor selectivity and in certain applications can provide inaccurate readings because spectrophotometers are unable to discern between targets of interest and contaminants that absorb light at the same wavelength.

CytoCite™ fluorimetric quantification easily outperforms absorbance methods in sensitivity and accuracy. Two factors contribute largely to this, the first being instrumentation. The CytoCite™ Fluorometer has the capacity to measure samples with a high degree of linearity covering five orders of magnitude. This enable for more precise and accurate measurements of sample concentrations over a wider range.

Second, CytoCite™ fluorometer utilizes specially designed fluorescent dyes that are highly sensitive and selective to the target of interest. Because these dyes only fluorescence when bound to the target molecule " DNA or protein " fluorescence quantitation is not conflated with noise due to sample contaminants, free nucleotides or buffer elements. Another characteristic of CytoCite™ fluorescent dyes that contribute to assay sensitivity are their high extinction coefficients and fluorescence quantum yields. These properties enable dyes to generate significantly intense fluorescence signals that allow for the detection of molecules at three orders of magnitude lower than what is detectable by traditional absorbance.

 
What CytoCite™ assays are currently available?
---
CytoCite™ assays kits are available for double-stranded-DNA (dsDNA) and protein quantification. Unlike UV absorbance, which can often overestimate sample concentration due to contaminants, CytoCite™ assays are far more sensitive. Features of CytoCite™ assays include:
Enhanced selectivity " assays utilize target-specific dyes that selectively bind to DNA or proteins
Accurate measurements with significantly less noise " dyes emit fluorescence only when bound to the target of interest, minimizing the effects of contaminants in samples
Optimized protocols in simple to perform, mix-and-read formats for minimal hands on time
Designed to work seamlessly with the CytoCite™ Fluorometer and Device Cloud Software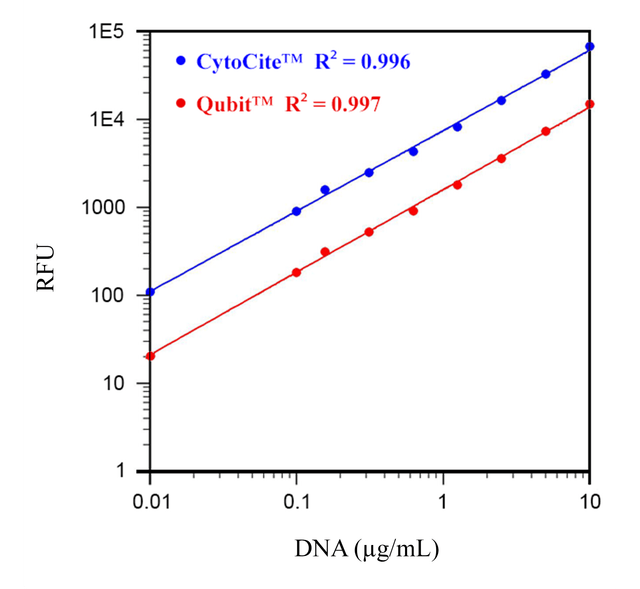 Performance comparison of DNA sample concentration ranges for CytoCite™ and Qubit™. Comparable results are achieved from 0.01 to 10 µg/mL for both AAT Bioquest CytoCite™ and Invitrogen Qubit™ dsDNA quantification.
CytoCite™ DNA Quantification
The CytoCite™ fluorimetric dsDNA quantification kit *High Sensitivity*, can be used to selectively measure dsDNA in in the presence of single-stranded DNA (ssDNA), RNA and free nucleotides. It provides a linear detection range over three orders of magnitude, between 0.01 µg/mL and 10 µg/mL (Figure 1.), and has little sequence dependence, allowing researchers to accurately measure DNA from many sources including genomic DNA, viral DNA, plasmid DNA or PCR amplification products. The CytoCite DNA assay kit contains:
CytoCite™ DNA HS reagent
Ready-to-use assay buffers
dsDNA standard solution
Simple mix-and-read protocol for dsDNA quantitation
CytoCite™ Protein Quantification
---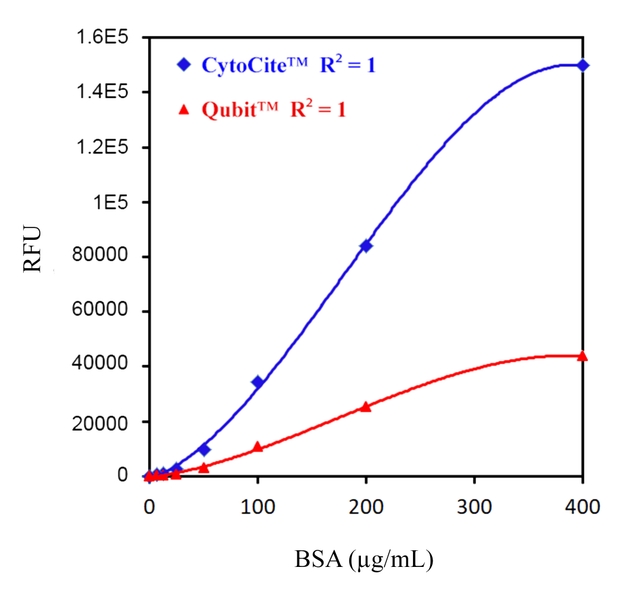 Performance comparison of BSA sample concentration ranges for CytoCite™ and Qubit™. Comparable results are obtained from 0 to 400 µg/mL for both AAT Bioquest CytoCite™ and Invitrogen Qubit™ protein quantification.
The CytoCite™ fluorimetric protein quantitation kit provides a convenient method for quantifying proteins within 15 minutes. Simply, dilute the reagent using sample dilution buffer, add to sample, and read the concentration using the CytoCite™ Fluorometer. This assay can detect as little as 50 ng/mL of protein and provides precise and accurate measurements for initial sample concentrations ranging from 12.5 µg/mL to 5 mg/mL. Common contaminants such as salts, solvents, reducing agents, amino acids and DNA, are well tolerated in this assay. The CytoCite™ protein assay kit contains:
CytoCite™ protein reagent
Ready-to-use assay buffers
BSA standard solutions
Simple mix-and-read protocol for protein quantitation
Additional CytoCite Resources
---
User Manuals
Troubleshooting