OxiVision™ Sensors
The role of hydrogen peroxide in cellular biology is a dominant research topic as more discoveries are made about how oxidative stress modulates intracellular pathways. Perhaps the most intriguing aspect of H2O2 biology is the recent report that antibodies have the capacity to convert molecular oxygen into hydrogen peroxide to contribute to the normal recognition and destruction processes of the immune system. AAT Bioquest's OxiVision™ series products are an efficient tool for experiments requiring highly specific fluorescent response and cell permeability.
OxiVision™ Hydrogen Peroxide Sensors
---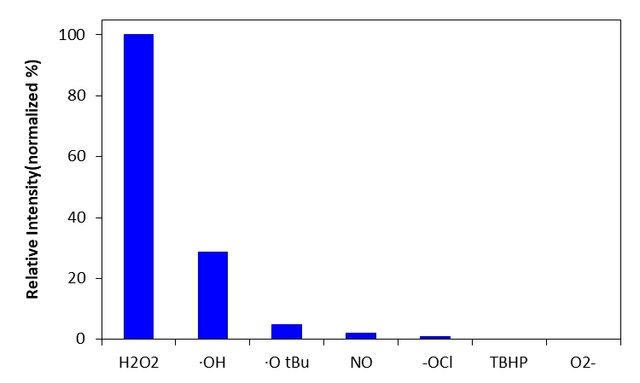 The cell-permeable OxiVision™ hydrogen peroxide sensors are non-fluorescent and display no absorption in the visible region. The addition of H2O2 triggers a prompt fluorescence increase with concomitant growth of a visible wavelength absorption band. These probes have a large dynamic range due to their binary absorption/emission response. Most importantly, the fluorescence response of OxiVision™ hydrogen peroxide sensors is H2O2-selective. The sensors are available in two emission spectra, with OxiVision Green™ and OxiVision Blue™ integrated into their respective Cell Meter™ Kits below.
OxiVision Green™
, due to its ever-growing popularity, is also available as a standalone item.
Other probes and kits investigating hydrogen peroxide and ROS include multiple products within the
Amplite™
series (click button below for more information) and others such as the
ROS Brite™ probes
.
For selection guides, visit our ROS catalog page
here
or read our Assaywise article on choosing the right ROS probe
here
.
Learn More
Fluorescence Spectrum Viewer
Need assistance selecting the best fluorophore for your experiment, use our Fluorescence Spectrum Viewer:
View and compare fluorophores and fluorescent proteins for biological applications
Check spectral compatibility
Add multiple excitation and emission filters
Save spectra configuration as a PNG or hyperlink
Cell Meter™ Kits Integrating OxiVision™ Sensors
---
Among ROS, hydrogen peroxide is a major regulator and by-product in many signal transduction pathways. Consequently, researchers often need to quantify intracellular H2O2 to gauge the oxidative state of their cellular subjects. These measurements can help determine levels of inflammation, occurrence of apoptosis, and the degree of other signs of oxidative stress and imbalance.
The Cell Meter™ Intracellular Fluorimetric Hydrogen Peroxide Assay Kits are designed to be an efficient method of measuring the levels of hydrogen peroxide within living cells. The kits integrate the popular OxiVision™ sensors and have 2 color options and an optimized version of each that is specifically for use with flow cytometers.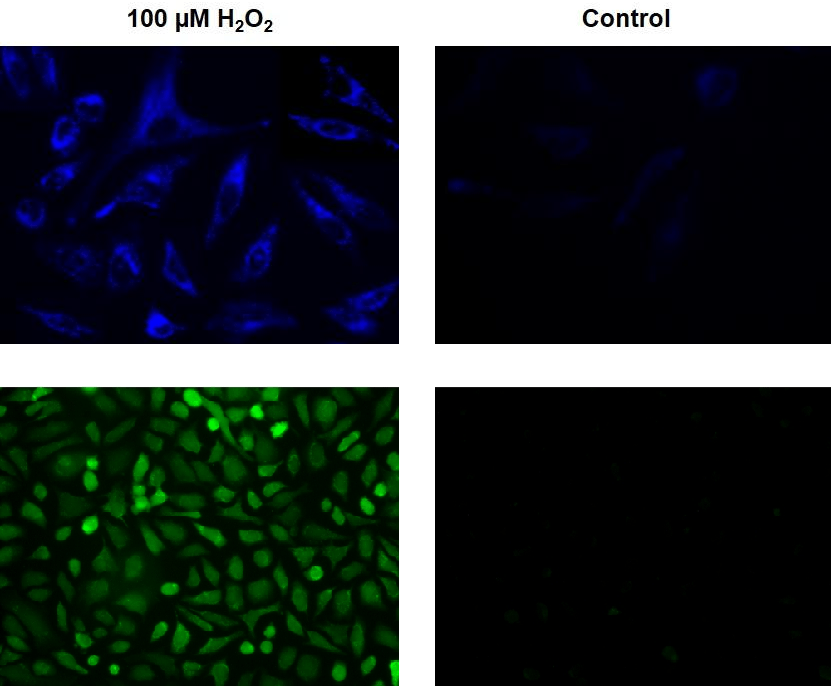 Fluorescence images of intracellular hydrogen peroxide in HeLa cells using Cell Meter™ Intracellular Fluorimetric Hydrogen Peroxide Assay Kits in both color variations:
Blue Fluorescence
(top row) and
Green Fluorescence
(bottom row). HeLa cells at 10,000 cells/well/100 µL were seeded overnight in a Costar black wall/clear bottom 96-well plate. 100 µM H2O2: HeLa cells were stained with OxiVision™ peroxide sensor for 30 minutes and treated with 100 µM hydrogen peroxide at 37°C for 90 minutes. Control: Cells were stained with OxiVision™ peroxide sensor but without hydrogen peroxide treatment. The fluorescence signals were measured using fluorescence microscope with a DAPI filter (top) or FITC filter (bottom).
Table 1. Cell Meter™ Intracellular Hydrogen Peroxide Kits For Cell Meter™ Kits Integrating OxiVision™ Sensors