Screen Quest™ Fluo-8 Medium Removal Calcium Assay Kit *Optimized for Difficult Cell Lines*
Ordering information
| | |
| --- | --- |
| Price | |
| Catalog Number | |
| Unit Size | |
| Quantity | |
Additional ordering information
| | |
| --- | --- |
| Telephone | 1-800-990-8053 |
| Fax | 1-800-609-2943 |
| Email | sales@aatbio.com |
| International | See distributors |
| Bulk request | Inquire |
| Custom size | Inquire |
| Shipping | Standard overnight for United States, inquire for international |
Spectral properties
| | |
| --- | --- |
| Correction Factor (260 nm) | 1.076 |
| Correction Factor (280 nm) | 0.769 |
| Extinction coefficient (cm -1 M -1) | 23430 |
| Excitation (nm) | 495 |
| Emission (nm) | 516 |
| Quantum yield | 0.161 |
Storage, safety and handling
| | |
| --- | --- |
| Certificate of Origin | Download PDF |
| H-phrase | H303, H313, H333 |
| Hazard symbol | XN |
| Intended use | Research Use Only (RUO) |
| R-phrase | R20, R21, R22 |
| UNSPSC | 12352200 |
| | | | | | |
| --- | --- | --- | --- | --- | --- |
| Correction Factor (260 nm) | Correction Factor (280 nm) | Extinction coefficient (cm -1 M -1) | | | |
Calcium flux assays are preferred methods in drug discovery for screening G protein coupled receptors (GPCR). Screen Quest™ Fluo-8 NW Calcium Assay Kit provides a homogeneous fluorescence-based assay for detecting the intracellular calcium mobilization. Cells expressing a GPCR of interest that signals through calcium are pre-loaded with our proprietary Fluo-8 NW which can cross cell membrane. Fluo-8 NW is the brightest calcium indicator available for HTS screening. Once inside the cell, the lipophilic blocking groups of Fluo-8 NW are cleaved by non-specific cell esterase, resulting in a negatively charged fluorescent dye that stays inside cells, and its fluorescence is greatly enhanced upon binding to calcium. When cells stimulated with screening compounds, the receptor signals release of intracellular calcium, which greatly increase the fluorescence of Fluo-8 NW. The characteristics of its long wavelength, high sensitivity, and 100-250 times fluorescence increases (when it forms complexes with calcium) make Fluo-8 NW an ideal indicator for measurement of cellular calcium. This Screen Quest Fluo-8 NW Calcium Assay Kit provides an optimized assay method for monitoring
G-protein-coupled receptors
(GPCRs) and calcium channels. The assay can be performed in a convenient 96-well or 384-well microtiter-plate format and easily adapted to automation.
Platform
Fluorescence microplate reader
| | |
| --- | --- |
| Excitation | 490 nm |
| Emission | 525 nm |
| Cutoff | 510 nm |
| Recommended plate | Black wall/clear bottom |
| Instrument specification(s) | Bottom read mode/Programmable liquid handling |
Other instruments
ArrayScan, FDSS, FLIPR, FlexStation, IN Cell Analyzer, NOVOStar, ViewLux
Example protocol
AT A GLANCE
Protocol summary
Prepare cells
Remove the growth medium
Add Fluo-8 NW dye working solution
Incubate at RT for 1 hour
Monitor fluorescence intensity at Ex/Em = 490/525 nm
Important notes
Do not add additional probenecid. It is recommended to incubate the dye working solution no longer than 2 hours.
Thaw all components to room temperature before beginning protocol.
PREPARATION OF STOCK SOLUTION
Unless otherwise noted, all unused stock solutions should be divided into single-use aliquots and stored at -20 °C after preparation. Avoid repeated freeze-thaw cycles.
1. Fluo-8 NW stock solution:
For Cat No. 36307, add 10 µL of DMSO into Fluo-8 NW (Component A), and mix them well.
For Cat No. 36308 and 36309, add 100 µL of DMSO into Fluo-8 NW (Component A), and mix them well. Note: 10 µL of Fluo-8 NW stock solution is enough for 1 plate.
2. Assay Buffer stock solution (1X):
For Cat No. 36307 and 36308, add 9 mL of HHBS (Component C) into 10X Pluronic® F127 Plus (1 mL, Component B) and mix well.
For Cat No. 36309, add the whole bottle of 10X Pluronic® F127 Plus (10 mL, Component B) into 90 mL of HHBS buffer (not included in kit) and mix well. Note: 10 mL of 1X Assay Buffer is enough for one plate.
PREPARATION OF WORKING SOLUTION
SAMPLE EXPERIMENTAL PROTOCOL
Remove the growth medium from the cell plate. Note: It is important to remove the growth medium in order to minimize background fluorescence and compound interference with serum or culture media. Note: Alternatively, grow the cells in growth medium with 0.5% - to 1% FBS to avoid medium removal step. In this case, 2X dye loading solution in HHBS buffer is needed. [We offer 2 separate no wash calcium assay kits (Cat No. 36315 and Cat No. 36316) for those who use 0.5% to 1% FBS in growth medium to avoid the medium removal step].


Add 100 µL/well (96-well plate) or 25 µL/well (384-well plate) of Fluo-8 NW dye working solution into the cell plate.


Incubate the dye-loading plate in a cell incubator for 30 minutes, and then incubate the plate at room temperature for another 30 minutes. Note: If the assay requires 37°C, perform the experiment immediately without further room temperature incubation. Note: If the cells can function well at room temperature for longer time, incubate the cell plate at room temperature for 1 - 2 hours (It is recommended that the incubation time be no longer than 2 hours.)


Prepare the compound plates with HHBS or your desired buffer.


Run the calcium flux assay by monitoring the fluorescence intensity at Ex/Em = 490/525 nm. Note: It is important to run the signal test before your experiment. Different instruments have their own intensity range. Adjust the signal test intensity to the level of 10% to 15% of the maximum intensity counts. For example, the maximum fluorescence intensity count for FLIPR-384 is 65,000, so the instrument setting should be adjusted to have its signal test intensity around 7,000 to 10,000.
Spectrum
Open in Advanced Spectrum Viewer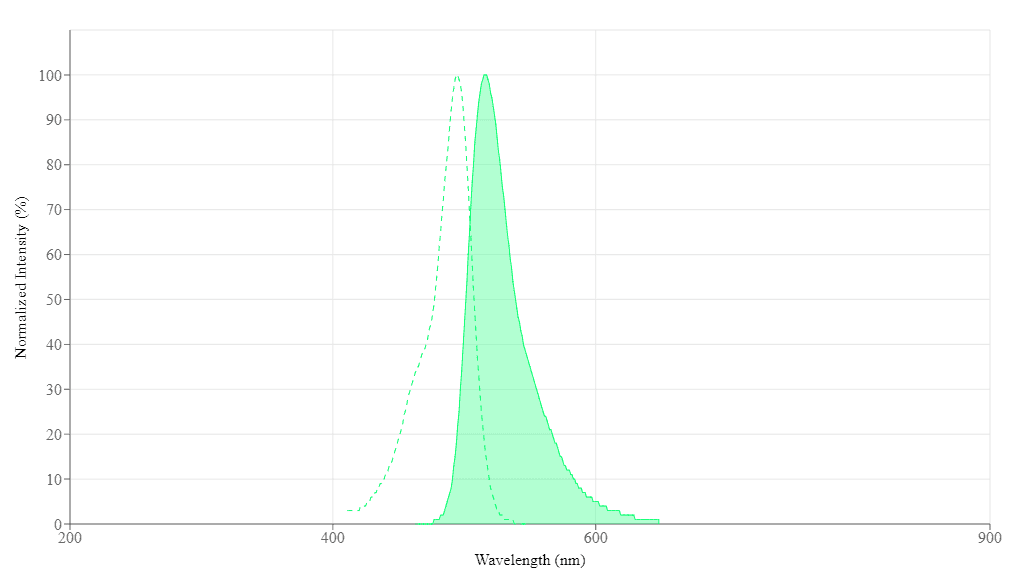 Spectral properties
| | |
| --- | --- |
| Correction Factor (260 nm) | 1.076 |
| Correction Factor (280 nm) | 0.769 |
| Extinction coefficient (cm -1 M -1) | 23430 |
| Excitation (nm) | 495 |
| Emission (nm) | 516 |
| Quantum yield | 0.161 |
Images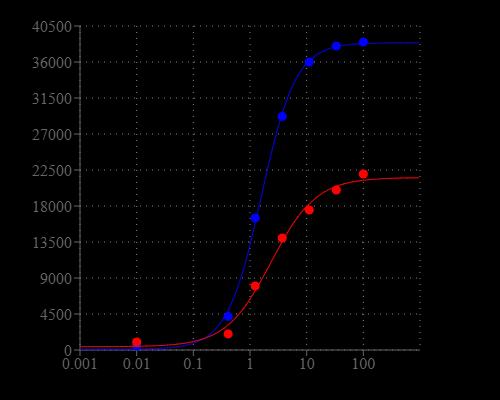 Figure 1.
Carbachol Dose Response was measured in HEK-293 cells with Screen Quest™ Fluo-8 NW Assay Kit and Fluo-4 NW Assay Kit. HEK-293 cells were seeded overnight at 40,000 cells/100 µL/well in a Costar black wall/clear bottom 96-well plate. The growth medium was removed, and the cells were incubated with 100 µL of dye-loading solution using the Screen Quest™ Fluo 8-NW calcium assay kit or the Fluo-4 NW kit (according to the manufacturer's instructions) for 1 hour at room temperature. Carbachol (25µL/well) was added by NOVOstar (BMG Labtech) to achieve the final indicated concentrations. The EC50 of Carbachol using Fluo8 NW is about 1.2 µM.
Citations
MMP-12 activates protease-activated receptor-1, upregulates placenta growth factor, and leads to pulmonary emphysema
Authors:
Hou, Hsin-Han and Wang, Hao-Chien and Cheng, Shih-Lung and Chen, Yen-Fu and Lu, Kai-Zen and Yu, Chong-Jen
Journal:
American Journal of Physiology-Lung Cellular and Molecular Physiology
(2018)
: L432--L442
Laminarin counteracts diet-induced obesity associated with glucagon-like peptide-1 secretion
Authors:
Yang, Liusong and Wang, Lina and Zhu, Canjun and Wu, Junguo and Yuan, Yexian and Yu, Lulu and Xu, Yaqiong and Xu, Jingren and Wang, Tao and Liao, Zhengrui and others, undefined
Journal:
Oncotarget
(2017)
: 99470
L-Type Calcium Channel Inhibition Contributes to the Proarrhythmic Effects of Aconitine in Human Cardiomyocytes
Authors:
Wu, Jianjun and Wang, Xiangchong and Chung, Ying Ying and Koh, Cai Hong and Liu, Zhenfeng and Guo, Huicai and Yuan, Qiang and Wang, Chuan and Su, Suwen and Wei, Heming
Journal:
PloS one
(2017)
: e0168435
References
Novel fluo-4 analogs for fluorescent calcium measurements
Authors:
Martin VV, Beierlein M, Morgan JL, Rothe A, Gee KR.
Journal:
Cell Calcium
(2004)
: 509
Kinetic characterization of novel NR2B antagonists using fluorescence detection of calcium flux
Authors:
Bednar B, Cunningham ME, Kiss L, Cheng G, McCauley JA, Liverton NJ, Koblan KS.
Journal:
J Neurosci Methods
(2004)
: 247
Flow cytometric kinetic assay of calcium mobilization in whole blood platelets using Fluo-3 and CD41
Authors:
do Ceu Monteiro M, Sansonetty F, Goncalves MJ, O'Connor JE.
Journal:
Cytometry
(1999)
: 302
Amplitude distribution of calcium sparks in confocal images: theory and studies with an automatic detection method
Authors:
Cheng H, Song LS, Shirokova N, Gonzalez A, Lakatta EG, Rios E, Stern MD.
Journal:
Biophys J
(1999)
: 606
A simple numerical model of calcium spark formation and detection in cardiac myocytes
Authors:
Smith GD, Keizer JE, Stern MD, Lederer WJ, Cheng H.
Journal:
Biophys J
(1998)
: 15
Monitoring calcium in outer hair cells with confocal microscopy and fluorescence ratios of fluo-3 and fura-red
Authors:
Su ZL, Li N, Sun YR, Yang J, Wang IM, Jiang SC.
Journal:
Shi Yan Sheng Wu Xue Bao
(1998)
: 323
Loading and localization of Fluo-3 and Fluo-3/AM calcium indicators in sinapis alba root tissue
Authors:
Tretyn A, Kado RT, Kendrick RE.
Journal:
Folia Histochem Cytobiol
(1997)
: 41
Nucleoplasmic and cytoplasmic differences in the fluorescence properties of the calcium indicator Fluo-3
Authors:
Perez-Terzic C, Stehno-Bittel L, Clapham DE.
Journal:
Cell Calcium
(1997)
: 275
Detection of a trigger zone of bradykinin-induced fast calcium waves in PC12 neurites
Authors:
Reber BF, Schindelholz B.
Journal:
Pflugers Arch
(1996)
: 893
Improved four-color flow cytometry method using fluo-3 and triple immunofluorescence for analysis of intracellular calcium ion ([Ca2+]i) fluxes among mouse lymph node B- and T-lymphocyte subsets
Authors:
Greimers R, Trebak M, Moutschen M, Jacobs N, Boniver J.
Journal:
Cytometry
(1996)
: 205