Thioflavin T *CAS 2390-54-7*
Ordering information
| | |
| --- | --- |
| Price | |
| Catalog Number | |
| Unit Size | |
| Quantity | |
Additional ordering information
| | |
| --- | --- |
| Telephone | 1-800-990-8053 |
| Fax | 1-800-609-2943 |
| Email | sales@aatbio.com |
| International | See distributors |
| Bulk request | Inquire |
| Custom size | Inquire |
| Shipping | Standard overnight for United States, inquire for international |
Physical properties
| | |
| --- | --- |
| Molecular weight | 318.87 |
| Solvent | DMSO |
Spectral properties
| | |
| --- | --- |
| Absorbance (nm) | 199 |
| Excitation (nm) | 349 |
| Emission (nm) | 454 |
Storage, safety and handling
| | |
| --- | --- |
| H-phrase | H303, H313, H333 |
| Hazard symbol | XN |
| Intended use | Research Use Only (RUO) |
| R-phrase | R20, R21, R22 |
| Storage | Freeze (< -15 °C); Minimize light exposure |
| UNSPSC | 12352200 |
Thioflavin T (ThT), also called Basic Yellow 1 or CI 49005, is a benzothiazole salt. The dye is used to visualize plaques composed of beta-amyloid found in the brains of Alzheimer's disease patients. When it binds to beta sheets, such as those in amyloid oligomers, the dye undergoes a characteristic 120 nm red shift of its excitation spectrum that may be selectively excited at 450 nm, resulting in a fluorescence signal at 482 nm. ThT binds rapidly and specifically to the anti-parallel beta-sheet fibrils formed from synthetic beta-amyloid (1-40), but does not bind to monomer or oligomeric intermediates. The binding of ThT does not interfere with the aggregation of beta-amyloid peptide into amyloid fibrils.
Calculators
Common stock solution preparation
Table 1.
Volume of DMSO needed to reconstitute specific mass of Thioflavin T *CAS 2390-54-7* to given concentration. Note that volume is
only
for preparing stock solution. Refer to sample experimental protocol for appropriate experimental/physiological buffers.
| | | | | | |
| --- | --- | --- | --- | --- | --- |
| | 0.1 mg | 0.5 mg | 1 mg | 5 mg | 10 mg |
| 1 mM | 313.607 µL | 1.568 mL | 3.136 mL | 15.68 mL | 31.361 mL |
| 5 mM | 62.721 µL | 313.607 µL | 627.215 µL | 3.136 mL | 6.272 mL |
| 10 mM | 31.361 µL | 156.804 µL | 313.607 µL | 1.568 mL | 3.136 mL |
Molarity calculator
Enter any two values (mass, volume, concentration) to calculate the third.
Mass (

Calculate

)
Molecular weight
Volume (

Calculate

)
Concentration (

Calculate

)
Moles
/
=
x
=
Spectrum
Open in Advanced Spectrum Viewer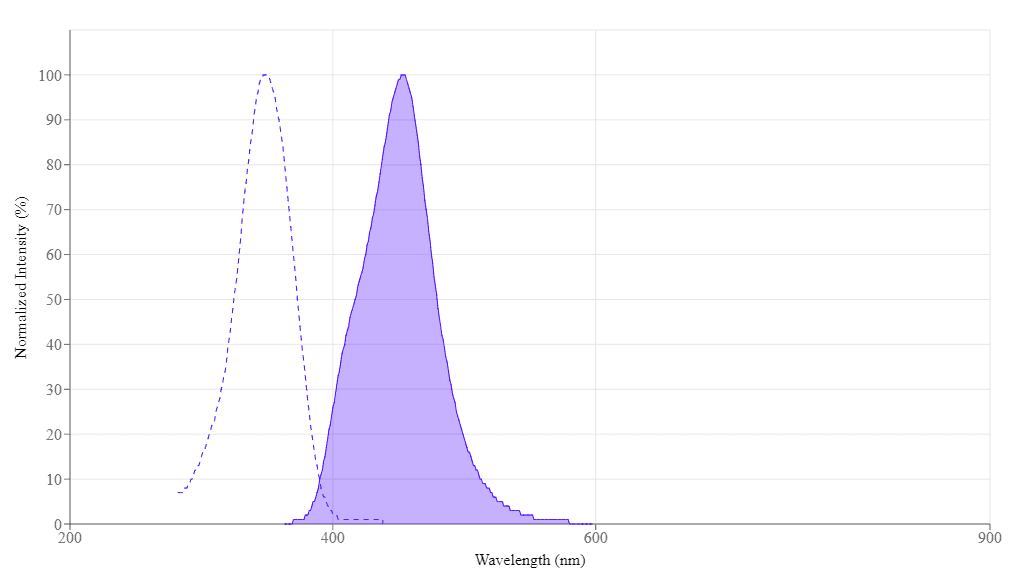 Spectral properties
| | |
| --- | --- |
| Absorbance (nm) | 199 |
| Excitation (nm) | 349 |
| Emission (nm) | 454 |
Citations
Astragaloside IV ameliorates cognitive impairment and neuroinflammation in an oligomeric A$\beta$ induced Alzheimer's disease mouse model via inhibition of microglial activation and NADPH oxidase expression
Authors:
Chen, Fei and Yang, Dan and Cheng, Xiao-Yu and Yang, Hui and Yang, Xin-He and Liu, He-Tao and Wang, Rui and Zheng, Ping and Yao, Yao and Li, Juan
Journal:
Biological and Pharmaceutical Bulletin
(2021)
: b21--00381
Redundant and distinct roles of secreted protein Eap and cell wall-anchored protein SasG in biofilm formation and pathogenicity of Staphylococcus aureus
Authors:
Yonemoto, Keigo and Chiba, Akio and Sugimoto, Shinya and Sato, Chikara and Saito, Mitsuru and Kinjo, Yuki and Marumo, Keishi and Mizunoe, Yoshimitsu
Journal:
Infection and immunity
(2019)
: e00894--18
References
Methods for enhancing the accuracy and reproducibility of Congo red and thioflavin T assays
Authors:
Eisert R, Felau L, Brown LR.
Journal:
Anal Biochem
(2006)
: 144
Lipophilic analogs of thioflavin S as novel amyloid-imaging agents
Authors:
Wu C, Cai L, Wei J, Pike VW, Wang Y.
Journal:
Curr Alzheimer Res
(2006)
: 259
Oligo(ethylene glycol) derivatives of Thioflavin T as inhibitors of protein-amyloid interactions
Authors:
Inbar P, Li CQ, Takayama SA, Bautista MR, Yang J.
Journal:
Chembiochem
(2006)
: 1563
Mechanism of thioflavin T accumulation inside cells overexpressing P-glycoprotein or multidrug resistance-associated protein: role of lipophilicity and positive charge
Authors:
Darghal N, Garnier-Suillerot A, Salerno M.
Journal:
Biochem Biophys Res Commun
(2006)
: 623
Characteristics of the binding of thioflavin S to tau paired helical filaments
Authors:
Santa-Maria I, Perez M, Hern and ez F, Avila J, Moreno FJ.
Journal:
J Alzheimers Dis
(2006)
: 279
Efficient radiosynthesis of carbon-11 labelled uncharged Thioflavin T derivatives using [11C]methyl triflate for beta-amyloid imaging in Alzheimer's Disease with PET
Authors:
Solbach C, Uebele M, Reischl G, Machulla HJ.
Journal:
Appl Radiat Isot
(2005)
: 591
Chiral bias of amyloid fibrils revealed by the twisted conformation of Thioflavin T: an induced circular dichroism/DFT study
Authors:
Dzwolak W, Pecul M.
Journal:
FEBS Lett
(2005)
: 6601
Development of novel amyloid imaging agents based upon thioflavin S
Authors:
Wei J, Wu C, Lankin D, Gulrati A, Valyi-Nagy T, Cochran E, Pike VW, Kozikowski A, Wang Y.
Journal:
Curr Alzheimer Res
(2005)
: 109
The binding of thioflavin-T to amyloid fibrils: localisation and implications
Authors:
Krebs MR, Bromley EH, Donald AM.
Journal:
J Struct Biol
(2005)
: 30
Mechanism of thioflavin T binding to amyloid fibrils
Authors:
Khurana R, Coleman C, Ionescu-Zanetti C, Carter SA, Krishna V, Grover RK, Roy R, Singh S.
Journal:
J Struct Biol
(2005)
: 229