Screen Quest™ Membrane Potential Assay Kit *Orange Fluorescence*
Ordering information
| | |
| --- | --- |
| Price | |
| Catalog Number | |
| Unit Size | |
| Quantity | |
Additional ordering information
| | |
| --- | --- |
| Telephone | 1-800-990-8053 |
| Fax | 1-800-609-2943 |
| Email | sales@aatbio.com |
| International | See distributors |
| Bulk request | Inquire |
| Custom size | Inquire |
| Shipping | Standard overnight for United States, inquire for international |
Storage, safety and handling
| | |
| --- | --- |
| H-phrase | H303, H313, H333 |
| Hazard symbol | XN |
| Intended use | Research Use Only (RUO) |
| R-phrase | R20, R21, R22 |
| UNSPSC | 12352200 |
Membrane potential is the difference in voltage between the interior and exterior of a cell. The membrane potential allows a cell to function as a battery, providing power to operate a variety of "molecular devices" embedded in the membrane. In electrically excitable cells such as neurons, membrane potential is used for transmitting signals between different parts of a cell. Opening or closing of ion channels at one point in the membrane produces a local change in the membrane potential, which causes electric current to flow rapidly to other points in the membrane. Ion channels have been identified as important drug discovery targets. Our Screen Quest™ Membrane Potential Assay Kit is a homogeneous assay with fast read time. It uses our proprietary long wavelength membrane potential indicator to detect the membrane potential change that is caused by the opening and closing of the ion channels. The red fluorescence of the membrane potential indicator used in the kit has enhanced fluorescence upon entering cells and minimizes the interferences resulted from the screening compounds and/or cellular autofluorescence.
Platform
Fluorescence microplate reader
| | |
| --- | --- |
| Excitation | 530 nm |
| Emission | 570 nm |
| Cutoff | 550 nm |
| Recommended plate | Black wall/clear bottom |
| Instrument specification(s) | Bottom read mode/Programmable liquid handling |
Other instruments
FDSS, FLIPR, FlexStation, NOVOStar
Example protocol
AT A GLANCE
Prepare cells in growth medium
Add MP dye working solution
Incubate for 30 to 60 minutes at room temperature
Monitor the fluorescence change before and after the addition of membrane potential altering compounds 
PREPARATION OF STOCK SOLUTION
Unless otherwise noted, all unused stock solutions should be divided into single-use aliquots and stored at -20 °C after preparation. Avoid repeated freeze-thaw cycles.
1. Assay Buffer stock solution (1X):
Add 1 mL of 10X Assay Buffer (Component B) into 9 mL of HHBS (Component C, not included in Cat no. 36001) and mix well. Note: 10 mL of 1X Assay Buffer is enough for 1 plate.
PREPARATION OF WORKING SOLUTION
SAMPLE EXPERIMENTAL PROTOCOL
Add 100 µL/well (96-well plate) or 25 µL/well (384-well plate) MP dye working solution into the cell plate. Note: If your screening compounds interfere with growth medium and serum factors, then replace the growth medium with equal volume of HHBS buffer before adding the MP dye working solution. Alternatively, cells can be grown in serum-free conditions. Note: Do NOT wash the cells after dye loading


Incubate the working solution plate in a cell incubator for 30 minutes. Note: In some cases, incubation at room temperature for 30 to 60 min may work better.


Prepare the compound plates by using HHBS or your desired buffer.


Run the membrane potential assay by monitoring the fluorescence at Ex/Em = 530/570 nm before and after the addition of compounds using the built in liquid handler in fluorescent microplate reader. Note: It is important to run the signal test before your experiment. Different instruments have their own intensity range. Adjust the signal test intensity to the level of 10% to 15% of the maximum instrument intensity counts. For example, the maximum fluorescence intensity count for FLIPR-384 is 65,000, so the instrument settings should be adjusted to have its signal test intensity around 7,000 to 10,000.
Images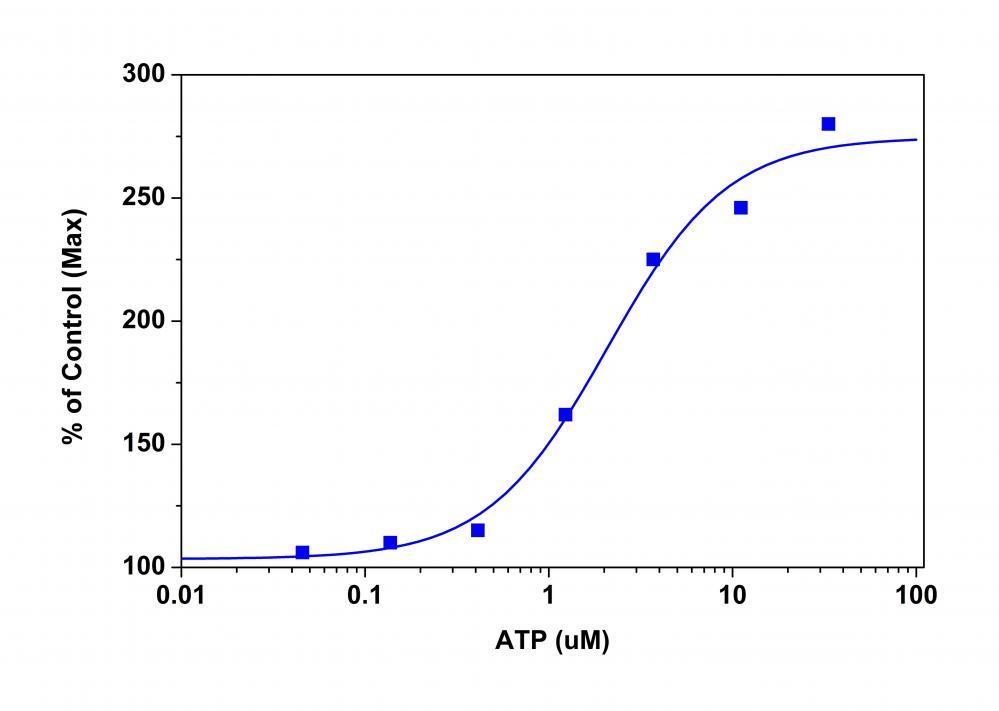 Figure 1.
ATP dose response in HEK cells transiently transfected with P2X receptor. HEK cells transiently transfected with P2X receptor were seeded overnight at 40,000 cells/100 µL/well in a Costar black wall/clear bottom 96-well plate. The cells were incubated with 100 µL of the MP dye-loading solution in a 5% CO2, 37 °C incubator for 60 minutes. ATP (50 µL/well) was added by FlexStation to achieve the final indicated concentrations. The fluorescence signal was measured with bottom read mode at Ex/Em = 530/570 nm (cutoff at 550 nm).
References
A rapid flow cytometry assay for the assessment of calcium mobilization in human neutrophils in a small volume of lysed whole-blood
Authors:
Desmeules P, Dufour M, Fern and es MJ., undefined
Journal:
J Immunol Methods
(2009)
: 154
A novel high-throughput screening assay for HCN channel blocker using membrane potential-sensitive dye and FLIPR
Authors:
Vasilyev DV, Shan QJ, Lee YT, Soloveva V, Nawoschik SP, Kaftan EJ, Dunlop J, Mayer SC, Bowlby MR.
Journal:
J Biomol Screen
(2009)
: 1119
A high-capacity membrane potential FRET-based assay for the sodium-coupled glucose co-transporter SGLT1
Authors:
Weinglass AB, Swensen AM, Liu J, Schmalhofer W, Thomas A, Williams B, Ross L, Hashizume K, Kohler M, Kaczorowski GJ, Garcia ML.
Journal:
Assay Drug Dev Technol
(2008)
: 255
Development of an aequorin luminescence calcium assay for high-throughput screening using a plate reader, the LumiLux
Authors:
Menon V, Ranganathn A, Jorgensen VH, Sabio M, Christoffersen CT, Uberti MA, Jones KA, Babu PS.
Journal:
Assay Drug Dev Technol
(2008)
: 787
A high-throughput assay for evaluating state dependence and subtype selectivity of Cav2 calcium channel inhibitors
Authors:
Dai G, Haedo RJ, Warren VA, Ratliff KS, Bugianesi RM, Rush A, Williams ME, Herrington J, Smith MM, McManus OB, Swensen AM.
Journal:
Assay Drug Dev Technol
(2008)
: 195
Development of a universal high-throughput calcium assay for G-protein- coupled receptors with promiscuous G-protein Galpha15/16
Authors:
Zhu T, Fang LY, Xie X.
Journal:
Acta Pharmacol Sin
(2008)
: 507
Miniaturization and HTS of a FRET-based membrane potential assay for K(ir) channel inhibitors
Authors:
Solly K, Cassaday J, Felix JP, Garcia ML, Ferrer M, Strulovici B, Kiss L.
Journal:
Assay Drug Dev Technol
(2008)
: 225
A continuous fluorescence assay for the determination of calcium-dependent secretory phospholipase A2 activity in serum
Authors:
Tsao FH, Shanmuganayagam D, Zachman DK, Khosravi M, Folts JD, Meyer KC.
Journal:
Clin Chim Acta
(2007)
: 119
Homogeneous TR-FRET high-throughput screening assay for calcium-dependent multimerization of sorcin
Authors:
Appelblom H, Nurmi J, Soukka T, Pasternack M, Penttila KE, Lovgren T, Niemela P.
Journal:
J Biomol Screen
(2007)
: 842
A nonadherent cell-based HTS assay for N-type calcium channel using calcium 3 dye
Authors:
Lubin ML, Reitz TL, Todd MJ, Flores CM, Qin N, Xin H.
Journal:
Assay Drug Dev Technol
(2006)
: 689