Tide Quencher™ 2WS alkyne [TQ2WS alkyne]
Ordering information
| | |
| --- | --- |
| Price | |
| Catalog Number | |
| Unit Size | |
| Quantity | |
Additional ordering information
| | |
| --- | --- |
| Telephone | 1-800-990-8053 |
| Fax | 1-800-609-2943 |
| Email | sales@aatbio.com |
| International | See distributors |
| Bulk request | Inquire |
| Custom size | Inquire |
| Shipping | Standard overnight for United States, inquire for international |
Physical properties
| | |
| --- | --- |
| Molecular weight | 527.66 |
| Solvent | DMSO |
Spectral properties
| | |
| --- | --- |
| Absorbance (nm) | 541 |
| Correction Factor (260 nm) | 0.100 |
| Correction Factor (280 nm) | 0.120 |
| Extinction coefficient (cm -1 M -1) | 48000 |
Storage, safety and handling
| | |
| --- | --- |
| Intended use | Research Use Only (RUO) |
| Storage | Freeze (< -15 °C); Minimize light exposure |
| | | | | |
| --- | --- | --- | --- | --- |
| | | Correction Factor (260 nm) | Correction Factor (280 nm) | Extinction coefficient (cm -1 M -1) |
TQ2WS is designed to be a superior quencher to FAM, HEX, TET, JOE, TF2 and rhodamine 6G. TQ2WS has (a). much stronger absorption; (b). much higher quenching efficiency; and (c). versatile reactive forms with desired solubility for labeling oligonucleotides and peptides. This TQ2WS product is reactive to azides, and useful for click chemistry. TQ2WS has much higher water solubility than TQ2. We recommend that you use TQ2WS for the applications that require good water solubility.
Calculators
Common stock solution preparation
Table 1.
Volume of DMSO needed to reconstitute specific mass of Tide Quencher™ 2WS alkyne [TQ2WS alkyne] to given concentration. Note that volume is
only
for preparing stock solution. Refer to sample experimental protocol for appropriate experimental/physiological buffers.
| | | | | | |
| --- | --- | --- | --- | --- | --- |
| | 0.1 mg | 0.5 mg | 1 mg | 5 mg | 10 mg |
| 1 mM | 189.516 µL | 947.58 µL | 1.895 mL | 9.476 mL | 18.952 mL |
| 5 mM | 37.903 µL | 189.516 µL | 379.032 µL | 1.895 mL | 3.79 mL |
| 10 mM | 18.952 µL | 94.758 µL | 189.516 µL | 947.58 µL | 1.895 mL |
Molarity calculator
Enter any two values (mass, volume, concentration) to calculate the third.
Mass (

Calculate

)
Molecular weight
Volume (

Calculate

)
Concentration (

Calculate

)
Moles
/
=
x
=
Spectrum
Open in Advanced Spectrum Viewer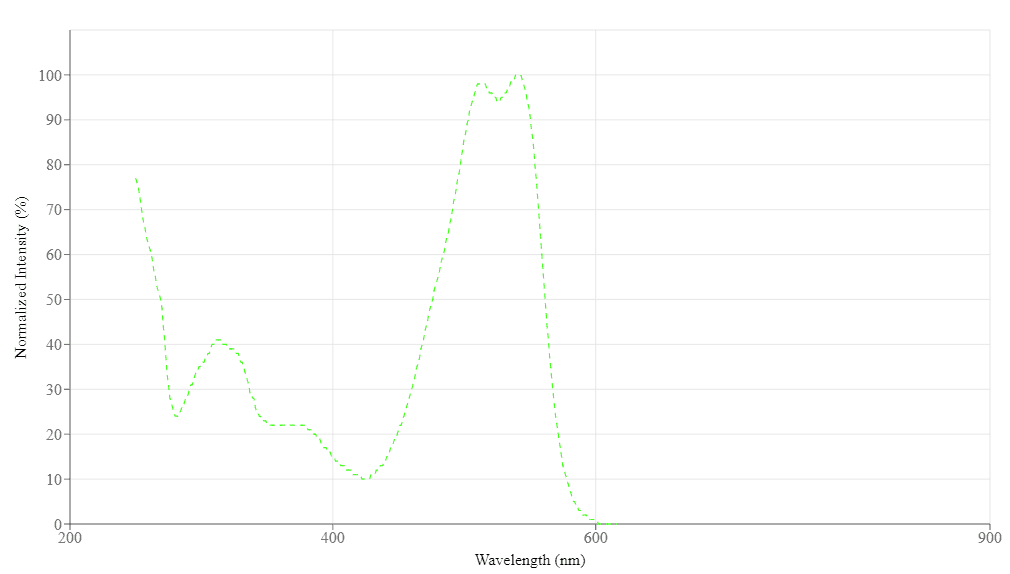 Spectral properties
| | |
| --- | --- |
| Absorbance (nm) | 541 |
| Correction Factor (260 nm) | 0.100 |
| Correction Factor (280 nm) | 0.120 |
| Extinction coefficient (cm -1 M -1) | 48000 |
Images

Figure 1.
Click chemistry is a method for attaching a probe or substrate of interest to a specific biomolecule, a process called bioconjugation. The possibility of attaching dyes and other reporter molecules has made click chemistry a very powerful tool for identifying, locating, and characterizing both old and new biomolecules. The classic click reaction is the copper-catalyzed reaction of an azide with an alkyne to form a 5-membered heteroatom ring, this reaction is commonly called Cu(I)-Catalyzed Azide-Alkyne Cycloaddition (CuAAC).
Citations
Development of aptamer fluorescent switch assay for aflatoxin B1 by using fluorescein-labeled aptamer and black hole quencher 1-labeled complementary DNA
Authors:
Li, Y., Sun, L., Zhao, Q.
Journal:
Anal Bioanal Chem
(2018)
: 6269-6277
Cyclopeptidic photosensitizer prodrugs as proteolytically triggered drug delivery systems of pheophorbide A: part II - co-loading of pheophorbide A and black hole quencher
Authors:
Bouilloux, J., Yuschenko, O., Dereka, B., Boso, G., Babic, A., Zbinden, H., Vauthey, E., Lange, N.
Journal:
Photochem Photobiol Sci
(2018)
: 1739-1748
The G-BHQ synergistic effect: Improved double quenching molecular beacons based on guanine and Black Hole Quencher for sensitive simultaneous detection of two DNAs
Authors:
Xiang, D., Li, F., Wu, C., Shi, B., Zhai, K.
Journal:
Talanta
(2017)
: 289-294
Forster Resonance Energy Transfer Mediated Photoluminescence Quenching in Stoichiometrically Assembled CdSe/ZnS Quantum Dot-Peptide Labeled Black Hole Quencher Conjugates for Matrix Metalloproteinase-2 Sensing
Authors:
Pillai, S. S., Yukawa, H., Onoshima, D., Biju, V., Baba, Y.
Journal:
Anal Sci
(2017)
: 137-142
Fluorescence Quenching of CdSe/ZnS Quantum Dots by Using Black Hole Quencher Molecules Intermediated With Peptide for Biosensing Application
Authors:
Pillai, S. S., Yukawa, H., Onoshima, D., Biju, V., Baba, Y.
Journal:
Cell Med
(2015)
: 57-62
Synthesis, in vitro evaluation, and in vivo metabolism of fluor/quencher compounds containing IRDye 800CW and Black Hole Quencher-3 (BHQ-3)
Authors:
Linder, K. E., Metcalfe, E., Nanjappan, P., Arunachalam, T., Ramos, K., Skedzielewski, T. M., Marinelli, E. R., Tweedle, M. F., Nunn, A. D., Swenson, R. E.
Journal:
Bioconjug Chem
(2011)
: 1287-97
Cy5.5-Gly-Pro-Leu-Gly-Val-Arg-Gly-Cys-Ferritin-black hole quencher-3 nanocages
Authors:
Leung, K.
Journal:
me="2213.enl" path="C:\Users\aatbi\Dropbox (AAT Bioquest)\Website Working Files\Product References\2213.enl">2213.enlEndNote665L
(2004)
: se name="2213.enl" path="C:\Users\aatbi\Dropb
References
Evaluation of tetramethylrhodamine and black hole quencher 1 labeled probes and five commercial amplification mixes in TaqMan real-time RT-PCR assays for respiratory pathogens
Authors:
Yang GP, Erdman DD, Tondella ML, Fields BS.
Journal:
J Virol Methods
(2009)
: 288