MycoLight™ Fluorescence Live/Dead Bacterial Imaging Kit
Ordering information
| | |
| --- | --- |
| Price | |
| Catalog Number | |
| Unit Size | |
| Quantity | |
Additional ordering information
| | |
| --- | --- |
| Telephone | 1-800-990-8053 |
| Fax | 1-800-609-2943 |
| Email | sales@aatbio.com |
| International | See distributors |
| Bulk request | Inquire |
| Custom size | Inquire |
| Shipping | Standard overnight for United States, inquire for international |
Storage, safety and handling
| | |
| --- | --- |
| H-phrase | H303, H313, H333 |
| Hazard symbol | XN |
| Intended use | Research Use Only (RUO) |
| R-phrase | R20, R21, R22 |
| UNSPSC | 12352200 |
AAT Bioquest's MycoLight™ Fluorescence Live/Dead Bacterial Imaging Kit provides two-color fluorescence assay for visualizing live and dead bacteria through fluorescent microscope. MycoLight™ 520 is a non-fluorescent esterase substrate that diffuses into both Gram positive and Gram-negative bacteria. Upon hydrolysis by bacterial intracellular non-specific esterases, a green fluorescent product is produced and accumulated within bacteria. In contrast, propidium iodide is a red-fluorescent nucleic acid stain that only penetrates bacteria with damaged membranes. Thus, with an appropriate mixture of the MycoLight™ 520 and propidium iodide stains, live bacteria with intact cell membranes emits green fluorescence, whereas dead bacteria with damaged membranes gives red fluorescence. The MycoLight™ Fluorescence Live/Dead Bacterial Imaging Kit is a robust tool for imaging Live/Dead bacteria. Stained cells can be monitored fluorimeterically (FITC filter set) and (TRITC filter set) for live and dead bacteria respectively.
Platform
Fluorescence microscope
| | |
| --- | --- |
| Excitation | 488 nm / 540 nm |
| Emission | 530 nm / 620 nm |
| Recommended plate | Black wall/clear bottom |
| Instrument specification(s) | FITC / TRITC filter(s) |
Example protocol
AT A GLANCE
Protocol summary
Prepare 100X MycoLight™ 520 stock solutions
Prepare bacteria samples
Add MycoLight™ 520 and Propidium iodide
Incubate bacteria samples with MycoLight™ 520 and Propidium iodide at 37°C for 5-10 minutes or room temperature for 60 minutes in dark
Analyze sample by fluorescence microscope with FITC and TRITC filter sets
Important notes
Thaw all the kit components at room temperature before starting the experiment
PREPARATION OF STOCK SOLUTION
Unless otherwise noted, all unused stock solutions should be divided into single-use aliquots and stored at -20 °C after preparation. Avoid repeated freeze-thaw cycles.
MycoLight™ 520 stock solution (100X):
Add 100 µL of DMSO (Component D) into the vial of MycoLight™ 520 (Component A). Note: Store stock solution at -20°C, avoid light and repeat freeze-thaw cycles.
SAMPLE EXPERIMENTAL PROTOCOL
Preparation of bacterial sample
Prepare bacteria sample with concentration of 106 to 108 cells/mL. Grow bacteria into late log phase in appropriate medium. Note: Measure the optical density of the bacterial culture at wavelength = 600 nm (OD600) to determine the cell number. For E. coli culture, OD600 = 1.0 equals 8 x 108 cells/ml.


Remove medium by centrifugation at 10,000 x g for 10 minutes and re-suspend the pellet in Assay Buffer (Component C).


Dead bacteria can be prepared by treating with 70% ethanol for 30 minutes followed by 60 minutes of boiling.
Staining protocol
The following is a suggested protocol and should be optimized with different bacterial strain or other specific needs. An optional washing step can be added before imaging if higher background is observed.
Add 1 µL of the 100X MycoLight™ 520 stock solutions and 1 µL of 100X Propidium iodide (Component B) to 100 µL of the bacterial sample in Assay Buffer.


Mix well and incubate in dark for 5-10 minutes at 37°C or 60 minutes at room temperature for optimum staining results.


Monitor fluorescence of bacteria with a fluorescent microscope through FITC (Ex/Em = 488/530 nm) and TRITC (Ex/Em = 540/620 nm) channel.
Images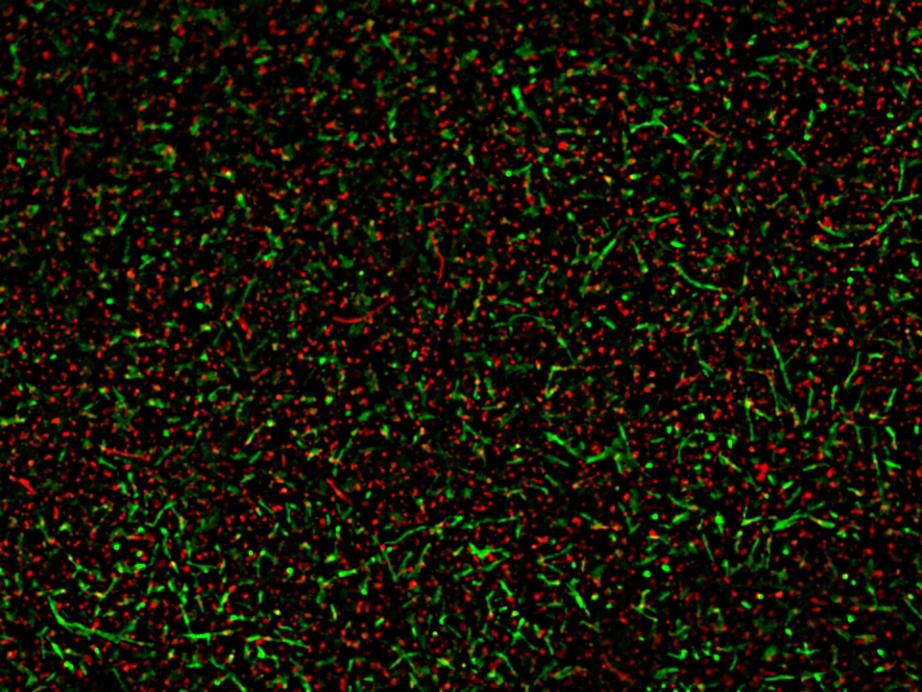 Figure 1.
A mixed population of live and dead Bacillus subtilis was stained with MycoLight™ Fluorescence Live/Dead Bacterial Imaging Kit. Live bacteria with active intracellular esterase showed green fluorescence, while 70% alcohol-killed dead bacteria with compromised membranes showed red fluorescence.
References
Raman spectroscopic analysis of Lactobacillus rhamnosus GG in response to dehydration reveals DNA conformation changes
Authors:
Myintzu Hlaing, M.; Wood, B.; McNaughton, D.; Ying, D.; Augustin, M. A.
Journal:
J Biophotonics
(2017)
: 589-597
Inactivation of Cronobacter sakazakii in reconstituted infant formula by combination of thymoquinone and mild heat
Authors:
Shi, C.; Jia, Z.; Chen, Y.; Yang, M.; Liu, X.; Sun, Y.; Zheng, Z.; Zhang, X.; Song, K.; Cui, L.; Baloch, A. B.; Xia, X.
Journal:
J Appl Microbiol
(2015)
: 1700-6
Antibacterial and antigelatinolytic effects of Satureja hortensis L. essential oil on epithelial cells exposed to Fusobacterium nucleatum
Authors:
Zeidan-Chulia, F.; Keskin, M.; Kononen, E.; Uitto, V. J.; Soderling, E.; Moreira, J. C.; Gursoy, U. K.
Journal:
J Med Food
(2015)
: 503-6
Fourier transform infra-red spectroscopy and flow cytometric assessment of the antibacterial mechanism of action of aqueous extract of garlic (Allium sativum) against selected probiotic Bifidobacterium strains
Authors:
Booyens, J.; Thantsha, M. S.
Journal:
BMC Complement Altern Med
(2014)
: 289
Deposition and survival of Escherichia coli O157:H7 on clay minerals in a parallel plate flow system
Authors:
Cai, P.; Huang, Q.; Walker, S. L.
Journal:
Environ Sci Technol
(2013)
: 1896-903
Observation of injured E. coli population resulting from the application of high-pressure throttling treatments
Authors:
De Lamo-Castellvi, S.; Toledo, R.; Frank, J. F.
Journal:
J Food Sci
(2013)
: M582-6
Effect of air drying on bacterial viability: A multiparameter viability assessment
Authors:
Nocker, A.; Fern and ez, P. S.; Montijn, R.; Schuren, F.
Journal:
J Microbiol Methods
(2012)
: 86-95
patients and environment
Authors:
Lindback, T.; Rottenberg, M. E.; Roche, S. M.; Rorvik, L. M., The ability to enter into an avirulent viable but non-culturable (VBNC) form is widespread among Listeria monocytogenes isolates from salmon
Journal:
Vet Res
(2010)
: 8
Long-term survival of Legionella pneumophila in the viable but nonculturable state after monochloramine treatment
Authors:
Alleron, L.; Merlet, N.; Lacombe, C.; Frere, J.
Journal:
Curr Microbiol
(2008)
: 497-502
Behaviors of physiologically active bacteria in water environment and chlorine disinfection
Authors:
Sawaya, K.; Kaneko, N.; Fukushi, K.; Yaguchi, J.
Journal:
Water Sci Technol
(2008)
: 1343-8