ROS Brite™ DHCF
Ordering information
| | |
| --- | --- |
| Price | |
| Catalog Number | |
| Unit Size | |
| Quantity | |
Additional ordering information
| | |
| --- | --- |
| Telephone | 1-800-990-8053 |
| Fax | 1-800-609-2943 |
| Email | sales@aatbio.com |
| International | See distributors |
| Bulk request | Inquire |
| Custom size | Inquire |
| Shipping | Standard overnight for United States, inquire for international |
Physical properties
| | |
| --- | --- |
| Molecular weight | 701.50 |
| Solvent | DMSO |
Spectral properties
| | |
| --- | --- |
| Excitation (nm) | 560 |
| Emission (nm) | 575 |
Storage, safety and handling
| | |
| --- | --- |
| H-phrase | H303, H313, H333 |
| Hazard symbol | XN |
| Intended use | Research Use Only (RUO) |
| R-phrase | R20, R21, R22 |
| Storage | Freeze (< -15 °C); Minimize light exposure |
| UNSPSC | 12352200 |
Reactive oxygen species (ROS) are chemically reactive molecules containing oxygen. Examples include superoxide, hydroxyl radical, singlet oxygen and peroxides. ROS is highly reactive due to the presence of unpaired valence shell electrons. ROS forms as a natural byproduct of the normal metabolism of oxygen and have important roles in cell signaling and homeostasis. However, during times of environmental stress (e.g., UV or heat exposure), ROS levels can increase dramatically. This may result in significant damage to cell structures. Cumulatively, this is known as oxidative stress. ROS Brite™ DHCF has similar redox properties to those of 2',7'-Dichlorodihydrofluorescein diacetate with significantly red-shifted spectra. ROS Brite™ DHCF is hydrolyzed by cellular esterases to generate the non-fluorescent reduced form that is then oxidized to generate the highly fluorescent free dye primarily by H2O2. ROS Brite™ DHCF might be reactive toward a broad range of oxidizing reactions that may be increased during intracellular oxidant stress. This probe can be conveniently used to monitoring cellular redox processes for multiplexing assays with FITC-labeled antibodies or GFP cell lines. The oxidized product is highly fluorescent in cells. ROS Brite™ DHCF provides a valuable tool for investigating oxidative stress in various pathologies.
Calculators
Common stock solution preparation
Table 1.
Volume of DMSO needed to reconstitute specific mass of ROS Brite™ DHCF to given concentration. Note that volume is
only
for preparing stock solution. Refer to sample experimental protocol for appropriate experimental/physiological buffers.
| | | | | | |
| --- | --- | --- | --- | --- | --- |
| | 0.1 mg | 0.5 mg | 1 mg | 5 mg | 10 mg |
| 1 mM | 142.552 µL | 712.758 µL | 1.426 mL | 7.128 mL | 14.255 mL |
| 5 mM | 28.51 µL | 142.552 µL | 285.103 µL | 1.426 mL | 2.851 mL |
| 10 mM | 14.255 µL | 71.276 µL | 142.552 µL | 712.758 µL | 1.426 mL |
Molarity calculator
Enter any two values (mass, volume, concentration) to calculate the third.
Mass (

Calculate

)
Molecular weight
Volume (

Calculate

)
Concentration (

Calculate

)
Moles
/
=
x
=
Spectrum
Open in Advanced Spectrum Viewer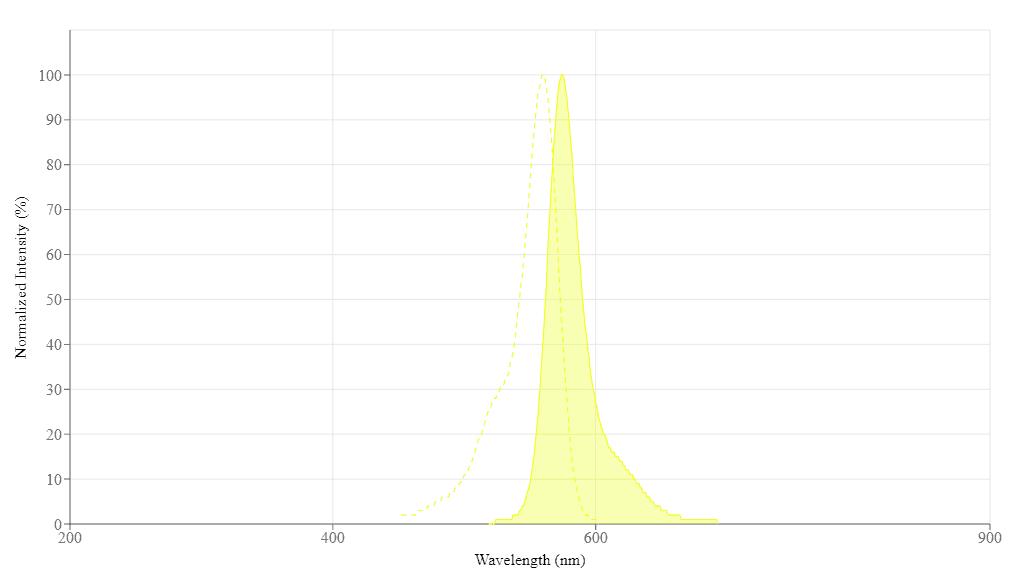 Spectral properties
| | |
| --- | --- |
| Excitation (nm) | 560 |
| Emission (nm) | 575 |
Images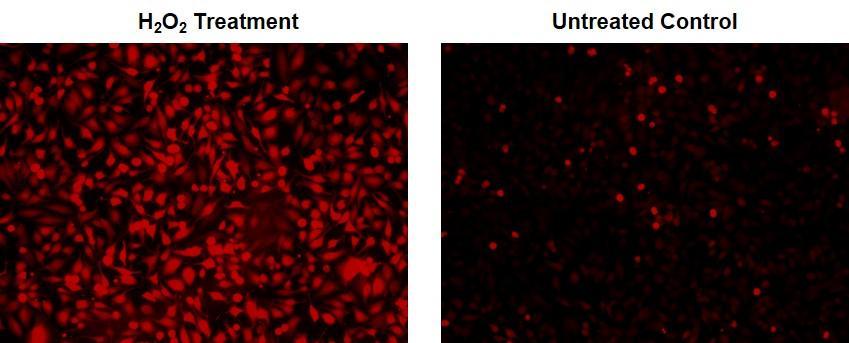 Figure 1.
Fluorescence images of ROS measurement in HeLa cells using ROS Brite™ DHCF (Cat# 16053). H2O2 Treatment: Cells were incubated with ROS Brite™ DHCF for 1 hour, then treated with 1 mM H2O2 at 37 °C for 30 minutes. Untreated Control: HeLa cells were incubated with ROS Brite™ DHCF at 37 °C for 1 hour without H2O2 treatment. The fluorescence signal was measured using fluorescence microscope with a TRITC filter.
Citations
Toxin-Enabled "On-Demand" Liposomes for Enhanced Phototherapy to Treat and Protect against Methicillin-Resistant Staphylococcus aureus Infection
Authors:
Zhuge, Deli and Chen, Mengchun and Yang, Xuewei and Zhang, Xufei and Yao, Lulu and Li, Li and Wang, Haonan and Chen, Hao and Yin, Qingqing and Tian, Dongyan and others,
Journal:
Small
(2022)
: 2203292
References
Nonthermal plasma induces head and neck cancer cell death: the potential involvement of mitogen-activated protein kinase-dependent mitochondrial reactive oxygen species
Authors:
Kang SU, Cho JH, Chang JW, Shin YS, Kim KI, Park JK, Yang SS, Lee JS, Moon E, Lee K, Kim CH.
Journal:
Cell Death Dis
(2014)
: e1056
An oxidative stress mechanism of shikonin in human glioma cells
Authors:
Yang JT, Li ZL, Wu JY, Lu FJ, Chen CH.
Journal:
PLoS One
(2014)
: e94180
Low Amounts of Mitochondrial Reactive Oxygen Species Define Human Sperm Quality
Authors:
Marques M, Sousa AP, Paiva A, Almeida-Santos T, Ramalho-Santos J.
Journal:
Reproduction.
(2014)
Subneurotoxic copper(II)-induced NF-kappaB-dependent microglial activation is associated with mitochondrial ROS
Authors:
Hu Z, Yu F, Gong P, Qiu Y, Zhou W, Cui Y, Li J, Chen H.
Journal:
Toxicol Appl Pharmacol
(2014)
: 95
HPLC-based monitoring of products formed from hydroethidine-based fluorogenic probes--the ultimate approach for intra- and extracellular superoxide detection
Authors:
Kalyanaraman B, Dranka BP, Hardy M, Michalski R, Zielonka J.
Journal:
Biochim Biophys Acta
(2014)
: 739
The acute inhibitory effect of iodide excess on sodium/iodide symporter expression and activity involves the PI3K/Akt signaling pathway
Authors:
Serrano-Nascimento C, da Silva Teixeira S, Nicola JP, Nachbar RT, Masini-Repiso AM, Nunes MT.
Journal:
Endocrinology
(2014)
: 1145
Association rule mining of cellular responses induced by metal and metal oxide nanoparticles
Authors:
Liu R, France B, George S, Rallo R, Zhang H, Xia T, Nel AE, Bradley K, Cohen Y.
Journal:
Analyst
(2014)
: 943
Muscadine grape skin extract reverts snail-mediated epithelial mesenchymal transition via superoxide species in human prostate cancer cells
Authors:
Burton LJ, Barnett P, Smith B, Arnold RS, Hudson T, Kundu K, Murthy N, Odero-Marah VA.
Journal:
BMC Complement Altern Med
(2014)
: 97
The omega-3 polyunsaturated fatty acid DHA induces simultaneous apoptosis and autophagy via mitochondrial ROS-mediated Akt-mTOR signaling in prostate cancer cells expressing mutant p53
Authors:
Shin S, Jing K, Jeong S, Kim N, Song KS, Heo JY, Park JH, Seo KS, Han J, Park JI, Kweon GR, Park SK, Wu T, Hwang BD, Lim K.
Journal:
Biomed Res Int
(2013)
: 568671
Moderate hypoxia followed by reoxygenation results in blood-brain barrier breakdown via oxidative stress-dependent tight-junction protein disruption
Authors:
Zehendner CM, Librizzi L, Hedrich J, Bauer NM, Angamo EA, de Curtis M, Luhmann HJ.
Journal:
PLoS One
(2013)
: e82823