Z-VAD-FMK
Ordering information
| | |
| --- | --- |
| Price | |
| Catalog Number | |
| Unit Size | |
| Quantity | |
Additional ordering information
| | |
| --- | --- |
| Telephone | 1-800-990-8053 |
| Fax | 1-800-609-2943 |
| Email | sales@aatbio.com |
| International | See distributors |
| Bulk request | Inquire |
| Custom size | Inquire |
| Shipping | Standard overnight for United States, inquire for international |
Physical properties
| | |
| --- | --- |
| Molecular weight | 467.49 |
| Solvent | DMSO |
Storage, safety and handling
| | |
| --- | --- |
| H-phrase | H303, H313, H333 |
| Hazard symbol | XN |
| Intended use | Research Use Only (RUO) |
| R-phrase | R20, R21, R22 |
| Storage | Freeze (< -15 °C); Minimize light exposure |
| UNSPSC | 12171501 |
Z-VAD-FMK (carbobenzoxy-valyl-alanyl-aspartyl-[O-methyl]- fluoromethylketone) is a cell-permeable, irreversible pan caspase inhibitor that binds to the catalytic site of caspase proteases and can inhibit induction of apoptosis. For inhibition of apoptosis, Z-VAD-FMK should be added at the same time that apoptosis is induced. The peptide is O-methylated in the P1 position on aspartic acid, providing enhanced stability and increased cell permeability. Fluoromethyl ketone (FMK)-derivatized peptides act as effective irreversible inhibitors with no added cytotoxic effects.
Example protocol
PREPARATION OF STOCK SOLUTIONS
Unless otherwise noted, all unused stock solutions should be divided into single-use aliquots and stored at -20 °C after preparation. Avoid repeated freeze-thaw cycles.
Z-VAD-FMK stock solution
Add appropriate amount of DMSO into Z-VAD-FMK to make 2-5 mM Z-VAD-FMK stock solution.


Note

     Store the unused Z-VAD-FMK stock solution at -20 °C in single use aliquots.
SAMPLE EXPERIMENTAL PROTOCOL
The following protocol can be used as a guideline and should be optimized according to your needs.
Treat your samples as desired to induce apoptosis.

Add Z-VAD-FMK along with the treatment of your choice.


Note

     We recommend using 10-100 µM of final concentration ofZ-VAD-FMK to inhibit caspases such as 50 µM for caspase-8.


Note

     Optimal time and concentration for incubation needs to be determined experimentally.

Stain samples as you desired.

Monitor the fluorescence intensity with a proper instrument. 
Calculators
Common stock solution preparation
Table 1.
Volume of DMSO needed to reconstitute specific mass of Z-VAD-FMK to given concentration. Note that volume is
only
for preparing stock solution. Refer to sample experimental protocol for appropriate experimental/physiological buffers.
| | | | | | |
| --- | --- | --- | --- | --- | --- |
| | 0.1 mg | 0.5 mg | 1 mg | 5 mg | 10 mg |
| 1 mM | 213.908 µL | 1.07 mL | 2.139 mL | 10.695 mL | 21.391 mL |
| 5 mM | 42.782 µL | 213.908 µL | 427.817 µL | 2.139 mL | 4.278 mL |
| 10 mM | 21.391 µL | 106.954 µL | 213.908 µL | 1.07 mL | 2.139 mL |
Molarity calculator
Enter any two values (mass, volume, concentration) to calculate the third.
Mass (

Calculate

)
Molecular weight
Volume (

Calculate

)
Concentration (

Calculate

)
Moles
/
=
x
=
Images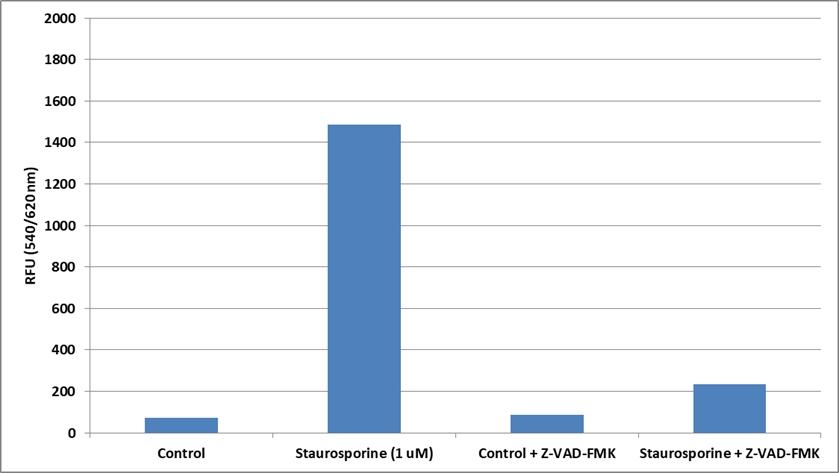 Figure 1.
Inhibition of caspase activities in Jurkat cells with pan caspase inhibitor Z-VAD-FMK (Cat.# 13300). Jurkat cells were seeded on the same day at 200,000 cells/90 µL/well in a Costar black wall/clear bottom 96-well plate. The cells were treated with or without 1 µM of staurosporine for 5 hours. The Z-VAD-FMK (50 uM) was added and co-incubated with staurosporine. The caspase-8 activity was detected with Cell Meter™ Caspase 8 Activity Apoptosis Assay Kit (Cat.# 22816). The fluorescence intensity was measured at Ex/Em = 540/620 nm (Cutoff = 610 nm) with Flexstation 3 fluorescence microplate reader (Molecular Devices).
References
Identification of active caspases using affinity-based probes.
Authors:
McStay, Gavin P and Green, Douglas R
Journal:
Cold Spring Harbor protocols
(2014)
: 856-60
Induction of apoptosis in human renal cell carcinoma cells by vitamin E succinate in caspase-independent manner.
Authors:
Wu, Xiu-Xian and Kakehi, Yoshiyuki and Jin, Xing-Hua and Inui, Masashi and Sugimoto, Mikio
Journal:
Urology
(2009)
: 193-9
Metformin induces apoptosis of pancreatic cancer cells.
Authors:
Wang, Luo-Wei and Li, Zhao-Shen and Zou, Duo-Wu and Jin, Zhen-Dong and Gao, Jun and Xu, Guo-Ming
Journal:
World journal of gastroenterology
(2008)
: 7192-8
Induction of apoptosis in renal tubular cells by histone deacetylase inhibitors, a family of anticancer agents.
Authors:
Dong, Guie and Wang, Lysa and Wang, Cong-Yi and Yang, Tianxin and Kumar, M Vijay and Dong, Zheng
Journal:
The Journal of pharmacology and experimental therapeutics
(2008)
: 978-84
Apoptosis of gastric cancer cell line MKN45 by photodynamic treatment with photofrin.
Authors:
Takahira, Kenichiro and Sano, Munetaka and Arai, Hajime and Hanai, Hiroyuki
Journal:
Lasers in medical science
(2004)
: 89-94
Non-caspase-mediated apoptosis contributes to the potent cytotoxicity of the enediyne antibiotic lidamycin toward human tumor cells.
Authors:
Wang, Zhen and He, Qiyang and Liang, Yunyan and Wang, Daishu and Li, Yi Yang and Li, Diandong
Journal:
Biochemical pharmacology
(2003)
: 1767-75
Androgen induced cell death in SHSY5Y neuroblastoma cells expressing wild-type and spinal bulbar muscular atrophy mutant androgen receptors.
Authors:
Grierson, A J and Shaw, C E and Miller, C C
Journal:
Biochimica et biophysica acta
(2001)
: 13-20
Critical role for caspases 3 and 8 in neutrophil but not eosinophil apoptosis.
Authors:
Daigle, I and Simon, H U
Journal:
International archives of allergy and immunology
(2001)
: 147-56