Cal-590™ AM
Ordering information
| | |
| --- | --- |
| Price | |
| Catalog Number | |
| Unit Size | |
| Quantity | |
Additional ordering information
| | |
| --- | --- |
| Telephone | 1-800-990-8053 |
| Fax | 1-800-609-2943 |
| Email | sales@aatbio.com |
| Quotation | Request |
| International | See distributors |
| Shipping | Standard overnight for United States, inquire for international |
Physical properties
| | |
| --- | --- |
| Dissociation constant (Kd, nM) | 561 |
| Molecular weight | 1266.81 |
| Solvent | DMSO |
Spectral properties
| | |
| --- | --- |
| Extinction coefficient (cm -1 M -1) | 78000 |
| Excitation (nm) | 574 |
| Emission (nm) | 588 |
| Quantum yield | 0.621 |
Storage, safety and handling
| | |
| --- | --- |
| Certificate of Origin | Download PDF |
| H-phrase | H303, H313, H333 |
| Hazard symbol | XN |
| Intended use | Research Use Only (RUO) |
| R-phrase | R20, R21, R22 |
| Storage | Freeze (< -15 °C); Minimize light exposure |
| UNSPSC | 12352200 |
| | | | | | |
| --- | --- | --- | --- | --- | --- |
| | Dissociation constant (Kd, nM) | Extinction coefficient (cm -1 M -1) | | | |
Calcium measurement is critical for numerous biological investigations. Fluorescent probes that show spectral responses upon binding calcium have enabled researchers to investigate changes in intracellular free calcium concentrations by using fluorescence microscopy, flow cytometry, fluorescence spectroscopy and fluorescence microplate readers. Rhod-2 is most commonly used among the red fluorescent calcium indicators. However, Rhod-2 AM is only moderately fluorescent in live cells upon esterase hydrolysis, and has very small cellular calcium responses. Cal-590™ has been developed to improve Rhod-2 cell loading and calcium response while maintaining the spectral wavelength of Rhod-2, making it compatible with TRITC/Cy3® filter set. In CHO and HEK cells Cal-590™ AM has cellular calcium response that is much more sensitive than Rhod-2 AM. The spectra of Cal-590 is well separated from those of FITC, Alexa Fluor® 488 and GFP, making it an ideal calcium probe for multiplexing intracellular assays with GFP cell lines or FITC/Alexa Fluor® 488 labeled antibodies.
Platform
Fluorescence microscope
| | |
| --- | --- |
| Excitation | TRITC/Cy3 |
| Emission | TRITC/Cy3 |
| Recommended plate | Black wall/clear bottom |
Fluorescence microplate reader
| | |
| --- | --- |
| Excitation | 540 |
| Emission | 590 |
| Cutoff | 570 |
| Recommended plate | Black wall/clear bottom |
| Instrument specification(s) | Bottom read mode/Programmable liquid handling |
Example protocol
PREPARATION OF STOCK SOLUTIONS
Unless otherwise noted, all unused stock solutions should be divided into single-use aliquots and stored at -20 °C after preparation. Avoid repeated freeze-thaw cycles.
Cal-590™ AM Stock Solution
Prepare a 2 to 5 mM stock solution of Cal-590™ AM in high-quality, anhydrous DMSO.
PREPARATION OF WORKING SOLUTION
Cal-590™ AM Working Solution
On the day of the experiment, either dissolve Cal-590™ AM in DMSO or thaw an aliquot of the indicator stock solution to room temperature. Prepare a dye working solution of 2 to 20 µM in a buffer of your choice (e.g., Hanks and Hepes buffer) with 0.04% Pluronic® F-127. For most cell lines, Cal-590™ AM at a final concentration of 4-5 μM is recommended. The exact concentration of indicators required for cell loading must be determined empirically.


Note

     The nonionic detergent Pluronic® F-127 is sometimes used to increase the aqueous solubility of Cal-590™ AM. A variety of Pluronic® F-127 solutions can be purchased from AAT Bioquest.


Note

     If your cells contain organic anion-transporters, probenecid (1-2 mM) may be added to the dye working solution (final in well concentration will be 0.5-1 mM) to reduce leakage of the de-esterified indicators. A variety of ReadiUse™ probenecid products, including water-soluble, sodium salt, and stabilized solution, can be purchased from AAT Bioquest.
SAMPLE EXPERIMENTAL PROTOCOL
Following is our recommended protocol for loading AM esters into live cells. This protocol only provides a guideline and should be modified according to your specific needs.
Prepare cells in growth medium overnight.

On the next day, add 1X Cal-590™ AM working solution into your cell plate.


Note

     If your compound(s) interfere with the serum, replace the growth medium with fresh HHBS buffer before dye-loading.

Incubate the dye-loaded plate in a cell incubator at 37 °C for 30 to 60 minutes.


Note

     Incubating the dye for longer than 2 hours can improve signal intensities in certain cell lines.

Replace the dye working solution with HHBS or buffer of your choice (containing an anion transporter inhibitor, such as 1 mM probenecid, if applicable) to remove any excess probes.

Add the stimulant as desired and simultaneously measure fluorescence using either a fluorescence microscope equipped with a TRITC/Cy3 filter set or a fluorescence plate reader containing a programmable liquid handling system such as an FDSS, FLIPR, or FlexStation, at Ex/Em = 540/590 nm cutoff 570 nm. 
Calculators
Common stock solution preparation
Table 1.
Volume of DMSO needed to reconstitute specific mass of Cal-590™ AM to given concentration. Note that volume is
only
for preparing stock solution. Refer to sample experimental protocol for appropriate experimental/physiological buffers.
| | | | | | |
| --- | --- | --- | --- | --- | --- |
| | 0.1 mg | 0.5 mg | 1 mg | 5 mg | 10 mg |
| 1 mM | 78.938 µL | 394.692 µL | 789.384 µL | 3.947 mL | 7.894 mL |
| 5 mM | 15.788 µL | 78.938 µL | 157.877 µL | 789.384 µL | 1.579 mL |
| 10 mM | 7.894 µL | 39.469 µL | 78.938 µL | 394.692 µL | 789.384 µL |
Molarity calculator
Enter any two values (mass, volume, concentration) to calculate the third.
Mass (

Calculate

)
Molecular weight
Volume (

Calculate

)
Concentration (

Calculate

)
Moles
/
=
x
=
Spectrum
Open in Advanced Spectrum Viewer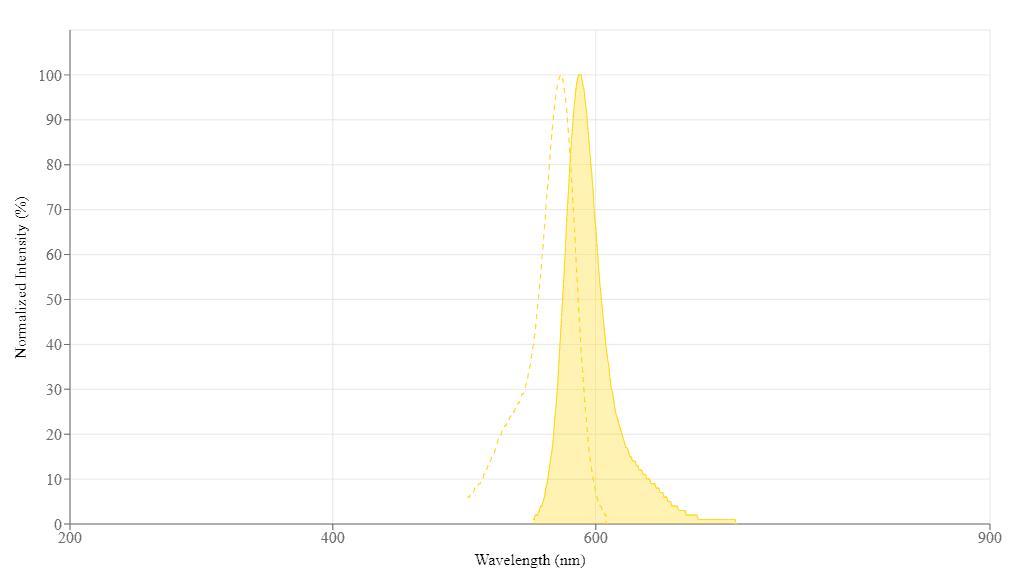 Spectral properties
| | |
| --- | --- |
| Extinction coefficient (cm -1 M -1) | 78000 |
| Excitation (nm) | 574 |
| Emission (nm) | 588 |
| Quantum yield | 0.621 |
Images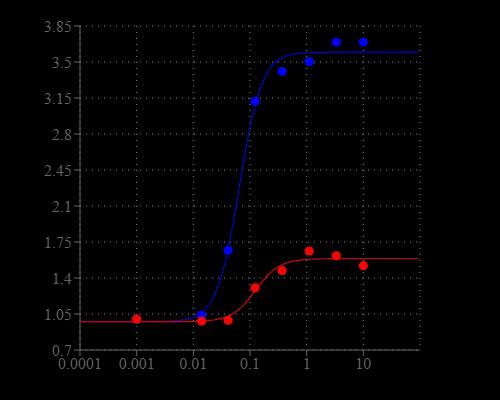 Figure 1.
ATP-stimulated calcium response of endogenous P2Y receptor in CHO-K1 cells incubated with Cal-590® AM or Rhod-2 AM under the same conditions. CHO-K1 cells were seeded overnight at 50,000 cells per 100 µL per well in a 96-well black wall/clear bottom Costar plate. 100 µL of 5 µg/mL Cal-590® AM or Rhod-2 AM with 2.5 mM probenecid was added into the cells, and the cells were incubated at 37 °C for 1 hour. ATP (50 µL/well) was added by FlexStation (Molecular Devices) to achieve the final indicated concentrations.
Citations
A genetically encoded sensor measures temporal oxytocin release from different neuronal compartments
Authors:
Qian, Tongrui and Wang, Huan and Wang, Peng and Geng, Lan and Mei, Long and Osakada, Takuya and Wang, Lei and Tang, Yan and Kania, Alan and Grinevich, Valery and others,
Journal:
Nature Biotechnology
(2023)
: 1--14
Glutamate drives 'local Ca2+ release'in cardiac pacemaker cells
Authors:
Xie, Duanyang and Xiong, Ke and Su, Xuling and Wang, Guanghua and Zou, Qicheng and Wang, Luxin and Zhang, Caihong and Cao, Yuting and Shao, Beihua and Zhang, Yixin and others,
Journal:
Cell Research
(2022)
: 1--12
Genetic activation of glucokinase in a minority of pancreatic beta cells causes hypoglycemia in mice
Authors:
Chen, Kevin H and Doliba, Nicolai and May, Catherine L and Roman, Jeffrey and Ustione, Alessandro and Tembo, Teguru and Negron, Ariel and Radovick, Sally and Piston, David W and Glaser, Benjamin and others,
Journal:
Life Sciences
(2022)
: 120952
Gi/o protein--coupled receptor inhibition of beta--cell electrical excitability and insulin secretion depends on Na+/K+ ATPase activation
Authors:
Dickerson, Matthew T and Dadi, Prasanna K and Zaborska, Karolina E and Nakhe, Arya Y and Schaub, Charles M and Dobson, Jordyn R and Wright, Nicole M and Lynch, Joshua C and Scott, Claire F and Jacobson, David A
Journal:
bioRxiv
(2022)
The Retinal Basis of Light Aversion in Neonatal Mice
Authors:
Caval-Holme, Franklin S and Aranda, Marcos L and Chen, Andy Q and Tiriac, Alexandre and Zhang, Yizhen and Smith, Benjamin and Birnbaumer, Lutz and Schmidt, Tiffany M and Feller, Marla B
Journal:
Journal of Neuroscience
(2022)
: 4101--4115
Homeostatic calcium fluxes, ER calcium release, SOCE, and calcium oscillations in cultured astrocytes are interlinked by a small calcium toolkit
Authors:
Schulte, Annemarie and Bieniussa, Linda and Gupta, Rohini and Samtleben, Samira and Bischler, Thorsten and Doering, Kristina and Sodmann, Philipp and Rittner, Heike and Blum, Robert
Journal:
Cell Calcium
(2022)
: 102515
TMBIM5 loss of function alters mitochondrial matrix ion homeostasis and causes a skeletal myopathy
Authors:
Zhang, Li and Dietsche, Felicia and Seitaj, Bruno and Rojas-Charry, Liliana and Latchman, Nadina and Tomar, Dhanendra and W{\"u}st, Rob CI and Nickel, Alexander and Frauenknecht, Katrin BM and Schoser, Benedikt and others,
Journal:
Life science alliance
(2022)
Piezo1 channels restrain regulatory T cells but are dispensable for effector CD4+ T cell responses
Authors:
Jairaman, Amit and Othy, Shivashankar and Dynes, Joseph L and Yeromin, Andriy V and Zavala, Angel and Greenberg, Milton L and Nourse, Jamison L and Holt, Jesse R and Cahalan, Stuart M and Marangoni, Francesco and others,
Journal:
Science advances
(2021)
: eabg5859