Calbryte™-520XL AM
Ordering information
| | |
| --- | --- |
| Price | |
| Catalog Number | |
| Unit Size | |
| Quantity | |
Additional ordering information
| | |
| --- | --- |
| Telephone | 1-800-990-8053 |
| Fax | 1-800-609-2943 |
| Email | sales@aatbio.com |
| Quotation | Request |
| International | See distributors |
| Shipping | Standard overnight for United States, inquire for international |
Physical properties
| | |
| --- | --- |
| Dissociation constant (Kd, nM) | 300000 |
| Molecular weight | 911.77 |
| Solvent | DMSO |
Spectral properties
| | |
| --- | --- |
| Excitation (nm) | 493 |
| Emission (nm) | 515 |
| Quantum yield | 0.751 |
Storage, safety and handling
| | |
| --- | --- |
| H-phrase | H303, H313, H333 |
| Hazard symbol | XN |
| Intended use | Research Use Only (RUO) |
| R-phrase | R20, R21, R22 |
| Storage | Freeze (< -15 °C); Minimize light exposure |
| UNSPSC | 12352200 |
| | | | | |
| --- | --- | --- | --- | --- |
| | Dissociation constant (Kd, nM) | | | |
Calbryte 520XL, AM is a new fluorescent and cell-permeable calcium indicator with extremely low affinity. Like other dye AM cell loading, Calbryte 520XL AM ester is non-fluorescent and once gets inside the cell, it is hydrolyzed by intracellular esterase and gets activated. The activated indicator is a polar molecule that is no longer capable of freely diffusing through cell membrane, essentially trapped inside cells. Calbryte 520XL has low affinity to calcium ion with Kd ~300 uM, which is the similar to the well-known Rhod 5N, but much more stable than Rhod-5N. Calbryte 520XL produces bright fluorescence signal in the presence of calcium ion in high concentration. It has the identical excitation and emission wavelength as Fluo-4, thus the same Fluo-4 assay settings can be readily applied to Calbryte 520XL-based calcium assays. Calbryte 520XL is an excellent alternative to Rhod-5N. We also offer Calbryte 520XL, potassium salt (#20645), Calbryte 520XL-dextran (#20648), Calbryte 520XL azide (#20643) that can be readily conjugated to a carrier through the well-known click chemistry.
Platform
Fluorescence microscope
| | |
| --- | --- |
| Excitation | FITC |
| Emission | FITC |
| Recommended plate | Black wall/clear bottom |
Fluorescence microplate reader
| | |
| --- | --- |
| Excitation | 490 |
| Emission | 525 |
| Cutoff | 515 |
| Recommended plate | Black wall/clear bottom |
| Instrument specification(s) | Bottom read mode/Programmable liquid handling |
Example protocol
PREPARATION OF STOCK SOLUTIONS
Unless otherwise noted, all unused stock solutions should be divided into single-use aliquots and stored at -20 °C after preparation. Avoid repeated freeze-thaw cycles.
Calbryte™-520XL AM Stock Solution
Prepare a 2 to 5 mM stock solution of Calbryte™-520XL AM in anhydrous DMSO.
PREPARATION OF WORKING SOLUTION
Calbryte™-520XL AM Working Solution
On the day of the experiment, either dissolve Calbryte™ 520XL AM in DMSO or thaw an aliquot of the indicator stock solution to room temperature. Prepare a dye working solution of 2 to 20 µM in a buffer of your choice (e.g., Hanks and Hepes buffer) with 0.04% Pluronic® F-127. For most cell lines, Calbryte™ 520XL AM at a final concentration of 4-5 μM is recommended. The exact concentration of indicators required for cell loading must be determined empirically.


Note

     The nonionic detergent Pluronic® F-127 is sometimes used to increase the aqueous solubility of Calbryte™ 520XL AM. A variety of Pluronic® F-127 solutions can be purchased from AAT Bioquest.


Note

     If your cells contain organic anion-transporters, probenecid (1-2 mM) may be added to the dye working solution (final in well concentration will be 0.5-1 mM) to reduce leakage of the de-esterified indicators. A variety of ReadiUse™ probenecid products, including water-soluble, sodium salt, and stabilized solution, can be purchased from AAT Bioquest.
SAMPLE EXPERIMENTAL PROTOCOL
Following is our recommended protocol for loading AM esters into live cells. This protocol only provides a guideline and should be modified according to your specific needs.
Prepare cells in growth medium overnight.

On the next day, add 1X Calbryte™ 520XL AM working solution into your cell plate.


Note

     If your compound(s) interfere with the serum, replace the growth medium with fresh HHBS buffer before dye-loading.

Incubate the dye-loaded plate in a cell incubator at 37 °C for 30 to 60 minutes.


Note

     Incubating the dye for longer than 1 hour can improve signal intensities in certain cell lines.

Replace the dye working solution with HHBS or buffer of your choice (containing an anion transporter inhibitor, such as 1 mM probenecid, if applicable) to remove any excess probes.

Add the stimulant as desired and simultaneously measure fluorescence using either a fluorescence microscope equipped with a FITC filter set or a fluorescence plate reader containing a programmable liquid handling system such as an FDSS, FLIPR, or FlexStation, at Ex/Em = 490/525 nm cutoff 515 nm. 
Calculators
Common stock solution preparation
Table 1.
Volume of DMSO needed to reconstitute specific mass of Calbryte™-520XL AM to given concentration. Note that volume is
only
for preparing stock solution. Refer to sample experimental protocol for appropriate experimental/physiological buffers.
| | | | | | |
| --- | --- | --- | --- | --- | --- |
| | 0.1 mg | 0.5 mg | 1 mg | 5 mg | 10 mg |
| 1 mM | 109.677 µL | 548.384 µL | 1.097 mL | 5.484 mL | 10.968 mL |
| 5 mM | 21.935 µL | 109.677 µL | 219.354 µL | 1.097 mL | 2.194 mL |
| 10 mM | 10.968 µL | 54.838 µL | 109.677 µL | 548.384 µL | 1.097 mL |
Molarity calculator
Enter any two values (mass, volume, concentration) to calculate the third.
Mass (

Calculate

)
Molecular weight
Volume (

Calculate

)
Concentration (

Calculate

)
Moles
/
=
x
=
Spectrum
Open in Advanced Spectrum Viewer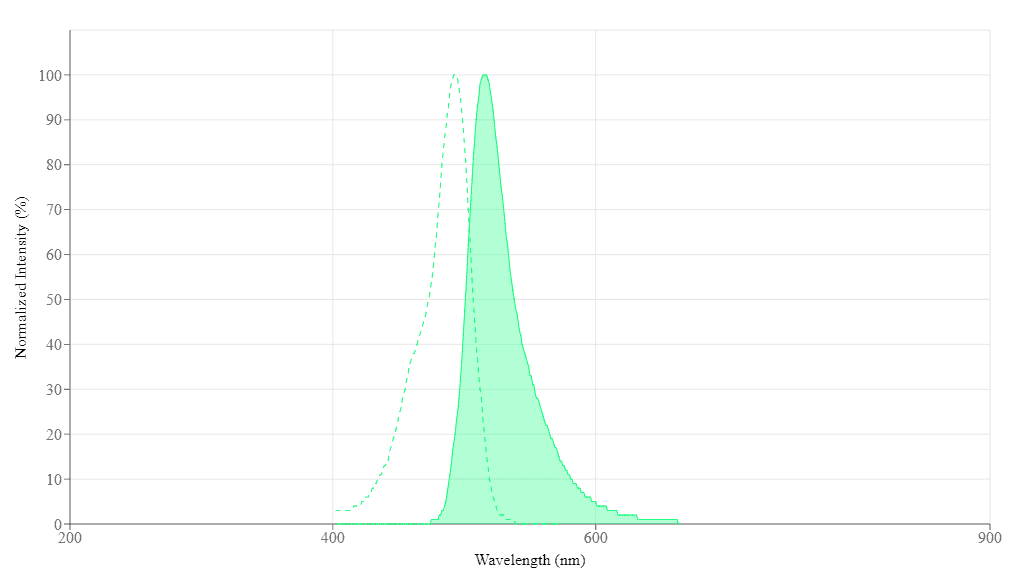 Spectral properties
| | |
| --- | --- |
| Excitation (nm) | 493 |
| Emission (nm) | 515 |
| Quantum yield | 0.751 |
Images
Citations
Monosialoganglioside 1 may alleviate neurotoxicity induced by propofol combined with remifentanil in neural stem cells
Authors:
Lu, Jiang and Yao, Xue-qin and Luo, Xin and Wang, Yu and Chung, Sookja Kim and Tang, He-xin and Cheung, Chi Wai and Wang, Xian-yu and Meng, Chen and Li, Qing and others, undefined
Journal:
Neural Regeneration Research
(2017)
: 945
Di (2-ethylhexyl) phthalate-induced apoptosis in rat INS-1 cells is dependent on activation of endoplasmic reticulum stress and suppression of antioxidant protection
Authors:
Sun, Xia and Lin, Yi and Huang, Qiansheng and Shi, Junpeng and Qiu, Ling and Kang, Mei and Chen, Yajie and Fang, Chao and Ye, Ting and Dong, Sijun
Journal:
Journal of cellular and molecular medicine
(2015)
: 581--594
Fungus induces the release of IL-8 in human corneal epithelial cells, via Dectin-1-mediated protein kinase C pathways.
Authors:
Peng, Xu-Dong and Zhao, Gui-Qiu and Lin, Jing and Jiang, Nan and Xu, Qiang and Zhu, Cheng-Cheng and Qu, Jain-Qiu and Cong, Lin and Li, Hui
Journal:
International journal of ophthalmology
(2014)
: 441--447
References
A flow cytometric comparison of Indo-1 to fluo-3 and Fura Red excited with low power lasers for detecting Ca(2+) flux
Authors:
Bailey S, Macardle PJ.
Journal:
J Immunol Methods
(2006)
: 220
Functional fluo-3/AM assay on P-glycoprotein transport activity in L1210/VCR cells by confocal microscopy
Authors:
Orlicky J, Sulova Z, Dovinova I, Fiala R, Zahradnikova A, Jr., Breier A.
Journal:
Gen Physiol Biophys
(2004)
: 357
Comparison of human recombinant adenosine A2B receptor function assessed by Fluo-3-AM fluorometry and microphysiometry
Authors:
Patel H, Porter RH, Palmer AM, Croucher MJ.
Journal:
Br J Pharmacol
(2003)
: 671
Measurement of the dissociation constant of Fluo-3 for Ca2+ in isolated rabbit cardiomyocytes using Ca2+ wave characteristics
Authors:
Loughrey CM, MacEachern KE, Cooper J, Smith GL.
Journal:
Cell Calcium
(2003)
: 1
A sensitive method for the detection of foot and mouth disease virus by in situ hybridisation using biotin-labelled oligodeoxynucleotides and tyramide signal amplification
Authors:
Zhang Z, Kitching P.
Journal:
J Virol Methods
(2000)
: 187
Kinetics of onset of mouse sperm acrosome reaction induced by solubilized zona pellucida: fluorimetric determination of loss of pH gradient between acrosomal lumen and medium monitored by dapoxyl (2-aminoethyl) sulfonamide and of intracellular Ca(2+) chang
Authors:
Rockwell PL, Storey BT.
Journal:
Mol Reprod Dev
(2000)
: 335
MRP2, a human conjugate export pump, is present and transports fluo 3 into apical vacuoles of Hep G2 cells
Authors:
Cantz T, Nies AT, Brom M, Hofmann AF, Keppler D.
Journal:
Am J Physiol Gastrointest Liver Physiol
(2000)
: G522
Use of co-loaded Fluo-3 and Fura Red fluorescent indicators for studying the cytosolic Ca(2+)concentrations distribution in living plant tissue
Authors:
Walczysko P, Wagner E, Albrechtova JT.
Journal:
Cell Calcium
(2000)
: 23
[Ca2+]i following extrasystoles in guinea-pig trabeculae microinjected with fluo-3 - a comparison with frog skeletal muscle fibres
Authors:
Wohlfart B., undefined
Journal:
Acta Physiol Scand
(2000)
: 1
Determination of the intracellular dissociation constant, K(D), of the fluo-3. Ca(2+) complex in mouse sperm for use in estimating intracellular Ca(2+) concentrations
Authors:
Rockwell PL, Storey BT.
Journal:
Mol Reprod Dev
(1999)
: 418