Cell Meter™ Live Cell TUNEL Apoptosis Assay Kit *Red Fluorescence*
Ordering information
| | |
| --- | --- |
| Price | |
| Catalog Number | |
| Unit Size | |
| Quantity | |
Additional ordering information
| | |
| --- | --- |
| Telephone | 1-800-990-8053 |
| Fax | 1-800-609-2943 |
| Email | sales@aatbio.com |
| International | See distributors |
| Bulk request | Inquire |
| Custom size | Inquire |
| Shipping | Standard overnight for United States, inquire for international |
Spectral properties
| | |
| --- | --- |
| Extinction coefficient (cm -1 M -1) | 27500 |
| Excitation (nm) | 549 |
| Emission (nm) | 648 |
Storage, safety and handling
| | |
| --- | --- |
| H-phrase | H303, H313, H333 |
| Hazard symbol | XN |
| Intended use | Research Use Only (RUO) |
| R-phrase | R20, R21, R22 |
| UNSPSC | 12352200 |
| | | |
| --- | --- | --- |
| Extinction coefficient (cm -1 M -1) | | |
DNA fragmentation represents a characteristic of late stage apoptosis. DNA fragmentation in apoptotic cells can be detected by terminal deoxynucleotidyl transferase (TdT)-mediated dUTP nick end labeling (TUNEL). The TUNEL assay relies on the presence of nicks in the DNA which can be identified by TdT, an enzyme that catalyzes the addition of dUTPs that are secondarily labeled with a marker. All the existing TUNEL assays contain the highly toxic sodium cacodylate which might induces apoptosis and also decrease DNA production and DNA strands. Our Cell Meter™ TUNEL Apoptosis Assay Kit uses proprietary buffer system free of sodium cacodylate. The kit is based on the incorporation of our unique proprietary fluorescent dye into the DNA fragments that form during apoptosis. The assay is optimized for the direct detection of apoptosis in either detached or attached cells without using antibody. The kit provides all the essential components with an optimized assay protocol. It is suitable for fluorescence microplate reader, fluorescence microscope, or flow cytometer.
Platform
Flow cytometer
| | |
| --- | --- |
| Excitation | 488 nm laser |
| Emission | 660/20 nm filter |
| Instrument specification(s) | PE-Cy5 channel |
Fluorescence microscope
| | |
| --- | --- |
| Excitation | TRITC filter |
| Emission | TRITC filter |
| Recommended plate | Black wall/clear bottom |
Example protocol
AT A GLANCE
Protocol Summary
Prepare cells with test compounds

Incubate with TUNEL working solution for 30 min to 1 hour at 37 °C

Wash the cells
Fix cells with 4% formaldehyde (optional)

Read fluorescence intensity using fluorescence microscope with TRITC filter or flow cytometer with FL3 channel
Important  Thaw all the components at room temperature before starting the experiment.
CELL PREPARATION
Culture cells to an optimal density for apoptosis induction according to your specific protocol. We recommend about 30,000 to 50,000 cells/well for adherent cells grown in a 96-well microplate culture, or about 1 to 2 x 106 cells/mL for non-adherent cells. At the same time, culture a non-induced negative control cell population at the same density as the induced population for every labeling condition. Note: We treated HeLa cells with 100 nM - 1 µM staurosporine for 4 hours to induce cell apoptosis. See Figure 1 for details.
For guidelines on cell sample preparation, please visit https://www.aatbio.com/resources/guides/cell-sample-preparation.html
PREPARATION OF WORKING SOLUTION
Add 0.5 μL of 100X Tunnelyte™ Red (Component A) into 50 μL of Reaction Buffer (Component B) to make a total volume of 50.5 μL of TUNEL working solution. Protect from light. Note: Each cell line should be evaluated on an individual basis to determine the optimal cell density.
SAMPLE EXPERIMENTAL PROTOCOL
Stain and Fixation:
Remove cell media.
Add 50 µL of TUNEL working solution to each sample.
Incubate at 37°C for 30-60 minutes.
Remove TUNEL working solution, and wash the cells 1 - 2 times with 200 µL/well of PBS.
Add 100 uL Reaction buffer (Component B) to each sample.

Monitor the fluorescence intensity using a fluorescence microscope with TRITC filter or flow cytometer with FL3 channel.

Optional: Remove the reaction buffer from Step 5, and add 100 µL/well/96-well plate of 4% formaldehyde fixative buffer (not supplied) to each well. Note: For non-adherent cells, add desired amount (such as 2X106 cells/mL) of 4% formaldehyde fixative buffer.

Incubate plates for 20 to 30 minutes at room temperature.
Remove fixative.
Wash the cells with PBS 2-3 times, and replace with 100 µL PBS/well/96-well plate.

Monitor the fluorescence intensity using a fluorescence microscope with TRITC filter or flow cytometer with FL3 channel.

Optional: Stain the nucleus with 1X Hoechst (Component C) at Ex/Em = 350/460 nm for image analysis
Spectrum
Open in Advanced Spectrum Viewer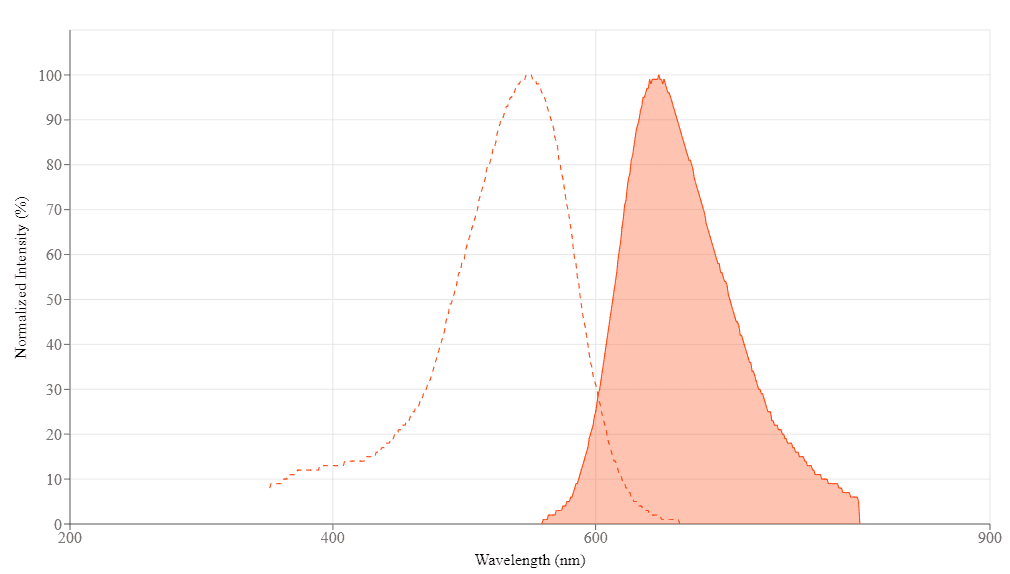 Spectral properties
| | |
| --- | --- |
| Extinction coefficient (cm -1 M -1) | 27500 |
| Excitation (nm) | 549 |
| Emission (nm) | 648 |
Images

Figure 1.
Fluorescence images of TUNEL reaction in HeLa cells with the treatment of 100 nM or 1 μM staurosporine (SS) for 4 hours as compare to untreated control. Cells were incubated with TUNEL working solution for 1 hour at 37ºC. The red fluorescence signal was analyzed using fluorescence microscope with a TRITC filter set. Fluorescently labeled DNA strand breaks shows intense fluorescent staining in SS treated cells.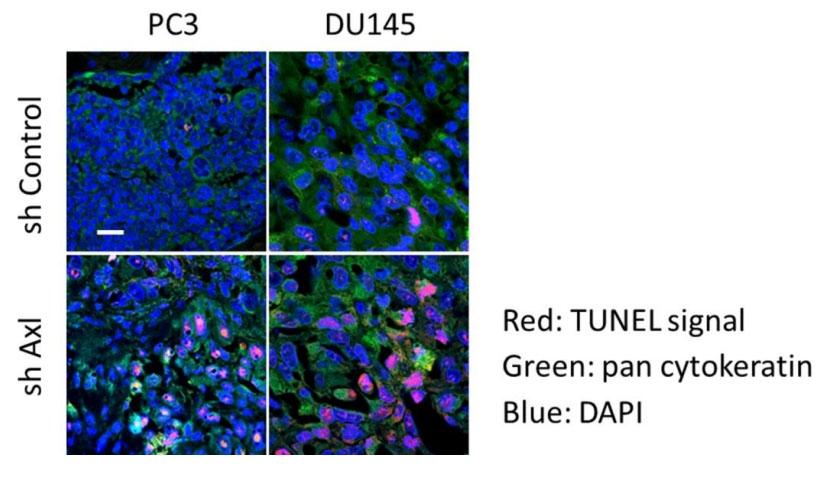 Figure 2.
Apoptotic PCa cells in BM defined by TUNEL staining. PCa cells were recognized by pan cytokeratin with green color, and TUNEL signals were shown with red color. Scale bar, 20 μm. Source: Axl is required for TGF-β2-induced dormancy of prostate cancer cells in the bone marrow by Yumoto et al., Scientific Reports, Nov. 2016.
Citations
Inhibition of lung microbiota-derived proapoptotic peptides ameliorates acute exacerbation of pulmonary fibrosis
Authors:
D'Alessandro-Gabazza, Corina N and Yasuma, Taro and Kobayashi, Tetsu and Toda, Masaaki and Abdel-Hamid, Ahmed M and Fujimoto, Hajime and Hataji, Osamu and Nakahara, Hiroki and Takeshita, Atsuro and Nishihama, Kota and others,
Journal:
Nature communications
(2022)
: 1--23
References
In situ detection of apoptosis by the TUNEL assay: an overview of techniques
Authors:
Loo DT., undefined
Journal:
Methods Mol Biol
(2011)
: 3
Testicular apoptosis after dietary zinc deficiency: ultrastructural and TUNEL studies
Authors:
Kumari D, Nair N, Bedwal RS.
Journal:
Syst Biol Reprod Med
(2011)
: 233
In situ localization of apoptosis using TUNEL
Authors:
Hewitson TD, Darby IA.
Journal:
Methods Mol Biol
(2010)
: 161
Simultaneous PCNA and TUNEL labeling for testicular toxicity evaluation suggests that detection of apoptosis may be more sensitive than proliferation
Authors:
D'Andrea MR, Alicknavitch M, Nagele RG, Damiano BP.
Journal:
Biotech Histochem
(2010)
: 195
Ultrastructure and TUNEL staining on inhibition of Rubus alceaefolius total alkaloids for apoptosis of liver in rat models of acute hepatitis
Authors:
Chen W, Hong Z, Li T, Zhao J, Lin J, Zhou J, Huang M.
Journal:
Zhongguo Zhong Yao Za Zhi
(2010)
: 1060
Testicular apoptosis in feral Clarias gariepinus using TUNEL and cleaved caspase-3 immunohistochemistry
Authors:
McClusky LM, Barnhoorn IE, van Dyk JC, Bornman MS.
Journal:
Ecotoxicol Environ Saf
(2008)
: 41
Analysis of apoptosis by cytometry using TUNEL assay
Authors:
Darzynkiewicz Z, Galkowski D, Zhao H.
Journal:
Methods
(2008)
: 250
The effects of benzene exposure on apoptosis in epithelial lung cells: localization by terminal deoxynucleotidyl transferase-mediated dUTP-biotin nick end labeling (TUNEL) and the immunocytochemical localization of apoptosis-related gene products
Authors:
Weaver CV, Liu SP, Lu JF, Lin BS.
Journal:
Cell Biol Toxicol
(2007)
: 201
Simultaneous detection of a cell surface antigen and apoptosis by microwave-sensitized TUNEL assay on paraffin sections
Authors:
Christina M, Angelika HL, Bernd P, Martina P.
Journal:
J Immunol Methods
(2006)
: 163
Apoptosis in the antral follicles of swamp buffalo and cattle ovary: TUNEL and caspase-3 histochemistry
Authors:
Feranil J, Isobe N, Nakao T.
Journal:
Reprod Domest Anim
(2005)
: 111