Cell Meter™ Multiplexing Caspase 3/7, 8 and 9 Activity Assay Kit *Triple Fluorescence Colors*
Ordering information
| | |
| --- | --- |
| Price | |
| Catalog Number | |
| Unit Size | |
| Quantity | |
Additional ordering information
| | |
| --- | --- |
| Telephone | 1-800-990-8053 |
| Fax | 1-800-609-2943 |
| Email | sales@aatbio.com |
| International | See distributors |
| Bulk request | Inquire |
| Custom size | Inquire |
| Shipping | Standard overnight for United States, inquire for international |
Storage, safety and handling
| | |
| --- | --- |
| H-phrase | H303, H313, H333 |
| Hazard symbol | XN |
| Intended use | Research Use Only (RUO) |
| R-phrase | R20, R21, R22 |
| UNSPSC | 12352200 |
Our Cell Meter™ assay kits are a set of tools for monitoring cell viability. There are a variety of parameters that can be used for monitoring cell viability. Caspases activation is widely accepted as a reliable indicator for cell apoptosis. This particular kit is designed to simultaneously monitor four key caspases (caspase-3/7, 8 and 9) activation involved in cell apoptosis using three distinct fluorescent colors. This kit uses DEVD-ProRed™, IETD-R110 and LEHD-AMC as fluorogenic indicators for caspase 3/7, 8 and 9 activity respectively. Upon caspase cleavages, DEVD-ProRed™, IETD-R110 and LEHD-AMC caspase substrates generate three distinct fluorophores: ProRed™ (red fluorescence), R110 (green fluorescence) and AMC (blue fluorescence), which can be readily monitored in a single assay due to their nice spectral separation.
Platform
Fluorescence microplate reader
| | |
| --- | --- |
| Excitation | See Table 1 |
| Emission | See Table 1 |
| Recommended plate | Black wall/clear bottom |
| Instrument specification(s) | Use either top or bottom read mode |
Example protocol
AT A GLANCE
Protocol summary
Prepare cells with test compounds
Add equal volume of caspase working solution
Incubate at room temperature for 30 min to 1 hour
Monitor fluorescence intensity
Important notes
Thaw kit components at room temperature before use.
PREPARATION OF WORKING SOLUTION
1. Single caspase activity working solution
Make caspase 3/7, caspase 8 or caspase 9 working solution by adding 50 µL of substrate (Component A, B or C) into 10 mL of Assay Buffer (Component D), and mix them well.
2. Dual- or tri- caspase activity working solution:
Add 50 µL of each interested caspase substrate into 10 mL of Assay Buffer (Component D) together to make the working solution. Note: Please prepare the tested substrate solutions and the needed volume proportionally.
For guidelines on cell sample preparation, please visit
https://www.aatbio.com/resources/guides/cell-sample-preparation.html
SAMPLE EXPERIMENTAL PROTOCOL
Treat cells by adding 10 µL/well of 10X test compounds (96-well plate) or 5 µL/well of 5X test compounds (384-plate) into PBS or the desired buffer. For blank wells (medium without the cells), add the same amount of compound buffer.


Incubate the cell plate in a 37°C, 5% CO2, incubator for a desired period of time (3 - 5 hours for Jurkat cells treated with staurosporine) to induce apoptosis.


Add 100 µL/well/96-well or 25 µL/well/384-well plate of desired caspase assay working solution.


Incubate the plate at room temperature for at least 30 to 60 min, protected from light. Note: If desired, add 1 µL of 1 mM caspase inhibitor to selected samples 10 minutes before adding the assay loading solution at room temperature to confirm the inhibition of caspase activities.


Monitor the fluorescence intensity as indicated in the table with either top or bottom read mode. Note: Sometimes, bottom read gives better signal to background ratio, centrifuge cell plate (especially for the nonadherent cells) at 800 rpm for 2 minutes (brake off) if using bottom read mode.
Table 1. Spectral wavelengths for Caspases 3/7, 8, and 9.
| | | | |
| --- | --- | --- | --- |
| Capase | Fluorescence | Excitation | Emission |
| Caspase 3/7 | Red | 535 nm | 620 nm |
| Caspase 8 | Green | 490 nm | 525 nm |
| Caspase 9 | Blue | 370 nm | 450 nm |
Images

Figure 1.
Detection of Caspase Activities in Jurkat cells. Jurkat cells were seeded on the same day at 200,000 cells/well in a Costar black wall/clear bottom 96-well plate. The cells were treated with staurosporine at the final concentration of 1 mM for 4 hours (Red Bar) while the untreated cells were used as control (Blue Bar). The single-caspase assay loading solution (100 uL/well) was added (in #1 for caspase 3/7, #2 for caspase 8 or #3 for caspase 9) or Triple-caspase assay loading solution (#4 for caspase 3/7, 8 and 9 together) was added, and incubated at room temperature for 1 hour. The fluorescence intensity was measured with FlexStation fluorescence microplate reader at the indicated wavelength. The caspase 3/7, 8 and 9 activities can be detected in a single assay without interferences from other caspases.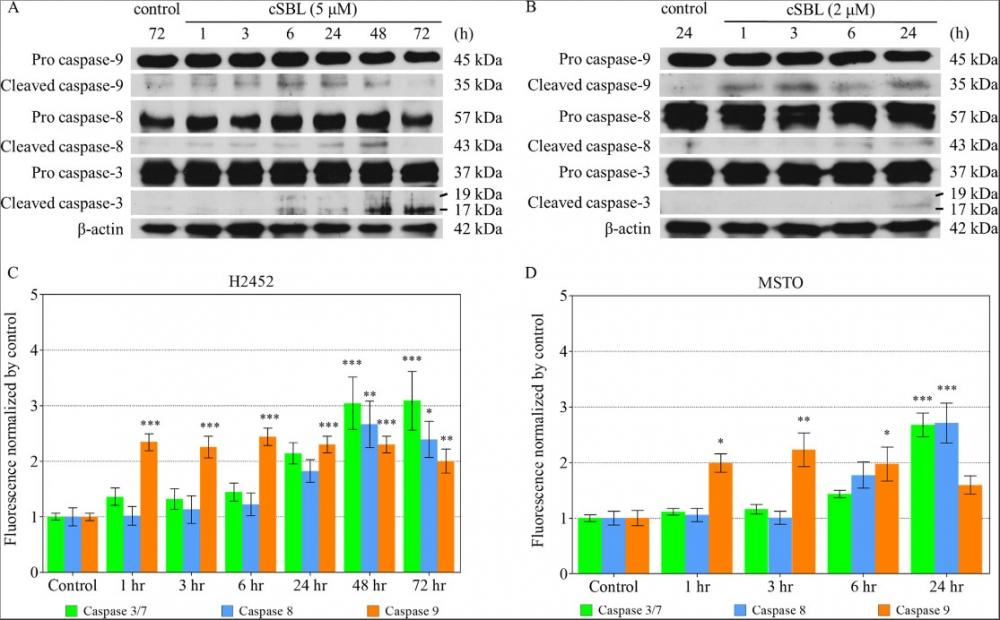 Figure 2.
cSBL induced apoptosis in H2452 and MSTO cells via activation of the caspase pathway. Caspase-3, -8, and -9 activation was detected by western blotting (A, B) or fluorometry (C, D). Fluorometry was performed independently three times and data are expressed as the mean ± SD. The statistical significance of these experiments compared with the control is shown in as follows: *P<0.05, **P<0.01, ***P<0.001. Source: Sialic acid-binding lectin from bullfrog eggs inhibits human malignant mesothelioma cell growth in vitro and in vivo by Tatsuta T et al., PLOS, Jan. 2018.
Citations
Ipatasertib exhibits anti-tumorigenic effects and enhances sensitivity to paclitaxel in endometrial cancer in vitro and in vivo
Authors:
O'Donnell, Jillian and Zhao, Ziyi and Buckingham, Lindsey and Hao, Tianran and Suo, Hongyan and Zhang, Xin and Fan, Yali and John, Catherine and Deng, Boer and Shen, Xiaochang and others,
Journal:
International Journal of Oncology
(2023)
: 1--14
Asparagus officinalis combined with paclitaxel exhibited synergistic anti-tumor activity in paclitaxel-sensitive and-resistant ovarian cancer cells
Authors:
Zhang, Xin and Wang, Jiandong and Fan, Yali and Zhao, Ziyi and Paraghamian, Sarah E and Hawkins, Gabrielle M and Buckingham, Lindsey and O'Donnell, Jillian and Hao, Tianran and Suo, Hongyan and others,
Journal:
Journal of Cancer Research and Clinical Oncology
(2022)
: 1--13
Hypertonicity-enforced BCL-2 addiction unleashes the cytotoxic potential of death receptors
Authors:
Sirtl, Simon and Knoll, Gertrud and Trinh, Dieu Thuy and Lang, Isabell and Siegmund, Daniela and Gross, Stefanie and Schuler-Thurner, Beatrice and Neubert, Patrick and Jantsch, Jonathan and Wajant, Harald and others,
Journal:
Oncogene
(2018)
: 4122--4136