ReadiUse™ Preactivated APC Maleimide [Activated Allophycocyanin]
Ordering information
| | |
| --- | --- |
| Price | |
| Catalog Number | |
| Unit Size | |
| Quantity | |
Additional ordering information
| | |
| --- | --- |
| Telephone | 1-800-990-8053 |
| Fax | 1-800-609-2943 |
| Email | sales@aatbio.com |
| Quotation | Request |
| International | See distributors |
| Shipping | Standard overnight for United States, inquire for international |
Spectral properties
| | |
| --- | --- |
| Extinction coefficient (cm -1 M -1) | 700000 |
| Excitation (nm) | 651 |
| Emission (nm) | 660 |
Storage, safety and handling
| | |
| --- | --- |
| H-phrase | H303, H313, H333 |
| Hazard symbol | XN |
| Intended use | Research Use Only (RUO) |
| R-phrase | R20, R21, R22 |
| Storage | Refrigerated (2-8 °C); Minimize light exposure |
| UNSPSC | 12171501 |
| | | |
| --- | --- | --- |
| Extinction coefficient (cm -1 M -1) | | |
ReadiUse™ Preactivated APC Maleimide is prepared by reacting highly purified allophycocyanin (APC) with SMCC. The NHS group of SMCC reacts with the lysine groups of APC, leaving maleimide groups available to react with free sulfhydryl groups on proteins to be conjugated. ReadiUse™ Preactivated APC Maleimide is highly purified to completely remove the unreacted SMCC, and lyophilized to powder. It is ready to use and will conjugate without further preparation upon mixing with sulfhydryl-containing target molecules such as reduced IgGs. The activated allophycocyanin can be easily conjugated to antibodies and other proteins without the use of added chemical crosslinking agents. These highly purified phycobiliproteins maintain their spectral characteristics of APC.
Example protocol
SAMPLE EXPERIMENTAL PROTOCOL
Reduction of Antibody
Prepare a fresh solution of 1.0 M DTT (15.4 mg/100 µL) in distilled water. Antibody reduction can be carried out in different buffers, such as MES, phosphate, or TRIS (pH 6 to 8). For best results, antibody solutions should be >2 mg/mL. If less than 2 mg/mL, the antibody should be concentrated.

Add 2 µL of 1.0 M DTT stock per 100 µL of antibody solution, and mix well. Let the antibody solution stand at room temperature for 30 minutes without additional mixing to minimize the reoxidation of cysteines.

Purify the reduced antibody using a desalting column (Cat No. 60500) pre-equilibrated with 50 mM MES buffer (pH 6.0-6.5) and 2 mM EDTA.

Measure the antibody concentration using a Nanodrop. (Con. (mg/mL) = A280nm/1.4).


Note

     Reduced antibodies are typically unstable. It is best to run the conjugation reaction immediately following purification.
 
Conjugate with ReadiUse™ Preactivated APC Maleimide
Reconstitute ReadiUse™ Preactivated APC Maleimide in ddH2O to make a 10 mg/mL solution. For Cat No. 2567 (1 mg) reconstitute in 100 µL of ddH2O. If using Cat No. 2568 (5 mg), reconstitute in 500 µL of ddH2O. Reconstituted ReadiUse™ Preactivated APC Maleimide solutions are stable at 4 °C for up to one month, protected from light.

Add the reduced antibody directly to the solution of ReadiUse™ Preactivated APC at a ratio of 130 µg APC/100 µg of reduced antibody.

Rotate the mixture for 60 to 120 minutes at room temperature.

Block any free sulfhydryl groups on the antibody. Prepare a fresh solution of 10 mg/mL N-Ethylmaleimide (NEM) in DMSO and add 3.4 µL per mg of antibody. Rotate for 20 minutes at room temperature. 
Conjugate Purification
Purify the antibody/APC conjugate solution using size exclusion chromatography.


Note

     Typically the antibody/APC conjugate can be stored at 2-8 °C, protected from light, for up to 6 months. The best storage conditions for any particular conjugate must be determined by experimentation and depends on the stability of the antibody.
 
Spectrum
Open in Advanced Spectrum Viewer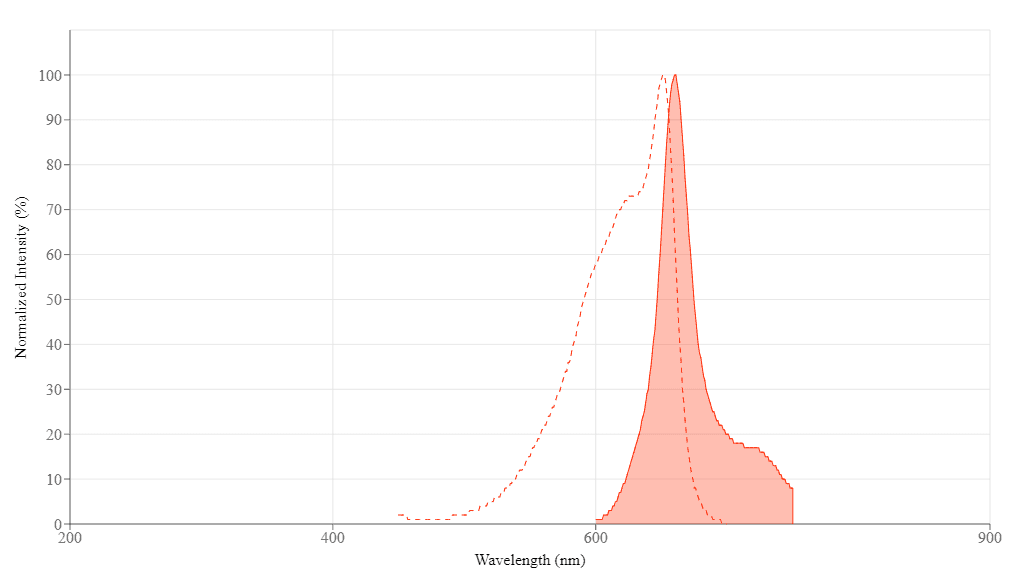 Spectral properties
| | |
| --- | --- |
| Extinction coefficient (cm -1 M -1) | 700000 |
| Excitation (nm) | 651 |
| Emission (nm) | 660 |
Images
References
Magnetic particles encoding a suspension probe for ultra-sensitive and quantitative determination of atrazine.
Authors:
Zhao, Zhigao and Dou, Xiaowen and Luo, Jiaoyang and Jin, Meiqi and Qin, Jiaan and Wang, Changjian and Yang, Shihai and Yang, Meihua
Journal:
Journal of pharmaceutical and biomedical analysis
(2021)
: 113868
Non-oxidative band-3 clustering agents cause the externalization of phosphatidylserine on erythrocyte surfaces by a calcium-independent mechanism.
Authors:
Koshkaryev, Alexander and Livshits, Leonid and Pajic-Lijakovic, Ivana and Gural, Alexander and Barshtein, Gregory and Yedgar, Saul
Journal:
Biochimica et biophysica acta. Biomembranes
(2020)
: 183231
Leukocyte-Derived Extracellular Vesicles in Blood with and without EpCAM Enrichment.
Authors:
Nanou, Afroditi and Zeune, Leonie L and Terstappen, Leon W M M
Journal:
Cells
(2019)
Exogenous IL-9 Ameliorates Experimental Autoimmune Myasthenia Gravis Symptoms in Rats.
Authors:
Yao, Xiuhua and Zhao, Jiarui and Kong, Qingfei and Xie, Xiaoli and Wang, Jinghua and Sun, Bo and Xu, Lixia and Mu, Lili and Li, Hulun
Journal:
Immunological investigations
(2018)
: 712-724
Non-invasive dual fluorescence in vivo imaging for detection of macrophage infiltration and matrix metalloproteinase (MMP) activity in inflammatory arthritic joints.
Authors:
Cho, Hongsik and Bhatti, Fazal-Ur-Rehman and Yoon, Tae Won and Hasty, Karen A and Stuart, John M and Yi, Ae-Kyung
Journal:
Biomedical optics express
(2016)
: 1842-52
Monitoring genotoxicity in patients receiving chemotherapy for cancer: application of the PIG-A assay.
Authors:
Horibata, Katsuyoshi and Ukai, Akiko and Ishikawa, Shigeo and Sugano, Ayako and Honma, Masamitsu
Journal:
Mutation research. Genetic toxicology and environmental mutagenesis
(2016)
: 20-6
A high-throughput neutralizing assay for antibodies and sera against hepatitis E virus.
Authors:
Cai, Wei and Tang, Zi-Min and Wen, Gui-Ping and Wang, Si-Ling and Ji, Wen-Fang and Yang, Min and Ying, Dong and Zheng, Zi-Zheng and Xia, Ning-Shao
Journal:
Scientific reports
(2016)
: 25141
Endothelial activation and apoptosis mediated by neutrophil-dependent interleukin 6 trans-signalling: a novel target for systemic sclerosis?
Authors:
Barnes, Theresa C and Spiller, David G and Anderson, Marina E and Edwards, Steven W and Moots, Robert J
Journal:
Annals of the rheumatic diseases
(2011)
: 366-72
A new procedure for the quantitative assessment of p-glycoprotein efflux pump associated with human T lymphocytes.
Authors:
Vélez, Rosa and Sánchez, María del C and Lopez, Pablo and Yamamura, Yasuhiro
Journal:
Ethnicity & disease
(2008)
: S2-75-80
Dextramers: new generation of fluorescent MHC class I/peptide multimers for visualization of antigen-specific CD8+ T cells.
Authors:
Batard, Pascal and Peterson, Daniel A and Devêvre, Estelle and Guillaume, Philippe and Cerottini, Jean-Charles and Rimoldi, Donata and Speiser, Daniel E and Winther, Lars and Romero, Pedro
Journal:
Journal of immunological methods
(2006)
: 136-48