ReadiUse™ Preactivated PerCP
Ordering information
| | |
| --- | --- |
| Price | |
| Catalog Number | |
| Unit Size | |
| Quantity | |
Additional ordering information
| | |
| --- | --- |
| Telephone | 1-800-990-8053 |
| Fax | 1-800-609-2943 |
| Email | sales@aatbio.com |
| International | See distributors |
| Bulk request | Inquire |
| Custom size | Inquire |
| Shipping | Standard overnight for United States, inquire for international |
Spectral properties
| | |
| --- | --- |
| Extinction coefficient (cm -1 M -1) | 350000 |
| Excitation (nm) | 477 |
| Emission (nm) | 678 |
Storage, safety and handling
| | |
| --- | --- |
| H-phrase | H303, H313, H333 |
| Hazard symbol | XN |
| Intended use | Research Use Only (RUO) |
| R-phrase | R20, R21, R22 |
| Storage | Refrigerated (2-8 °C); Minimize light exposure |
| UNSPSC | 12171501 |
| | | |
| --- | --- | --- |
| Extinction coefficient (cm -1 M -1) | | |
PerCP (Peridinin-chlorophyll-protein complex) is isolated from Dinophyceae sp. It has an extremely high extinction coefficient, a high quantum efficiency and a large Stokes shift. It is well excited with the Argon laser at 488 nm with its maximum emission peak at 677 nm. PerCP protein is commonly used for fluorescent immunolabeling, particularly in applications involving fluorescent-activated cell sorting (FACS). Its tandem conjugates (such as PerCP-Cy5.5) can be excited with a standard 488 nm laser and emits in the far red at a longer wavelength for multicolor flow cytometric analysis of cells. These multiple emission wavelengths make PerCP- Cyanine conjugates potentially useful fluorochromes for multicolor analysis with FITC, PE and other fluorochromes. PerCP tandem structure may make it more photostable than PerCP alone, which generally photobleaches rapidly with more powerful water-cooled gas lasers. AAT Bioquest offers this preactivated PerCP to facilitate the PerCP conjugations to antibodies and other proteins such as streptavidin and other secondary reagents. Our preactivated PerCP is ready to conjugate, giving much higher yield than the conventionally tedious SMCC-based conjugation chemistry. In addition, our preactivated PerCP is conjugated to a protein via its amino group that is abundant in proteins while SMCC chemistry targets the thiol group that has to be regenerated by the reduction of antibodies.
Example protocol
AT A GLANCE
Important
PerCP was premodified with our Buccutite™ FOL. Your antibody (or other proteins) is modified with our Buccutite™ MTA to give MTA-modified protein. The MTA-modified protein readily reacts with FOL-modified PerCP (provided) to give the desired PerCP-antibody conjugate.
SAMPLE EXPERIMENTAL PROTOCOL
Preparation of pre-activated Antibody with Buccutite™ MTA
Reconstitute Buccutite™ MTA in DMSO at ~10 mg/mL.


Note

     Store unused MTA at -20 °C; it can be used for up to two freeze and thaw cycles.

Prepare target antibody (Ab) in pH = 8.5 - 9.0 buffer at a concentration above 1 mg/ml.

Add the MTA to Ab solution at the ratio of 8 - 10 µg MTA/100 µg Ab.

Mix well and react at room temperature for 60 minutes, rotating during the reaction.

Purify the reaction mixture with a desalting column to remove any unreacted MTA. Exchange the buffer to PBS or another buffer of your choice.

Collect the MTA-activated Ab. Estimate the concentration by 70% yield of the original starting amount. 
Conjugate with Pre-activated PerCP
Reconstitute pre-activated PerCP in 100 µL ddH2O to 10 mg/mL.


Note

     Reconstituted pre-activated PerCP is not stable and can not be stored for more than one month.

Add pre-activated PerCP directly to MTA-activated target Ab solution at the ratio of 75 µg PerCP/100 µg MTA-activated Ab.

Rotate the mixture for 1 - 2 hours at room temperature.

The Ab/PerCP conjugates are now ready to use.


Note

     The antibody conjugate should be stored at >0.5 mg/mL in the presence of a carrier protein (e.g., 0.1% bovine serum albumin) and 0.02-0.05% sodium azide.


Note

     The Ab/PerCP can be stored at 4 °C for two months.

Optional: Ab/PerCP can be further purified through size exclusion chromatography to get better performance. 
Spectrum
Open in Advanced Spectrum Viewer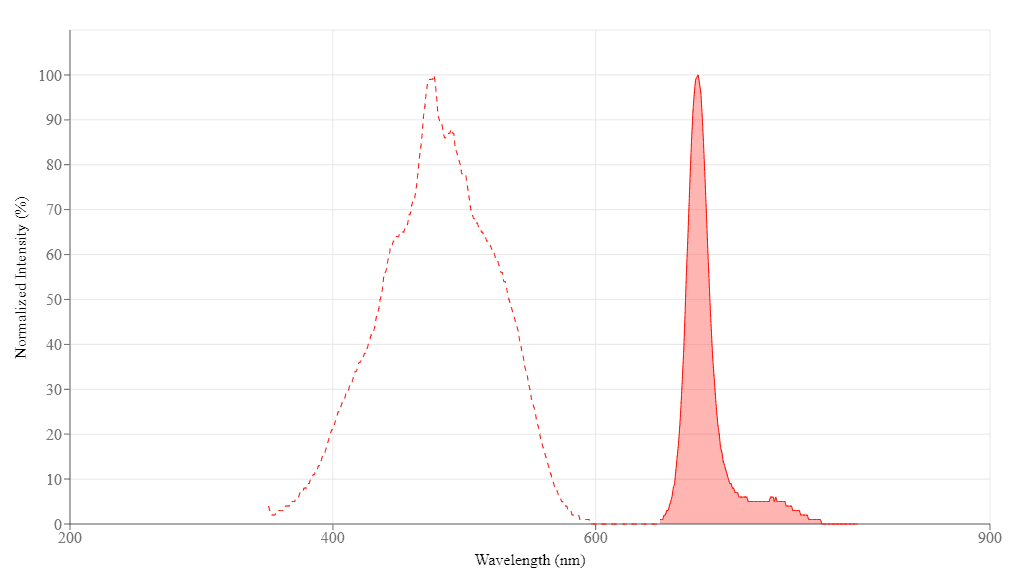 Spectral properties
| | |
| --- | --- |
| Extinction coefficient (cm -1 M -1) | 350000 |
| Excitation (nm) | 477 |
| Emission (nm) | 678 |
Images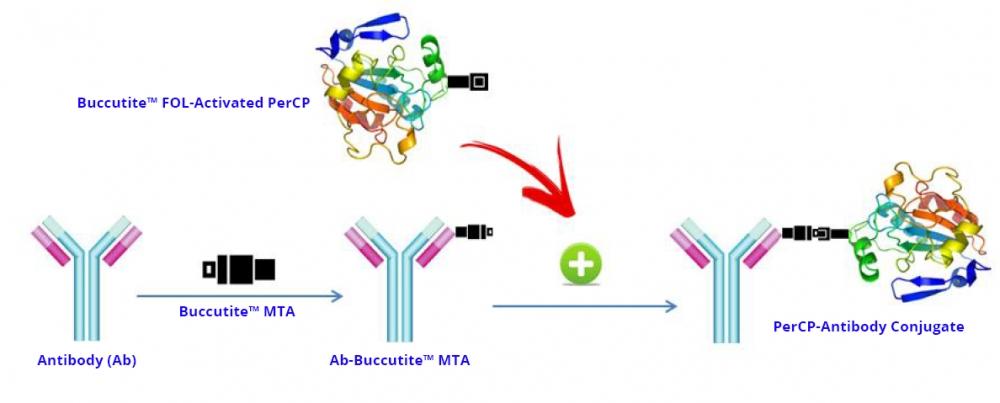 Figure 1.
Conjugation scheme for ReadiUse™ Preactivated PerCP. The activated PerCP label is premodified with our Buccutite™ FOL and can be readily used for conjugation. To conjugate your desired antibody or protein, first modify it with our Buccutite™ MTA (provided) and then mix both components. The Buccutite™ MTA-modified protein will readily react with the Buccutite™ FOL-activated PerCP to give the desired PerCP-antibody conjugate in much higher yield than SMCC chemistry. In addition our preactivated PerCP reacts with MTA-modified biopolymers at a much lower concentration than SMCC chemistry.
References
Chronic and oxidative stress association with total count of endothelial microvesicles in healthy young male plasma.
Authors:
Žėkas, Vytautas and Matuzevičienė, Reda and Karčiauskaitė, Dovilė and Mažeikienė, Asta and Burokienė, Neringa and Radzevičius, Mantas and Janilionienė, Aušra and Linkevičiūtė, Aušra and Kučinskienė, Zita Aušrelė
Journal:
Advances in clinical and experimental medicine : official organ Wroclaw Medical University
(2019)
: 683-692
B lymphocyte subsets and outcomes in patients with an initial diagnosis of transient hypogammaglobulinemia of infancy.
Authors:
Eroglu, Fehime K and Aerts Kaya, Fatima and Cagdas, Deniz and Özgür, Tuba Turul and Yılmaz, Togay and Tezcan, İlhan and Sanal, Özden
Journal:
Scandinavian journal of immunology
(2018)
: e12709
Exogenous IL-9 Ameliorates Experimental Autoimmune Myasthenia Gravis Symptoms in Rats.
Authors:
Yao, Xiuhua and Zhao, Jiarui and Kong, Qingfei and Xie, Xiaoli and Wang, Jinghua and Sun, Bo and Xu, Lixia and Mu, Lili and Li, Hulun
Journal:
Immunological investigations
(2018)
: 712-724
One tube with eight antibodies for 14-part bone marrow leukocyte differential using flow cytometry.
Authors:
Jacob, Marie-Christine and Souvignet, Alice and Pont, Julie and Solly, Françoise and Mondet, Julie and Kesr, Sanae and Pernollet, Martine and Dumestre-Perard, Chantal and Campos, Lydia and Cesbron, Jean-Yves
Journal:
Cytometry. Part B, Clinical cytometry
(2017)
: 299-309
[Diagnostic Value of CD27 Antigen in Patients with Multiple Myeloma].
Authors:
Wang, Hui and Liu, Lu and Liu, Fang and Chen, Li-Juan and Qu, Xiao-Yan and Li, Jian-Yong and Wu, Yu-Jie
Journal:
Zhongguo shi yan xue ye xue za zhi
(2017)
: 1069-1073
Possibility of Coagulation System Activation Determination with Tissue Factor in Pregnancy Complications.
Authors:
Slavik, Ludek and Novak, Martin and Ulehlova, Jana and Prochazka, Martin and Prochazkova, Jana and Lattova, Veronika and Polak, Petr and Pilka, Radovan
Journal:
Clinical laboratory
(2016)
: 1851-1856
Flow cytometric analysis of T lymphocyte proliferation in vivo by EdU incorporation.
Authors:
Sun, Xiaojing and Zhang, Chunpan and Jin, Hua and Sun, Guangyong and Tian, Yue and Shi, Wen and Zhang, Dong
Journal:
International immunopharmacology
(2016)
: 56-65
Inhibition of histone deacetylase 6 restores innate immune cells in the bone marrow in a lethal septic model.
Authors:
Zhao, Ting and Li, Yongqing and Liu, Baoling and Pan, Baihong and Cheng, Xin and Georgoff, Patrick and Alam, Hasan B
Journal:
The journal of trauma and acute care surgery
(2016)
: 34-40; discussion 40-1
Evaluation of interleukin 12 and CD56+ lymphocyte cells in pediatric hematopoietic stem cell transplantation for early diagnosis of acute graft versus host disease.
Authors:
Tootoonchian, Raziyeh and Pak, Fatemeh and Ardekani, Ali M and Sehati, Nasrin and Abedi-Valugerdi, Manuchehr and Kokhaei, Parviz
Journal:
Transplant immunology
(2016)
: 25-29
Consistent, multi-instrument single tube quantification of CD20 in antibody bound per cell based on CD4 reference.
Authors:
Degheidy, Heba and Abbasi, Fatima and Mostowski, Howard and Gaigalas, Adolfas K and Marti, Gerald and Bauer, Steven and Wang, Lili
Journal:
Cytometry. Part B, Clinical cytometry
(2016)
: 159-67