6-VIC Azide
Ordering information
| | |
| --- | --- |
| Price | |
| Catalog Number | |
| Unit Size | |
| Quantity | |
Additional ordering information
| | |
| --- | --- |
| Telephone | 1-800-990-8053 |
| Fax | 1-800-609-2943 |
| Email | sales@aatbio.com |
| Quotation | Request |
| International | See distributors |
| Shipping | Standard overnight for United States, inquire for international |
Physical properties
| | |
| --- | --- |
| Molecular weight | 623.83 |
| Solvent | DMSO |
Spectral properties
| | |
| --- | --- |
| Excitation (nm) | 526 |
| Emission (nm) | 543 |
Storage, safety and handling
| | |
| --- | --- |
| H-phrase | H303, H313, H333 |
| Hazard symbol | XN |
| Intended use | Research Use Only (RUO) |
| R-phrase | R20, R21, R22 |
| Storage | Freeze (< -15 °C); Minimize light exposure |
6-VIC is a popular fluorophore that is widely used in nucleic acid sequencing and related research. It is also often used for labeling oligos. 6-VIC azide is a convenient building block that is used to label a biomolecule that contains an alkyne group, such as alkyne-modified oligos.
Calculators
Common stock solution preparation
Table 1.
Volume of DMSO needed to reconstitute specific mass of 6-VIC Azide to given concentration. Note that volume is
only
for preparing stock solution. Refer to sample experimental protocol for appropriate experimental/physiological buffers.
| | | | | | |
| --- | --- | --- | --- | --- | --- |
| | 0.1 mg | 0.5 mg | 1 mg | 5 mg | 10 mg |
| 1 mM | 160.3 µL | 801.5 µL | 1.603 mL | 8.015 mL | 16.03 mL |
| 5 mM | 32.06 µL | 160.3 µL | 320.6 µL | 1.603 mL | 3.206 mL |
| 10 mM | 16.03 µL | 80.15 µL | 160.3 µL | 801.5 µL | 1.603 mL |
Molarity calculator
Enter any two values (mass, volume, concentration) to calculate the third.
Mass (

Calculate

)
Molecular weight
Volume (

Calculate

)
Concentration (

Calculate

)
Moles
/
=
x
=
Spectrum
Open in Advanced Spectrum Viewer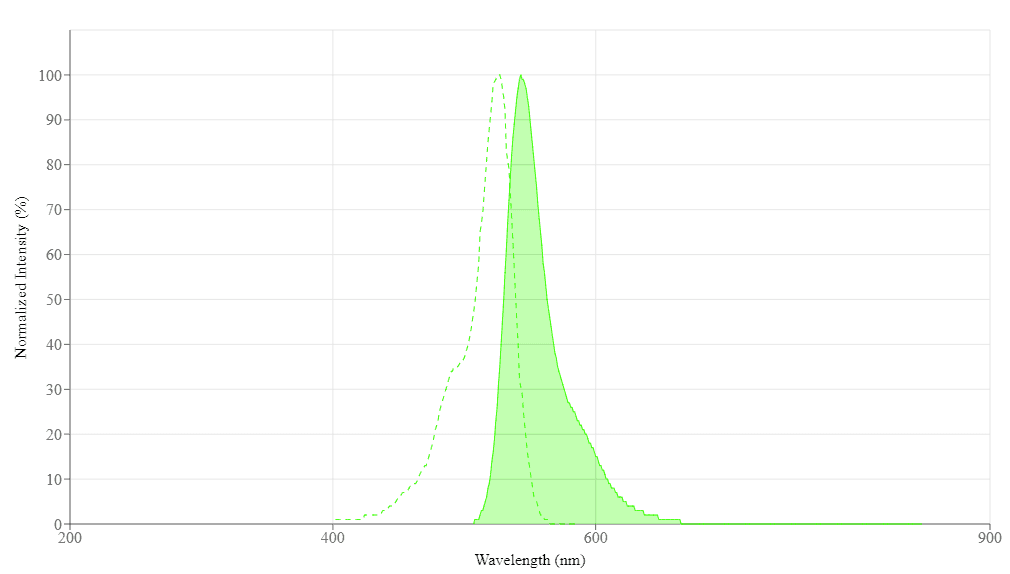 Spectral properties
| | |
| --- | --- |
| Excitation (nm) | 526 |
| Emission (nm) | 543 |
Images
Figure 1.
6-VIC azide is a fluorescent compound that contains an azido group (-N3) used in a variety of DNA sequencing and PCR applications. It is often used in combination with a complementary molecule bearing an alkyne group, such as propargylamine or dibenzylcyclooctyne (DBCO), in a reaction known as the Huisgen cycloaddition or "click" reaction. This reaction forms a stable triazole linkage between the azido and alkyne groups, allowing for the covalent attachment of a variety of biomolecules, drugs, or imaging agents to a target molecule or surface.
References
Anomalies in dye-terminator DNA sequencing caused by a natural G-quadruplex.
Authors:
Brush, George S
Journal:
PloS one
(2022)
: e0279423
DNA sequencing by Förster resonant energy transfer.
Authors:
Fotouhi, Bashir and Faramarzi, Vahid and Ahmadi, Vahid
Journal:
Optics express
(2022)
: 21854-21865
Cultivating DNA Sequencing Technology After the Human Genome Project.
Authors:
Schloss, Jeffery A and Gibbs, Richard A and Makhijani, Vinod B and Marziali, Andre
Journal:
Annual review of genomics and human genetics
(2020)
: 117-138
High Throughput Sediment DNA Sequencing Reveals Azo Dye Degrading Bacteria Inhabit Nearshore Sediments.
Authors:
Zhuang, Mei and Sanganyado, Edmond and Xu, Liang and Zhu, Jianming and Li, Ping and Liu, Wenhua
Journal:
Microorganisms
(2020)
Propidium monoazide conventional PCR and DNA sequencing: detection of negative culture bacterial pathogens causing subclinical mastitis.
Authors:
Farhan, M G and Abd El-Hamid, M I and Hassan, M N
Journal:
Journal of applied microbiology
(2020)
: 1595-1605
Thermococcus sp. 9°N DNA polymerase exhibits 3'-esterase activity that can be harnessed for DNA sequencing.
Authors:
LinWu, Shiuan-Woei and Tu, Yu-Hsuan and Tsai, Ting-Yueh and Maestre-Reyna, Manuel and Liu, Mu-Sen and Wu, Wen-Jin and Huang, Jyun-Yuan and Chi, Hung-Wen and Chang, Wei-Hsin and Chiou, Chung-Fan and Wang, Andrew H-J and Lee, Johnsee and Tsai, Ming-Daw
Journal:
Communications biology
(2019)
: 224
Highly accurate fluorogenic DNA sequencing with information theory-based error correction.
Authors:
Chen, Zitian and Zhou, Wenxiong and Qiao, Shuo and Kang, Li and Duan, Haifeng and Xie, X Sunney and Huang, Yanyi
Journal:
Nature biotechnology
(2017)
: 1170-1178
Data on single-step purification method for dye-labeled DNA sequencing.
Authors:
Fujikura, Kohei
Journal:
Data in brief
(2016)
: 873-6
Synthesis and evaluations of an acid-cleavable, fluorescently labeled nucleotide as a reversible terminator for DNA sequencing.
Authors:
Tan, Lianjiang and Liu, Yazhi and Li, Xiaowei and Wu, Xin-Yan and Gong, Bing and Shen, Yu-Mei and Shao, Zhifeng
Journal:
Chemical communications (Cambridge, England)
(2016)
: 2549-52
No-wash ethanol precipitation of dye-labeled reaction products improves DNA sequencing reads.
Authors:
Fujikura, Kohei
Journal:
Analytical biochemistry
(2015)
: 39-41