Calcein Deep Red™ AM ester
Ordering information
| | |
| --- | --- |
| Price | |
| Catalog Number | |
| Unit Size | |
| Quantity | |
Additional ordering information
| | |
| --- | --- |
| Telephone | 1-800-990-8053 |
| Fax | 1-800-609-2943 |
| Email | sales@aatbio.com |
| International | See distributors |
| Bulk request | Inquire |
| Custom size | Inquire |
| Shipping | Standard overnight for United States, inquire for international |
Physical properties
| | |
| --- | --- |
| Molecular weight | ~1000 |
| Solvent | DMSO |
Spectral properties
| | |
| --- | --- |
| Excitation (nm) | 643 |
| Emission (nm) | 663 |
Storage, safety and handling
| | |
| --- | --- |
| Intended use | Research Use Only (RUO) |
| Storage | Freeze (< -15 °C); Minimize light exposure |
Calcein AM is one the most popular fluorescent probes used for labeling and monitoring cellular functions of live cells. However, the single color of Calcein AM makes it impossible to use this valuable reagent in the multicolor applications. For example, it is impossible to use Calcein AM in combination of GFP-tranfacted cells due to the same color to GFP. To address this color limitation of Calcein AM, we have developed Calcein Orange™, Calcein Red™ and Calcein Deep Red™. These new Calcein AM ester enables the multicolor labeling and functional analysis of live cells in combination with Calcein AM. Non-fluorescent Calcein Deep Red™ AM ester can easily get into live cells and hydrolyzes to generate strongly fluorescent Calcein Deep Red™ (Cat#: 21902) dye. Calcein Deep Red™ dye can be monitored with the common Cy5 filter set.
Platform
Flow cytometer
| | |
| --- | --- |
| Excitation | 633/640 nm laser |
| Emission | 660/20 nm filter |
| Instrument specification(s) | APC channel |
Fluorescence microscope
| | |
| --- | --- |
| Excitation | Cy5 filter set |
| Emission | Cy5 filter set |
| Recommended plate | Black wall/clear bottom |
Fluorescence microplate reader
| | |
| --- | --- |
| Excitation | 620 |
| Emission | 660 |
| Cutoff | 630 |
| Recommended plate | Solid black |
Example protocol
PREPARATION OF STOCK SOLUTIONS
Unless otherwise noted, all unused stock solutions should be divided into single-use aliquots and stored at -20 °C after preparation. Avoid repeated freeze-thaw cycles.
Calcein Deep Red™ AM ester stock solution
Prepare a 2 to 5 mM stock solution of Calcein Deep Red™ AM in high-quality, anhydrous DMSO.


Note

     The nonionic detergent Pluronic® F-127 can be used to increase the aqueous solubility of AM esters. In the staining buffer, the final Pluronic® F-127 concentration should be approximately 0.02%. A variety of Pluronic® F-127 products can be purchased from AAT Bioquest. Avoid long-term storage of AM esters in the presence of Pluronic® F-127.
PREPARATION OF WORKING SOLUTION
Calcein Deep Red™ AM ester working solution
Prepare a Calcein Deep Red™ AM working solution of 1 to 10 µM in the buffer of your choice (e.g., Hanks and Hepes buffer). For most cell lines, Calcein Deep Red™ AM at the final concentration of 4 to 5 µM is recommended. The exact concentration of indicators required for cell loading must be determined empirically.


Note

     If your cells contain organic anion-transporters, probenecid (1–2.5 mM) or sulfinpyrazone (0.1–0.25 mM) may be added to the working solution to reduce leakage of the de-esterified indicators.
SAMPLE EXPERIMENTAL PROTOCOL
Prepare cells for imaging.

Remove the cell culture medium and wash cells once with serum-free buffer to remove any remaining media.


Note

     Serum in cell culture media may contain esterase activity, which can increase background interference.

Add Calcein Deep Red™ AM working solution to the culture.

Incubate cells at 37 °C for 30 to 60 minutes.

Replace the dye working solution with HHBS or buffer of your choice (containing an anion transporter inhibitor, such as 1 mM probenecid, if applicable) to remove any excess probes.

Measure the fluorescence intensity using either a fluorescence microscope equipped with a Cy5 filter set, a flow cytometer equipped with a 660/20 nm filter (APC channel), or a fluorescence plate reader at Ex/Em = 620/660 nm cutoff 630 nm. 
Spectrum
Open in Advanced Spectrum Viewer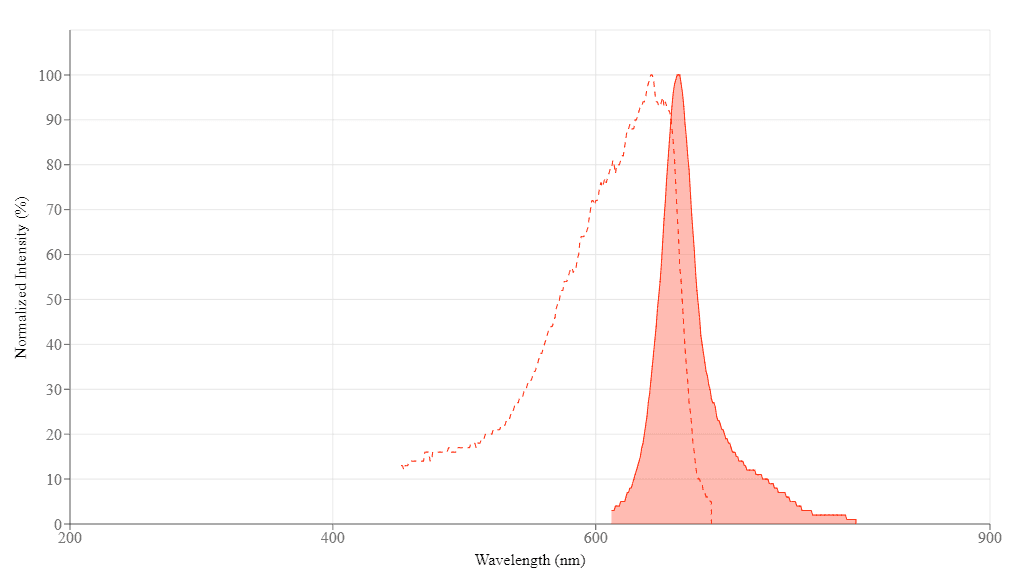 Spectral properties
| | |
| --- | --- |
| Excitation (nm) | 643 |
| Emission (nm) | 663 |
Images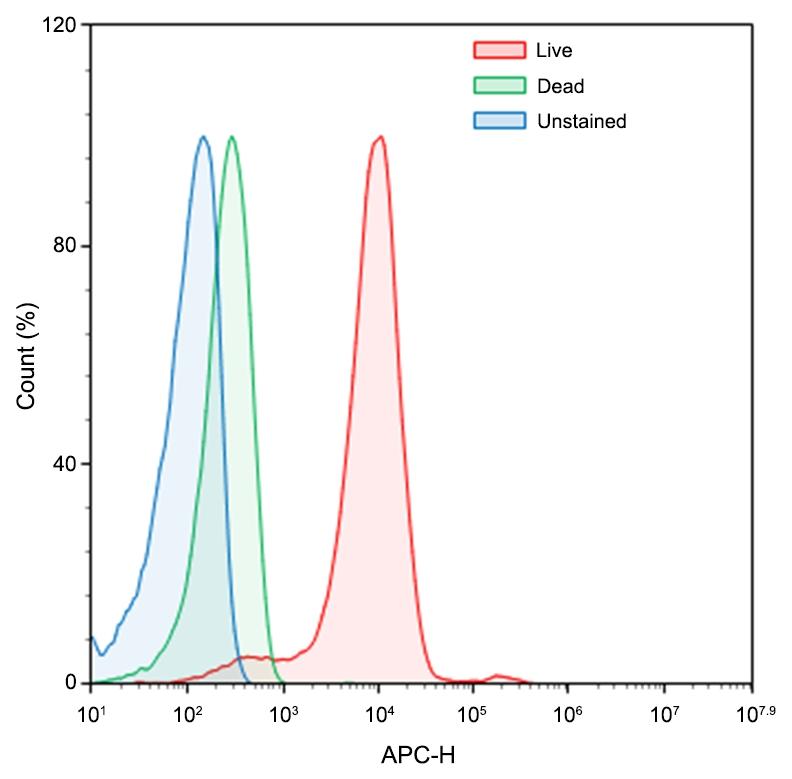 Figure 1.
Flow Cytometry Analysis of Jurkat cells stained with Calcein Deep Red™ AM ester (Cat#22011). Jurkat cells were washed once with HH buffer and stained with 2 uM Calcein Deep Red™ AM ester (Cat#22011) in HH with 0.02% PF-127(Cat#20053) and 1mM PBC (Cat# 20061) for 30 minutes at 37C incubator. Cells were then washed with HH buffer and resuspended in HH buffer. The fluorescence intensities of Live cells (healthy, Red) and Dead cells (treated in 55°C water bath for 30 minutes, Green) were measured with NovoCyte 3000 flow cytometer using blue laser APC emission channel. 
Citations
A ratiometric fluorescent assay for the detection and bioimaging of alkaline phosphatase based on near infrared Ag2S quantum dots and calcein
Authors:
Cai, M., Ding, C., Wang, F., Ye, M., Zhang, C., Xian, Y.
Journal:
Biosens Bioelectron
(2019)
: 148-153
Ratio fluorometric determination of ATP base on the reversion of fluorescence of calcein quenched by Eu(III) ion using carbon dots as reference
Authors:
Zhang, C., Zhang, H., Yu, Y., Wu, S., Chen, F.
Journal:
Talanta
(2019)
: 451-456
Factors Affecting the Acoustic In Vitro Release of Calcein from PEGylated Liposomes
Authors:
Ahmed, S. E., Moussa, H. G., Martins, A. M., Abbas, Y., Al-Sayah, M. H., Husseini, G. A.
Journal:
J Nanosci Nanotechnol
(2019)
: 6899-6906
Contribution of headgroup and chain length of glycerophospholipids to thermal stability and permeability of liposomes loaded with calcein
Authors:
Prislan, I., Lokar, M., Zirdum, M., Valant, J., Poklar Ulrih, N.
Journal:
Chem Phys Lipids
(2019)
: 104807
Doxorubicin as a fluorescent reporter identifies novel MRP1 (ABCC1) inhibitors missed by calcein-based high content screening of anticancer agents
Authors:
Sampson, A., Peterson, B. G., Tan, K. W., Iram, S. H.
Journal:
Biomed Pharmacother
(2019)
: 109289
Calcein release assay as a method for monitoring serum complement activity during monoclonal antibody therapy in patients with B-cell malignancies
Authors:
Stasilojc, G., Felberg, A., Urban, A., Kowalska, D., Ma, S., Blom, A. M., Lundin, J., Osterborg, A., Okroj, M.
Journal:
J Immunol Methods
(2019)
: 112675
Calcein Release from Cells In Vitro via Reversible and Irreversible Electroporation
Authors:
Rajeckaite, V., Jakstys, B., Rafanavicius, A., Maciulevicius, M., Jakutaviciute, M., Satkauskas, S.
Journal:
J Membr Biol
(2018)
: 119-130
Light scattering corrections to linear dichroism spectroscopy for liposomes in shear flow using calcein fluorescence and modified Rayleigh-Gans-Debye-Mie scattering
Authors:
Dorrington, G., Chmel, N. P., Norton, S. R., Wemyss, A. M., Lloyd, K., Praveen Amarasinghe, D., Rodger, A.
Journal:
Biophys Rev
(2018)
: 1385-1399