ReadiLink™ xtra Rapid Cy3 Antibody Labeling Kit *BSA-Compatible*
Ordering information
| | |
| --- | --- |
| Price | |
| Catalog Number | |
| Unit Size | |
| Quantity | |
Additional ordering information
| | |
| --- | --- |
| Telephone | 1-800-990-8053 |
| Fax | 1-800-609-2943 |
| Email | sales@aatbio.com |
| International | See distributors |
| Bulk request | Inquire |
| Custom size | Inquire |
| Shipping | Standard overnight for United States, inquire for international |
Spectral properties
| | |
| --- | --- |
| Correction Factor (260 nm) | 0.07 |
| Correction Factor (280 nm) | 0.073 |
| Extinction coefficient (cm -1 M -1) | 1500001 |
| Excitation (nm) | 555 |
| Emission (nm) | 569 |
| Quantum yield | 0.151 |
Storage, safety and handling
| | |
| --- | --- |
| H-phrase | H303, H313, H333 |
| Hazard symbol | XN |
| Intended use | Research Use Only (RUO) |
| R-phrase | R20, R21, R22 |
| UNSPSC | 12171501 |
| | | | | | |
| --- | --- | --- | --- | --- | --- |
| Correction Factor (260 nm) | Correction Factor (280 nm) | Extinction coefficient (cm -1 M -1) | | | |
ReadiLink™ xtra rapid antibody labeling kits require essentially only 2 simple mixing steps without a column purification needed. Specially formulated Cy3 used in this ReadiLink™ kit is quite stable and shows good reactivity and selectivity with antibodies. The kit has all the essential components for labeling ~2x50 ug antibody. Each of the two vials of specially formulated Cy3 dye provided in the kit is optimized for labeling ~50 µg antibody. ReadiLink™ xtra Cy3 rapid antibody labeling kit provides a convenient and robust method to label monoclonal and polyclonal antibodies with the red fluorescent Cy3 fluorophore. Cy3 is one of the most used fluorophores for labeling antibodies.
Figure 1. Overview of the ReadiLink™ xtra Rapid Antibody Labeling protocol. In just two simple steps, and with no purification necessary, covalently label microgram amounts of antibodies in under an hour.
Example protocol
AT A GLANCE
Important
Warm all the components and centrifuge the vials briefly before opening, and immediately prepare the required solutions before starting your conjugation. The following protocol is for recommendation.
PREPARATION OF WORKING SOLUTION
Protein working solution (Solution A)
For labeling 50 µg of protein (assuming the target protein concentration is 1 mg/mL), mix 5 µL (10% of the total reaction volume) of Reaction Buffer (Component B) with 50 µL of the target protein solution.


Note

     If you have a different protein concentration, adjust the protein volume accordingly to make ~50 µg of protein available for your labeling reaction.


Note

     For labeling 100 µg of protein (assuming the target protein concentration is 1 mg/mL), mix 10 µL (10% of the total reaction volume) of Reaction Buffer (Component B) with 100 µL of the target protein solution.


Note

     The protein should be dissolved in 1X phosphate buffered saline (PBS), pH 7.2 - 7.4; if the protein is dissolved in glycine buffer, it must be dialyzed against 1X PBS, pH 7.2 - 7.4, or use Amicon Ultra-0.5, Ultracel-10 Membrane, 10 kDa (cat# UFC501008 from Millipore) to remove free amines or ammonium salts (such as ammonium sulfate and ammonium acetate) that are widely used for protein precipitation.


Note

     Impure antibodies or antibodies stabilized with bovine serum albumin (BSA) with 0.1 to 0.5 % will be labeled well.


Note

     For optimal labeling efficiency, a final protein concentration range of 1 - 2 mg/mL is recommended, with a significantly reduced conjugation efficiency at less than 1 mg/mL.
SAMPLE EXPERIMENTAL PROTOCOL
Run conjugation reaction
Add the protein working solution (Solution A) to ONE vial of labeling dye (Component A), and mix them well by repeatedly pipetting for a few times or vortex the vial for a few seconds.


Note

     If labeling 100 µg of protein, use both vials (Component A) of labeling dye by dividing the 100 µg of protein into 2 x 50 µg of protein and reacting each 50 µg of protein with one vial of labeling dye. Then combine both vials for the next step.

Keep the conjugation reaction mixture at room temperature for 30 - 60 minutes.


Note

     The conjugation reaction mixture can be rotated or shaken for longer time if desired. 
Stop Conjugation reaction
Add 5 µL (for 50 µg protein) or 10 µL (for 100 µg protein) which is 10% of the total reaction volume of TQ™-Dyed Quench Buffer (Component C) into the conjugation reaction mixture; mix well.

Incubate at room temperature for 10 minutes. The labeled protein (antibody) is now ready to use. 
Storage of Protein Conjugate
The protein conjugate should be stored at > 0.5 mg/mL in the presence of a carrier protein (e.g., 0.1% bovine serum albumin). For longer storage, the protein conjugates could be lyophilized or divided into single-used aliquots and stored at ≤ –20 °C.
Spectrum
Open in Advanced Spectrum Viewer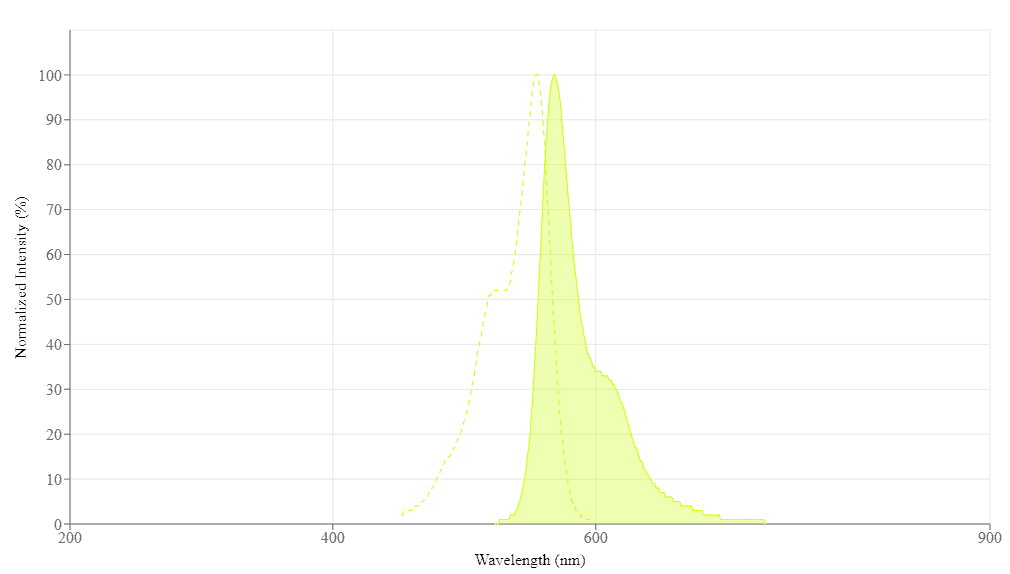 Spectral properties
| | |
| --- | --- |
| Correction Factor (260 nm) | 0.07 |
| Correction Factor (280 nm) | 0.073 |
| Extinction coefficient (cm -1 M -1) | 1500001 |
| Excitation (nm) | 555 |
| Emission (nm) | 569 |
| Quantum yield | 0.151 |
References
LRP-1 functionalized polymersomes enhance the efficacy of carnosine in experimental stroke.
Authors:
Kim, Eun-Sun and Kim, Donghyun and Nyberg, Sophie and Poma, Alessandro and Cecchin, Denis and Jain, Saurabh A and Kim, Kyeong-A and Shin, Young-Jun and Kim, Eun-Hye and Kim, Minyeong and Baek, Seung-Hoon and Kim, Jin-Ki and Doeppner, Thorsten R and Ali, Ali and Redgrave, Jessica and Battaglia, Giuseppe and Majid, Arshad and Bae, Ok-Nam
Journal:
Scientific reports
(2020)
: 699
Excimer-FRET Cascade in Dual DNA Probes: Open Access to Large Stokes Shift, Enhanced Acceptor Light up, and Robust RNA Sensing.
Authors:
Aparin, Ilya O and Sergeeva, Olga V and Mishin, Alexander S and Khaydukov, Evgeny V and Korshun, Vladimir A and Zatsepin, Timofei S
Journal:
Analytical chemistry
(2020)
Protein Environment and DNA Orientation Affect Protein-Induced Cy3 Fluorescence Enhancement.
Authors:
Nguyen, Binh and Ciuba, Monika A and Kozlov, Alexander G and Levitus, Marcia and Lohman, Timothy M
Journal:
Biophysical journal
(2019)
: 66-73
A Fluorescent, [18F]-Positron-Emitting Agent for Imaging Prostate-Specific Membrane Antigen Allows Genetic Reporting in Adoptively Transferred, Genetically Modified Cells.
Authors:
Guo, Hua and Kommidi, Harikrishna and Vedvyas, Yogindra and McCloskey, Jaclyn E and Zhang, Weiqi and Chen, Nandi and Nurili, Fuad and Wu, Amy P and Sayman, Haluk B and Akin, Oguz and Rodriguez, Erik A and Aras, Omer and Jin, Moonsoo M and Ting, Richard
Journal:
ACS chemical biology
(2019)
: 1449-1459
Cell-free miR-17-5p as a diagnostic biomarker for gastric cancer inhibits dendritic cell maturation.
Authors:
Cui, Zi-Jin and Xie, Xiao-Li and Qi, Wei and Yang, Yi-Chao and Bai, Yun and Han, Jing and Ding, Qian and Jiang, Hui-Qing
Journal:
OncoTargets and therapy
(2019)
: 2661-2675
Precise and label-free tumour cell recognition based on a black phosphorus nanoquenching platform.
Authors:
Yan, Wujuan and Wang, Xiu-Hong and Yu, Jingwen and Meng, Xiaotong and Qiao, Pengfei and Yin, Huabing and Zhang, Yongzhe and Wang, Pu
Journal:
Journal of materials chemistry. B
(2018)
: 5613-5620
Visual Detection of Amplified DNA by Polymerase Chain Reaction Using a Genetic Alphabet Expansion System.
Authors:
Yamashige, Rie and Kimoto, Michiko and Okumura, Ryo and Hirao, Ichiro
Journal:
Journal of the American Chemical Society
(2018)
: 14038-14041
Co-Localization of Crotamine with Internal Membranes and Accentuated Accumulation in Tumor Cells.
Authors:
Mambelli-Lisboa, Nicole Caroline and Sciani, Juliana Mozer and Brandão Prieto da Silva, Alvaro Rossan and Kerkis, Irina
Journal:
Molecules (Basel, Switzerland)
(2018)
Fluorophore Labeling, Nanodisc Reconstitution and Single-molecule Observation of a G Protein-coupled Receptor.
Authors:
Lamichhane, Rajan and Liu, Jeffrey J and Pauszek, Raymond F and Millar, David P
Journal:
Bio-protocol
(2017)
A novel upconversion@polydopamine core@shell nanoparticle based aptameric biosensor for biosensing and imaging of cytochrome c inside living cells.
Authors:
Ma, Lina and Liu, Fuyao and Lei, Zhen and Wang, Zhenxin
Journal:
Biosensors & bioelectronics
(2017)
: 638-645