Immunophenotyping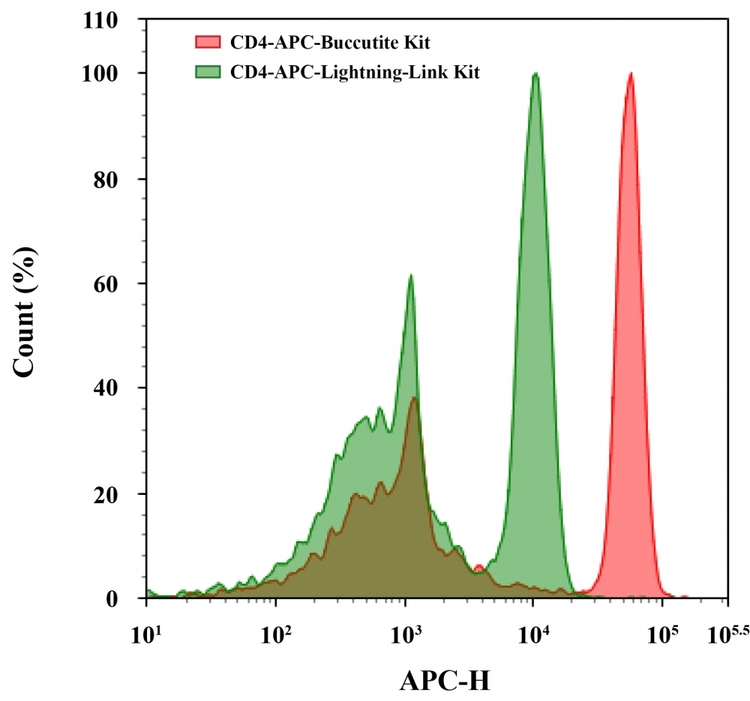 Immunophenotyping is a research and diagnostic method that utilizes
antibodies
to identify cells based on antigens or markers embedded in a particular cell's surface. In essence, immunophenotyping couples antibodies with fluorescent compounds to enable the measurement of protein expression within a cell sample. Protein expression analysis can then be used to identify and separate cells into different groups based on the markers they exhibit, and thereby provide researchers a deeper insight into understanding different cell populations.
Immunophenotyping is also used in clinical disease diagnosis to identify specific types of leukemias, lymphomas, or other immunodeficiency disorders, commonly for children. In most cases, it can be used as a secondary, noninvasive, method to verify the presence of a disease subtype. Immunophenotyping may also be used prior to immunotherapy to determine if the therapy target is available, or even to help determine if the identified therapy will ultimately benefit the patient.
In many cases, the identification and quantification of a specific cell type can be related to a certain disorder. For example, is it often necessary to measure
CD4
-T cell counts when attempting to study specific immune-related disorders. Additionally, the use of CD45R and CD31 in tandem may be helpful in exploring a T cell subpopulation when attempting to narrow down an immunodeficiency subtype. General targets, such as CD56, may also help identify the level of natural killer cells present within a cell population. The table below shows specific markers reported for some disease diagnostic tests.
Examples of Diagnostic Immunophenotyping Markers
---
Immunophenotyping Markers Reported For Use in Disease Diagnostic
Chronic Lymphocytic Leukemia
CD20, CD22, CD23+, FMC-7-
Mantle Cell Lymphoma
CD20, CD5+/-
Prolymphocytic Leukemia
CD20 (+i), sIg (+i), FMC-7, CD5
Follicular Lymphoma
BCL-2, CD43
Diffuse Large B-Cell Lymphoma
BCL-2, CD43
Burkitt Lymphoma
BCL-2,CD10 (+b), CD43
Hairy Cell Leukemia
CD20, CD22, CD11c, CD25, CD103, sIg (I)
Adult T-cell leukemia/lymphoma
CD7, CD25, HTLV-1
Natural Killer cells (cell differentiation)
CD57
Activated T cells
CD25
T-cell large granular lymphocyte leukemia
CD5, CD7, CD16, granzyme-B, perforin, CD56
Eosinophilic Otitis Media
eosinophils
Multiple Myeloma
plasma cells
Common Variable Immunodeficiency
CD21, CD40L
Leukocyte adhesion deficiency (LAD) type 1
CD18, CD11b, CD11c
Non-small cell lung cancer
PD-L1
Methods
---
Flow Cytometry
Flow cytometry
(or simply, flow) is a technique that allows multiple cell surface markers to be simultaneously characterized by coupling differing antibodies with distinct fluorochromes. Flow cytometry can be used for quantifying immune cell frequencies, and is beneficial when there is a need to identify and sort cells within a complex population, such as a peripheral blood sample.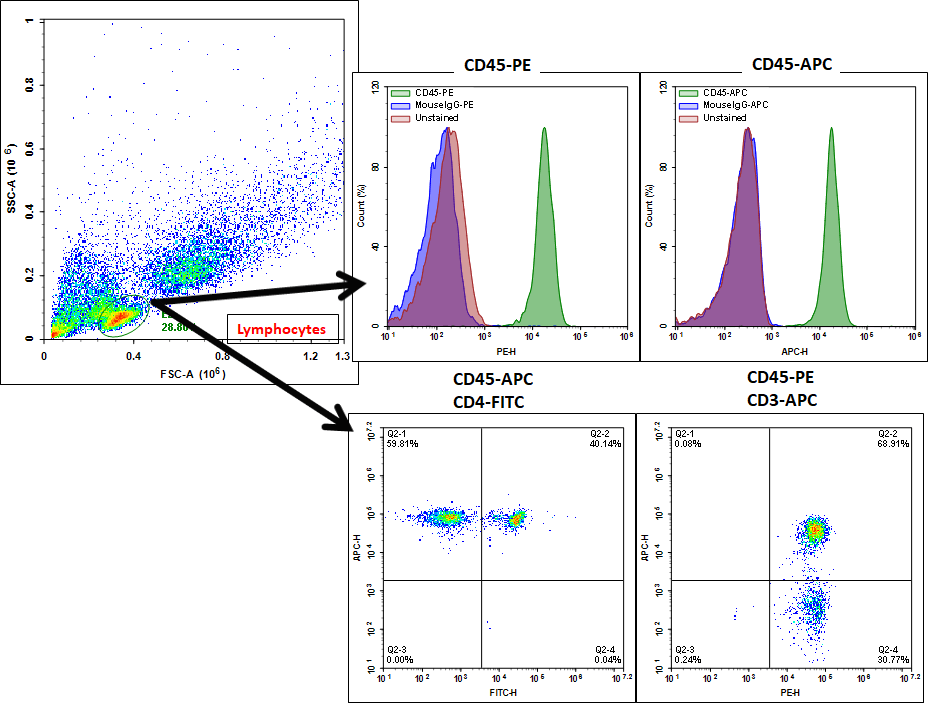 Flow cytometry analysis of PBMCs using CD45-PE,
CD45-APC
,
CD4-FITC
and
CD3-APC
using the single and double fluorophores. Density plot (Far left) was used to gate out the lymphocytes from other cell populations. Histogram plot (Upper right) and density plot (Lower right) were used for single and multiple fluorophore staining, respectively.
Cluster of differentiation (CD) markers
are commonly used in flow for the detection of specific immune cell populations and subpopulations.
CD markers
are especially useful as immunological cell markers since all human cells naturally exhibit at least one type of CD molecule. CD markers are most commonly helpful in classifying white blood cell malignancies, since every lineage expresses a specific antigen.
In flow, first single cell suspensions are prepared from blood or the lymphoid tissues and stained with cell surface marker-specific antibodies. After appropriate parameters are set into the flow cytometer, the sample is passed through the machine. Scattered light signals pick up the chosen, identified, fluorescent compounds and then report the presence and density of a target cellular protein within the sample.
In analysis, changes in cell subtypes, for example
lymphocyte subpopulations
, can be expressed as a count within the total cell population or as a ratio relative to other subpopulations (i.e., a CD4 count within a sample, or the ratio of CD4:CD8 within the sample).
Though flow remains the gold standard for diagnostic immunophenotyping due to the ease and economical aspects of the procedure, it does not come without challenges. An appropriate amount of cells must be available as starting material, usually at least one million, for a successful experiment. Experimental reagents are also poorly standardized, and use may vary from
protocol to protocol
.
A successful flow experiment is also heavily dependent on preparation techniques, and the storage of cell samples, which must be carefully considered. Lastly, though running the sample is relatively easy, collecting and analyzing data requires knowledge of the cellular landscape by experienced personnel.
| | | |
| --- | --- | --- |
| Digital Catalogs on CD Antibodies: | | Application Note: |
| | | Assaywise Letter: |
Immunohistochemistry (IHC)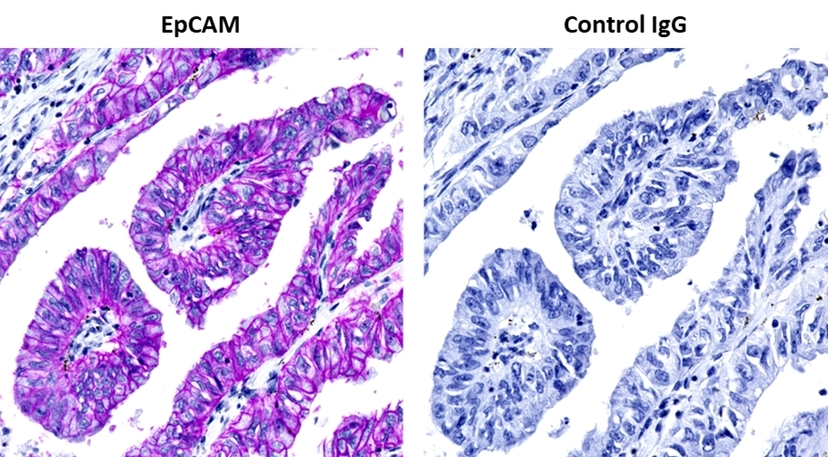 Human lung adenocarcinoma tissue samples were fixed and stained for EpCAM. The tissue sections were incubated with an anti-EpCAM rabbit monoclonal antibody (Left) or isotype IgG as a negative control (Right). The sample were then incubated with
poly-HRP conjugated Goat anti-Rabbit IgG
and the signal was developed with
Stayright™ Purple solution
. Stayright™ Purple generates a clean purple color stain without background.
IHC
is another method of immunophenotyping used for visualizing immune cell localization and may be more common for the analysis of other types of cell samples, including tissue sections, bone marrow, or even cerebrospinal fluid. Commonly tumor tissues are chosen as they can be isolated and snap-frozen for IHC investigation; histology can be combined as well to further explore the sample in question. A tumor tissue microarray can additionally be assembled for streamlined processing which allows the staining of potentially several dozen tumor samples simultaneously.
IHC is particularly handy in allowing for the visualization of not only the tissue architecture of expressed proteins, but also in analyzing the patterns of involvement and cytological features of cells, which may not be possible by flow.
When performing IHC for immunophenotyping, some things must be considered. IHC stains are not standardized, which in part contributes to the difficulty and/or impossibility of quantifying results. Additionally, while the cost of IHC is relatively inexpensive, the equipment needed to perform this technique may be costly. Moreover, IHC is subject to error, simply because of the numerous hands-on steps required.
Product Ordering Information
---
Table 1. Fluorochrome Brightness Reference for Flow Cytometry
Table 3. IHC Chromogens For Product Ordering Information