ReadiLink™ xtra Rapid iFluor® 350 Antibody Labeling Kit *BSA-Compatible*
Ordering information
| | |
| --- | --- |
| Price | |
| Catalog Number | |
| Unit Size | |
| Quantity | |
Additional ordering information
| | |
| --- | --- |
| Telephone | 1-800-990-8053 |
| Fax | 1-800-609-2943 |
| Email | sales@aatbio.com |
| International | See distributors |
| Bulk request | Inquire |
| Custom size | Inquire |
| Shipping | Standard overnight for United States, inquire for international |
Spectral properties
| | |
| --- | --- |
| Correction Factor (260 nm) | 0.83 |
| Correction Factor (280 nm) | 0.23 |
| Extinction coefficient (cm -1 M -1) | 200001 |
| Excitation (nm) | 345 |
| Emission (nm) | 450 |
| Quantum yield | 0.951 |
Storage, safety and handling
| | |
| --- | --- |
| H-phrase | H303, H313, H333 |
| Hazard symbol | XN |
| Intended use | Research Use Only (RUO) |
| R-phrase | R20, R21, R22 |
| UNSPSC | 12171501 |
| | | | | | |
| --- | --- | --- | --- | --- | --- |
| Correction Factor (260 nm) | Correction Factor (280 nm) | Extinction coefficient (cm -1 M -1) | | | |
ReadiLink™ xtra rapid antibody labeling kits require essentially only 2 simple mixing steps without a column purification needed. Preactivated iFluor® 350 used in this ReadiLink™ kit is quite stable and shows good reactivity and selectivity with antibodies. The kit has all the essential components for labeling ~2x50 ug antibody. Each of the two vials of preactivated iFluor® 350 dye provided in the kit is optimized for labeling ~50 µg antibody. ReadiLink™ xtra iFluor® 350 rapid antibody labeling kit provides a convenient and robust method to label monoclonal and polyclonal antibodies with the bright blue fluorescent iFluor® 350 fluorophore. AAT Bioquest's iFluor® dyes are optimized for labeling proteins, particularly antibodies. These dyes are bright, photostable, and have minimal quenching on proteins. They can be well excited by the major laser lines of fluorescence instruments (e.g., 350, 405, 488, 555, and 633 nm).
Figure 1. Overview of the ReadiLink™ xtra Rapid Antibody Labeling protocol. In just two simple steps, and with no purification necessary, covalently label microgram amounts of antibodies in under an hour.
Example protocol
AT A GLANCE
Important
Warm all the components and centrifuge the vials briefly before opening, and immediately prepare the required solutions before starting your conjugation. The following protocol is for recommendation.
PREPARATION OF WORKING SOLUTION
Protein working solution (Solution A)
For labeling 50 µg of protein (assuming the target protein concentration is 1 mg/mL), mix 5 µL (10% of the total reaction volume) of Reaction Buffer (Component B) with 50 µL of the target protein solution.


Note

     If you have a different protein concentration, adjust the protein volume accordingly to make ~50 µg of protein available for your labeling reaction.


Note

     For labeling 100 µg of protein (assuming the target protein concentration is 1 mg/mL), mix 10 µL (10% of the total reaction volume) of Reaction Buffer (Component B) with 100 µL of the target protein solution.


Note

     The protein should be dissolved in 1X phosphate buffered saline (PBS), pH 7.2 - 7.4; if the protein is dissolved in glycine buffer, it must be dialyzed against 1X PBS, pH 7.2 - 7.4, or use Amicon Ultra-0.5, Ultracel-10 Membrane, 10 kDa (cat# UFC501008 from Millipore) to remove free amines or ammonium salts (such as ammonium sulfate and ammonium acetate) that are widely used for protein precipitation.


Note

     Impure antibodies or antibodies stabilized with bovine serum albumin (BSA) with 0.1 to 0.5 % will be labeled well.


Note

     For optimal labeling efficiency, a final protein concentration range of 1 - 2 mg/mL is recommended, with a significantly reduced conjugation efficiency at less than 1 mg/mL.
SAMPLE EXPERIMENTAL PROTOCOL
Run conjugation reaction
Add the protein working solution (Solution A) to ONE vial of labeling dye (Component A), and mix them well by repeatedly pipetting for a few times or vortex the vial for a few seconds.


Note

     If labeling 100 µg of protein, use both vials (Component A) of labeling dye by dividing the 100 µg of protein into 2 x 50 µg of protein and reacting each 50 µg of protein with one vial of labeling dye. Then combine both vials for the next step.

Keep the conjugation reaction mixture at room temperature for 30 - 60 minutes.


Note

     The conjugation reaction mixture can be rotated or shaken for longer time if desired. 
Stop Conjugation reaction
Add 5 µL (for 50 µg protein) or 10 µL (for 100 µg protein) which is 10% of the total reaction volume of TQ™-Dyed Quench Buffer (Component C) into the conjugation reaction mixture; mix well.

Incubate at room temperature for 10 minutes. The labeled protein (antibody) is now ready to use. 
Storage of Protein Conjugate
The protein conjugate should be stored at > 0.5 mg/mL in the presence of a carrier protein (e.g., 0.1% bovine serum albumin). For longer storage, the protein conjugates could be lyophilized or divided into single-used aliquots and stored at ≤ –20°C.
Spectrum
Open in Advanced Spectrum Viewer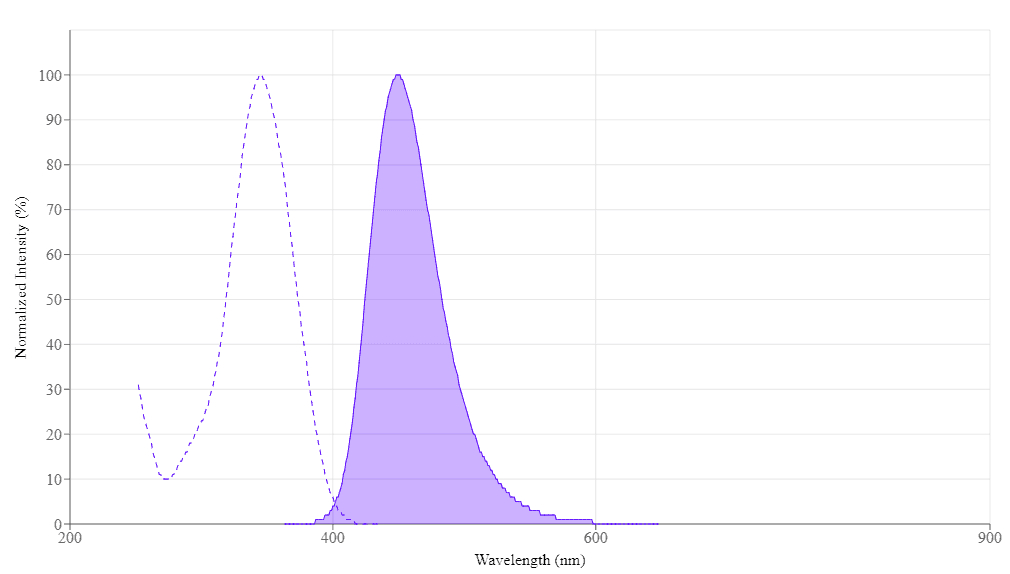 Spectral properties
| | |
| --- | --- |
| Correction Factor (260 nm) | 0.83 |
| Correction Factor (280 nm) | 0.23 |
| Extinction coefficient (cm -1 M -1) | 200001 |
| Excitation (nm) | 345 |
| Emission (nm) | 450 |
| Quantum yield | 0.951 |
Images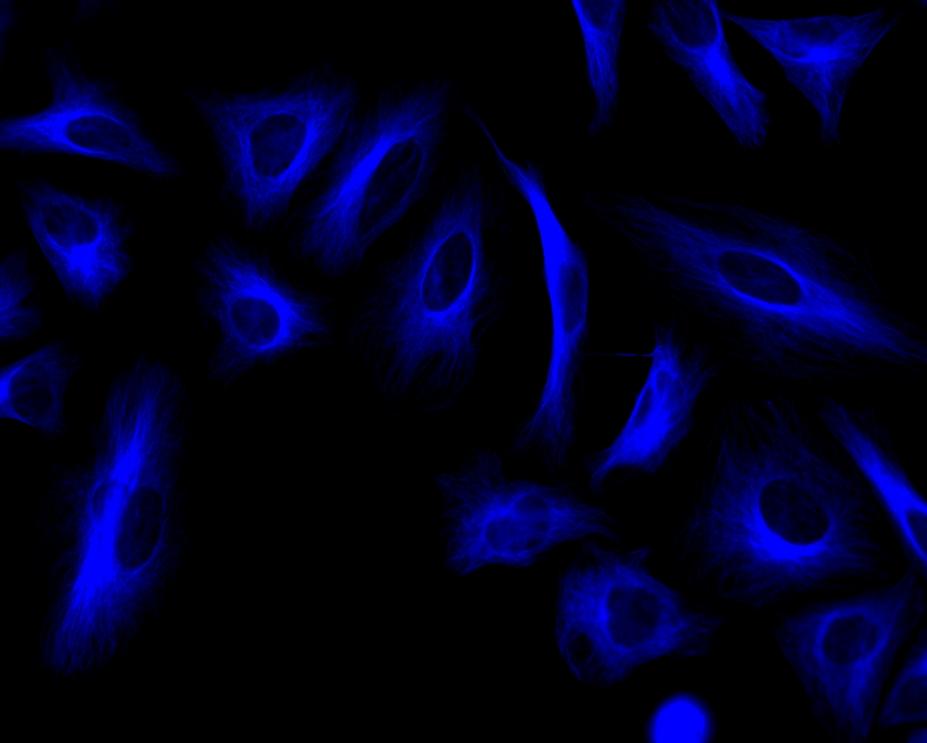 Figure 1.
Immunofluorescence staining of tubulin in HeLa cells. HeLa cells were fixed with 4% PFA, permeabilized with 0.1% Triton X-100 and blocked. Cells were then incubated with rabbit anti-tubulin monoclonal antibody and stained with a goat anti-rabbit IgG labeled using the ReadiLink™ xtra Rapid iFluor® 350 Antibody Labeling Kit (Cat No. 1950).
References
Identification of a Small Probe That Can Be Conjugated to Proteins by Proximity Labeling.
Authors:
Sun, Weiping and Huo, Yinbo and Mei, Yuxuan and Zhou, Qingtong and Zhao, Suwen and Zhuang, Min
Journal:
ACS chemical biology
(2020)
: 39-43
Paper-based nuclease protection assay with on-chip sample pretreatment for point-of-need nucleic acid detection.
Authors:
Noviana, Eka and Jain, Sidhartha and Hofstetter, Josephine and Geiss, Brian J and Dandy, David S and Henry, Charles S
Journal:
Analytical and bioanalytical chemistry
(2020)
: 3051-3061
Site-Specific Fluorescent Labeling of Antibodies and Diabodies Using SpyTag/SpyCatcher System for In Vivo Optical Imaging.
Authors:
Alam, Md Kausar and El-Sayed, Ayman and Barreto, Kris and Bernhard, Wendy and Fonge, Humphrey and Geyer, C Ronald
Journal:
Molecular imaging and biology
(2019)
: 54-66
A neuraminidase potency assay for quantitative assessment of neuraminidase in influenza vaccines.
Authors:
Byrne-Nash, Rose T and Gillis, Jacob H and Miller, David F and Bueter, Katie M and Kuck, Laura R and Rowlen, Kathy L
Journal:
NPJ vaccines
(2019)
: 3
Author Correction: A dynamic three-step mechanism drives the HIV-1 pre-fusion reaction.
Authors:
Iliopoulou, Maro and Nolan, Rory and Alvarez, Luis and Watanabe, Yasunori and Coomer, Charles A and Jakobsdottir, G Maria and Bowden, Thomas A and Padilla-Parra, Sergi
Journal:
Nature structural & molecular biology
(2019)
: 526
Highly efficient electrochemical sensing platform for sensitive detection DNA methylation, and methyltransferase activity based on Ag NPs decorated carbon nanocubes.
Authors:
Gao, Fenglei and Fan, Taotao and Ou, Shanshan and Wu, Jing and Zhang, Xing and Luo, Jianjun and Li, Na and Yao, Yao and Mou, Yingfeng and Liao, Xianjiu and Geng, Deqin
Journal:
Biosensors & bioelectronics
(2018)
: 201-208
Improved performance of lateral flow immunoassays for alpha-fetoprotein and vanillin by using silica shell-stabilized gold nanoparticles.
Authors:
Lu, Xuewen and Mei, Ting and Guo, Qi and Zhou, Wenjing and Li, Xiaomei and Chen, Jitao and Zhou, Xinke and Sun, Ning and Fang, Zhiyuan
Journal:
Mikrochimica acta
(2018)
: 2
Intracellular in situ labeling of TiO2 nanoparticles for fluorescence microscopy detection.
Authors:
Brown, Koshonna and Thurn, Ted and Xin, Lun and Liu, William and Bazak, Remon and Chen, Si and Lai, Barry and Vogt, Stefan and Jacobsen, Chris and Paunesku, Tatjana and Woloschak, Gayle E
Journal:
Nano research
(2018)
: 464-476
Multiplex Immunoassay Profiling.
Authors:
Stephen, Laurie
Journal:
Methods in molecular biology (Clifton, N.J.)
(2017)
: 169-176
Multiplex Immunoassay Profiling of Serum in Psychiatric Disorders.
Authors:
Stephen, Laurie and Schwarz, Emanuel and Guest, Paul C
Journal:
Advances in experimental medicine and biology
(2017)
: 149-156