ReadiLink™ xtra Rapid iFluor® 750 Antibody Labeling Kit *BSA-Compatible*
Ordering information
| | |
| --- | --- |
| Price | |
| Catalog Number | |
| Unit Size | |
| Quantity | |
Additional ordering information
| | |
| --- | --- |
| Telephone | 1-800-990-8053 |
| Fax | 1-800-609-2943 |
| Email | sales@aatbio.com |
| International | See distributors |
| Bulk request | Inquire |
| Custom size | Inquire |
| Shipping | Standard overnight for United States, inquire for international |
Spectral properties
| | |
| --- | --- |
| Correction Factor (260 nm) | 0.044 |
| Correction Factor (280 nm) | 0.039 |
| Correction Factor (565 nm) | 0.0250 |
| Correction Factor (650 nm) | 0.1413 |
| Extinction coefficient (cm -1 M -1) | 2750001 |
| Excitation (nm) | 757 |
| Emission (nm) | 779 |
| Quantum yield | 0.121 |
Storage, safety and handling
| | |
| --- | --- |
| H-phrase | H303, H313, H333 |
| Hazard symbol | XN |
| Intended use | Research Use Only (RUO) |
| R-phrase | R20, R21, R22 |
| UNSPSC | 12171501 |
| | | | | | | | |
| --- | --- | --- | --- | --- | --- | --- | --- |
| Correction Factor (260 nm) | Correction Factor (280 nm) | Correction Factor (565 nm) | Correction Factor (650 nm) | Extinction coefficient (cm -1 M -1) | | | |
ReadiLink™ xtra rapid antibody labeling kits require essentially only 2 simple mixing steps without a column purification needed. Preactivated iFluor® 750 used in this ReadiLink™ kit is quite stable and shows good reactivity and selectivity with antibodies. The kit has all the essential components for labeling ~2x50 ug antibody. Each of the two vials of preactivated iFluor® 750 dye provided in the kit is optimized for labeling ~50 µg antibody. ReadiLink™ xtra iFluor® 750 rapid antibody labeling kit provides a convenient and robust method to label monoclonal and polyclonal antibodies with the bright NIR fluorescent iFluor® 750 fluorophore. AAT Bioquest's iFluor® dyes are optimized for labeling proteins, in particular, antibodies. These dyes are bright, photostable and have minimal quenching on proteins. They can be well excited by the major laser lines of fluorescence instruments (e.g., 350, 405, 488, 555 and 633 nm).
Figure 1. Overview of the ReadiLink™ xtra Rapid Antibody Labeling protocol. In just two simple steps, and with no purification necessary, covalently label microgram amounts of antibodies in under an hour.
Example protocol
AT A GLANCE
Important
Warm all the components and centrifuge the vials briefly before opening them. Immediately prepare the necessary solutions before starting your conjugation. The following protocol is a recommendation.
PREPARATION OF WORKING SOLUTION
Protein working solution (Solution A)
For labeling 50 µg of protein (assuming the target protein concentration is 1 mg/mL), mix 5 µL (10% of the total reaction volume) of Reaction Buffer (Component B) with 50 µL of the target protein solution.
Note: If you have a different protein concentration, adjust the protein volume accordingly to make ~50 µg of protein available for your labeling reaction.
Note: For labeling 100 µg of protein (assuming the target protein concentration is 1 mg/mL), mix 10 µL (10% of the total reaction volume) of Reaction Buffer (Component B) with 100 µL of the target protein solution.
Note: The protein should be dissolved in 1X phosphate buffered saline (PBS), pH 7.2 - 7.4; if the protein is dissolved in glycine buffer, it must be dialyzed against 1X PBS, pH 7.2 - 7.4, or use Amicon Ultra-0.5, Ultracel-10 Membrane, 10 kDa (cat# UFC501008 from Millipore) to remove free amines or ammonium salts (such as ammonium sulfate and ammonium acetate) that are widely used for protein precipitation.
Note: Impure antibodies or antibodies stabilized with bovine serum albumin (BSA) with 0.1 to 0.5 % will be labeled well.
Note: A final protein concentration range of 1 - 2 mg/mL is recommended for optimal labeling efficiency, with a significantly reduced conjugation efficiency at less than 1 mg/mL.
SAMPLE EXPERIMENTAL PROTOCOL
Run conjugation reaction
Add the protein working solution (Solution A) to ONE vial of labeling dye (Component A), and mix them well by repeatedly pipetting for a few times or vortex the vial for a few seconds.

Note: If labeling 100 µg of protein, use both vials (Component A) of labeling dye by dividing the 100 µg of protein into 2 x 50 µg of protein and reacting each 50 µg of protein with one vial of labeling dye. Then combine both vials for the next step.

Keep the conjugation reaction mixture at room temperature for 30 - 60 minutes.

Note: The conjugation reaction mixture can be rotated or shaken for a longer time if desired.
Stop Conjugation reaction
Add 5 µL (for 50 µg protein) or 10 µL (for 100 µg protein) which is 10% of the total reaction volume of TQ™-Dyed Quench Buffer (Component C) into the conjugation reaction mixture; mix well.
Incubate at room temperature for 10 minutes. The labeled protein (antibody) is now ready to use.
Storage of Protein Conjugate
The protein conjugate should be stored at > 0.5 mg/mL in the presence of a carrier protein (e.g., 0.1% bovine serum albumin). For longer storage, the protein conjugates could be lyophilized or divided into single-used aliquots and stored at ≤ –20 °C.
Spectrum
Open in Advanced Spectrum Viewer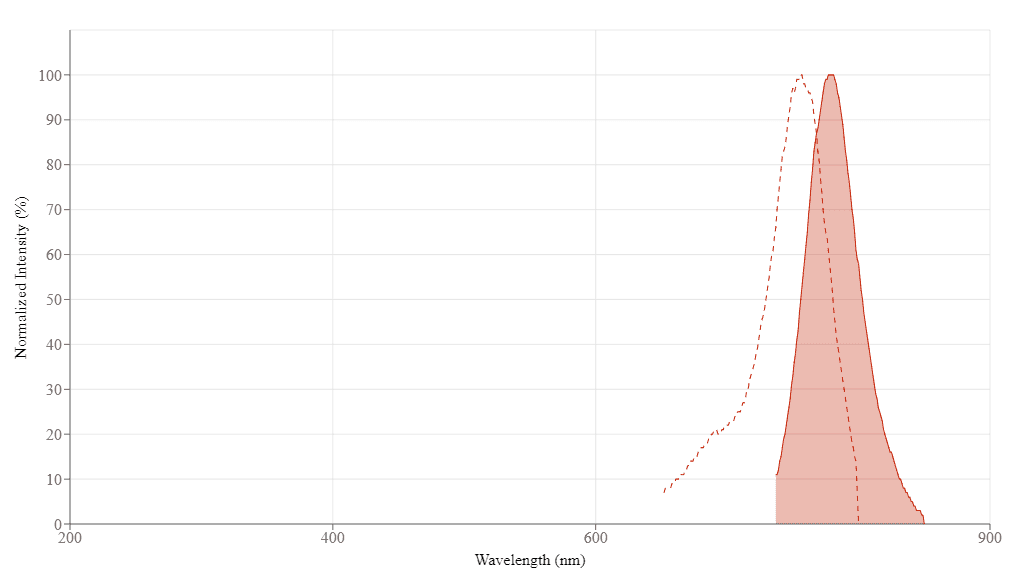 Spectral properties
| | |
| --- | --- |
| Correction Factor (260 nm) | 0.044 |
| Correction Factor (280 nm) | 0.039 |
| Correction Factor (565 nm) | 0.0250 |
| Correction Factor (650 nm) | 0.1413 |
| Extinction coefficient (cm -1 M -1) | 2750001 |
| Excitation (nm) | 757 |
| Emission (nm) | 779 |
| Quantum yield | 0.121 |
Images
Figure 1.
HL-60 cells were incubated with (red) or without (green) anti-human HLA-ABC (W6/32 mAb). Cells were then incubated with goat anti-mouse IgG labeled using the ReadiLink™ xtra Rapid iFluor® 750 Antibody Labeling Kit (Cat No. 1965). The fluorescence signal was monitored using an ACEA NovoCyte flow cytometer in the APC-Cy7 channel.
References
Generation and characterization of novel recombinant anti-hERG1 scFv antibodies for cancer molecular imaging.
Authors:
Duranti, Claudia and Carraresi, Laura and Sette, Angelica and Stefanini, Matteo and Lottini, Tiziano and Crescioli, Silvia and Crociani, Olivia and Iamele, Luisa and De Jonge, Hugo and Gherardi, Ermanno and Arcangeli, Annarosa
Journal:
Oncotarget
(2018)
: 34972-34989
Enhanced Release of Molecules upon Ultraviolet (UV) Light Irradiation from Photoresponsive Hydrogels Prepared from Bifunctional Azobenzene and Four-Arm Poly(ethylene glycol).
Authors:
Rastogi, Shiva K and Anderson, Hailee E and Lamas, Joseph and Barret, Scott and Cantu, Travis and Zauscher, Stefan and Brittain, William J and Betancourt, Tania
Journal:
ACS applied materials & interfaces
(2018)
: 30071-30080
Phosphorothioate-Modified AP613-1 Specifically Targets GPC3 when Used for Hepatocellular Carcinoma Cell Imaging.
Authors:
Dong, Lili and Zhou, Hongxin and Zhao, Menglong and Gao, Xinghui and Liu, Yang and Liu, Dongli and Guo, Wei and Hu, Hongwei and Xie, Qian and Fan, Jia and Lin, Jiang and Wu, Weizhong
Journal:
Molecular therapy. Nucleic acids
(2018)
: 376-386
In vivo fluorescence imaging of hepatocellular carcinoma using a novel GPC3-specific aptamer probe.
Authors:
Zhao, Menglong and Dong, Lili and Liu, Zhuang and Yang, Shuohui and Wu, Weizhong and Lin, Jiang
Journal:
Quantitative imaging in medicine and surgery
(2018)
: 151-160
Performance of optoacoustic and fluorescence imaging in detecting deep-seated fluorescent agents.
Authors:
Chen, Zhenyue and Deán-Ben, Xosé Luís and Gottschalk, Sven and Razansky, Daniel
Journal:
Biomedical optics express
(2018)
: 2229-2239
Doxorubicin-loaded protease-activated near-infrared fluorescent polymeric nanoparticles for imaging and therapy of cancer.
Authors:
Yildiz, Tugba and Gu, Renpeng and Zauscher, Stefan and Betancourt, Tania
Journal:
International journal of nanomedicine
(2018)
: 6961-6986
Optimization of magnetic retention in the gastrointestinal tract: Enhanced bioavailability of poorly permeable drug.
Authors:
Seth, Anjali and Lafargue, David and Poirier, Cécile and Badier, Thomas and Delory, Nathalie and Laporte, Alain and Delbos, Jean-Marie and Jeannin, Véronique and Péan, Jean-Manuel and Ménager, Christine
Journal:
European journal of pharmaceutical sciences : official journal of the European Federation for Pharmaceutical Sciences
(2017)
: 25-35
Preclinical evaluation of near-infrared (NIR) fluorescently labeled cetuximab as a potential tool for fluorescence-guided surgery.
Authors:
Saccomano, Mara and Dullin, Christian and Alves, Frauke and Napp, Joanna
Journal:
International journal of cancer
(2016)
: 2277-89
Biodistribution Analyses of a Near-Infrared, Fluorescently Labeled, Bispecific Monoclonal Antibody Using Optical Imaging.
Authors:
Peterson, Norman C and Wilson, George G and Huang, Qihui and Dimasi, Nazzareno and Sachsenmeier, Kris F
Journal:
Comparative medicine
(2016)
: 90-9
Highly fluorescent resorcinarene cavitand nanocapsules with efficient renal clearance.
Authors:
Mahadevan, Kalpana and Patthipati, Venkata Suresh and Han, Sangbum and Swanson, R James and Whelan, Eoin C and Osgood, Christopher and Balasubramanian, Ramjee
Journal:
Nanotechnology
(2016)
: 335101