Cell Navigator® Cell Plasma Membrane Staining Kit *Green Fluorescence*
Ordering information
| | |
| --- | --- |
| Price | |
| Catalog Number | |
| Unit Size | |
| Quantity | |
Additional ordering information
| | |
| --- | --- |
| Telephone | 1-800-990-8053 |
| Fax | 1-800-609-2943 |
| Email | sales@aatbio.com |
| International | See distributors |
| Bulk request | Inquire |
| Custom size | Inquire |
| Shipping | Standard overnight for United States, inquire for international |
Spectral properties
| | |
| --- | --- |
| Excitation (nm) | 497 |
| Emission (nm) | 505 |
Storage, safety and handling
| | |
| --- | --- |
| Certificate of Origin | Download PDF |
| H-phrase | H303, H313, H333 |
| Hazard symbol | XN |
| Intended use | Research Use Only (RUO) |
| R-phrase | R20, R21, R22 |
| UNSPSC | 12352200 |
The Cell Navigator® Plasma Membrane Stain Kit provides a fast and uniform labeling of the plasma membrane without the cell-type differences exhibited by lectins. It may be used as a segmentation tool for HCS (high-content screening), as well as to stain cellular plasma membranes for standard fluorescence microscopy. The green fluorescent stain used in the kit survives fixation, but not permeabilization, so it is not suitable for experiments that also involve probing internal targets via antibodies.
Platform
Fluorescence microscope
| | |
| --- | --- |
| Excitation | FITC filter set |
| Emission | FITC filter set |
| Recommended plate | Black wall/clear bottom/Glass slides |
Example protocol
AT A GLANCE
Protocol Summary
Prepare cells in growth medium

Prepare and add Cellpaint™ Green working solution to cells

Incubate at 37°C for 5 to 20 minutes

Read fluorescence intensity with FITC filter set 
Important
Thaw one of each kit component at room temperature before starting the experiment. 


Note

     This protocol only provides a guideline and should be modified according to your specific needs.
CELL PREPARATION
PREPARATION OF STOCK SOLUTIONS
Unless otherwise noted, all unused stock solutions should be divided into single-use aliquots and stored at -20 °C after preparation. Avoid repeated freeze-thaw cycles.
Cellpaint™ Green stock solution (500X)
Add 100 uL of DMSO (Component C) into the vial of Cellpaint™ Green (Component A) to make 500X stock solution.


Note

     20 uL of Cellpaint™ Green 500X stock solution is enough for one 96-well plate. Unused Cellpaint™ Green 500X stock solution can be aliquoted and stored at ≤ -20°C for one month if the tubes are sealed tightly. Protect from light and avoid repeated freeze-thaw cycles.
PREPARATION OF WORKING SOLUTION
Cellpaint™ Green working solution (1X)
Add 20 uL of 500X stock solution into 10 mL of Assay Buffer (Component B), and mix well.


Note

     We recommend making the working solution fresh before use.
SAMPLE EXPERIMENTAL PROTOCOL
Add 100 uL/well (96-well plate) or 50 uL/well (384-well plate) of Cellpaint™ Green working solution in the cell plate. Incubate the cells at 37°C for 5-20 minutes, protected from light.


Note

     The optimal concentration of the cell membrane probe varies depending on the specific application. The staining conditions may be modified according to the particular cell type and the permeability of the cells or tissues to the probe.

Remove working solution in each well. Wash cells with physiological buffer (such as HHBS, DPBS or buffer of your choice) for three times and replace with HHBS.

Optional: Fix cells after staining. Fix the cells with 4% formaldehyde for 15-30 minutes. Wash cells with physiological buffer for three times.

Observe the fluorescence signal in cells using fluorescence microscope with a FITC filter set. 
Spectrum
Open in Advanced Spectrum Viewer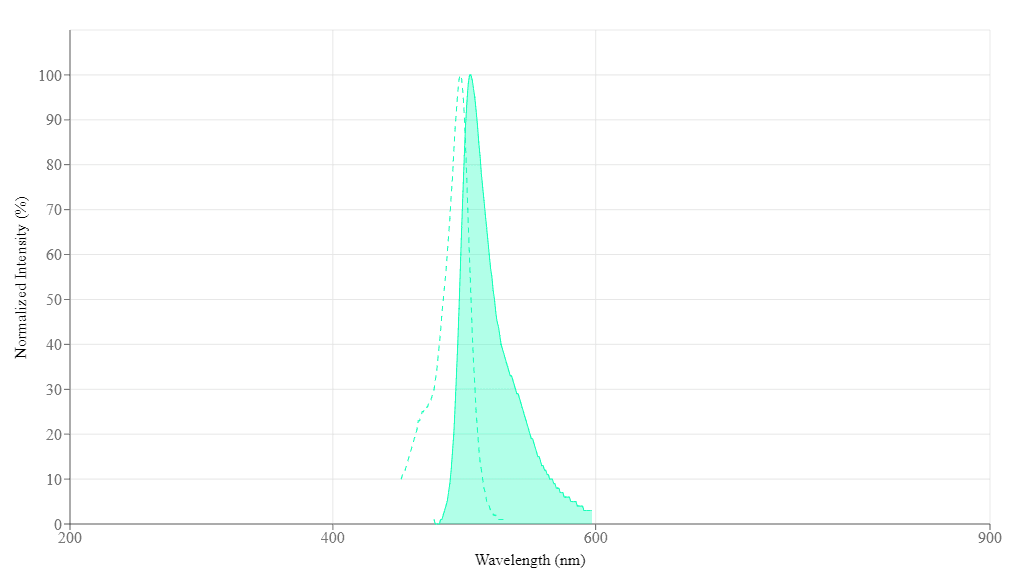 Spectral properties
| | |
| --- | --- |
| Excitation (nm) | 497 |
| Emission (nm) | 505 |
Images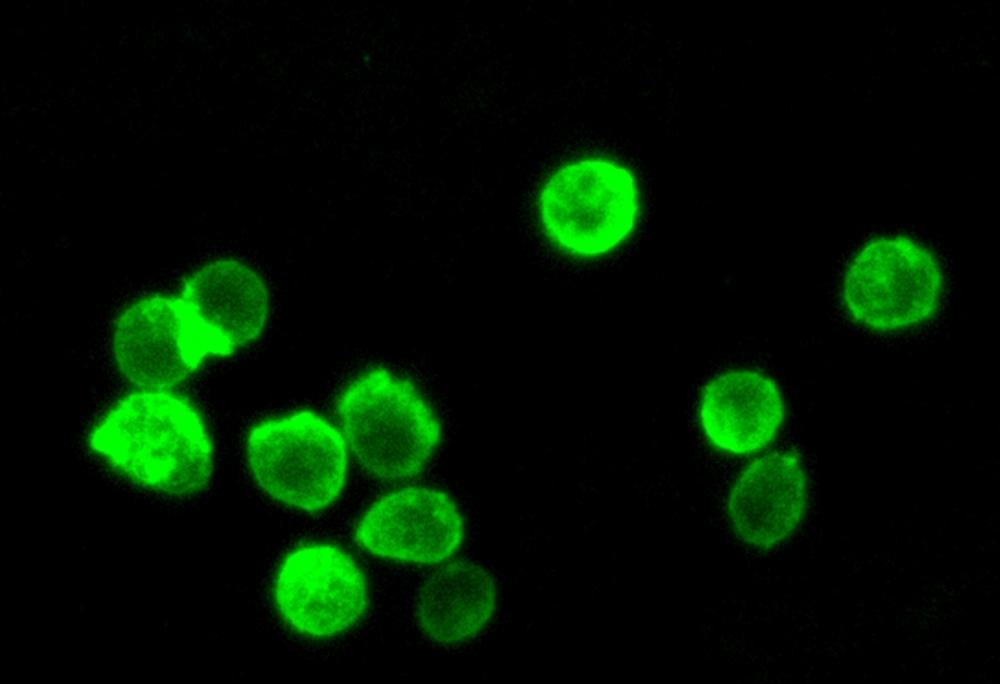 Figure 1.
Fluorescence images of HL-60 cells stained with Cell Navigator® Cell Plasma Membrane Staining Kit *Green Fluorescence* in a 96-well black wall/clear bottom plate. The cells were imaged using a fluorescence microscope equipped with a FITC filter set.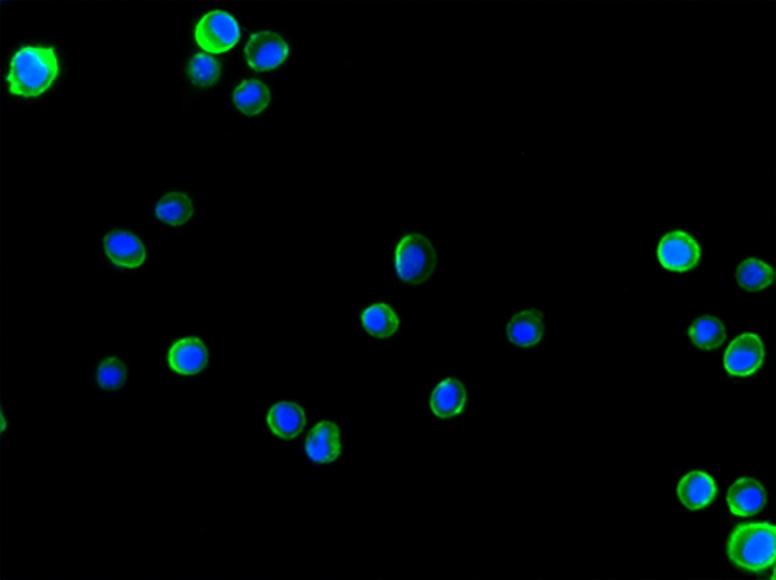 Figure 2.
HeLa cells were labeled with Cell Navigator® Cell Plasma Membrane Staining Kit *Green Fluorescence* (Cat No. 22682), and nuclei were labeled with Hoechst 33342 (Cat No. 17530). Labeled cells were imaged on the Keyence BZ-X710 All-In-One Fluorescence Microscope equipped with a FITC filter set.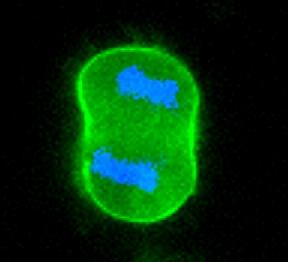 Figure 3.
The fluorescence images of HL-60 cells by Cellpaint™ Green co-stained with  Hoechst 33342 on a glass slide. The cells were imaged using fluorescence microscope using 60X oil lens with a FITC filter. The images appeared to be more punctured and diffused since all the fluorescence signals from membranes both above and below the cell borders were indiscriminately captured. Compared to regular epifluorescence imaging, confocal fluorescence imaging is more sensitive and may give you more control than a regular epifluorescence microscope. If you have access to a confocal microscope, you may get a crisper imaging of cell membranes.
Citations
Matrix Rigidity-Dependent Regulation of Ca(2+) at Plasma Membrane Microdomains by FAK Visualized by Fluorescence Resonance Energy Transfer
Authors:
Kim, T. J., Lei, L., Seong, J., Suh, J. S., Jang, Y. K., Jung, S. H., Sun, J., Kim, D. H., Wang, Y.
Journal:
Adv Sci (Weinh)
(2019)
: 1801290
Revealing the Raft Domain Organization in the Plasma Membrane by Single-Molecule Imaging of Fluorescent Ganglioside Analogs
Authors:
Suzuki, K. G. N., Ando, H., Komura, N., Konishi, M., Imamura, A., Ishida, H., Kiso, M., Fujiwara, T. K., Kusumi, A.
Journal:
Methods Enzymol
(2018)
: 267-282
A single fluorescent probe enables clearly discriminating and simultaneously imaging liquid-ordered and liquid-disordered microdomains in plasma membrane of living cells
Authors:
Tian, M., Liu, Y., Sun, Y., Zhang, R., Feng, R., Zhang, G., Guo, L., Li, X., Yu, X., Sun, J. Z., He, X.
Journal:
Biomaterials
(2017)
: 46-56
Subcellular Fate of a Fluorescent Cholesterol-Poly(ethylene glycol) Conjugate: An Excellent Plasma Membrane Imaging Reagent
Authors:
Chen, X., Zhang, X., Wang, H. Y., Chen, Z., Wu, F. G.
Journal:
Langmuir
(2016)
: 10126-10135
A fluorescent cholesterol analogue for observation of free cholesterol in the plasma membrane of live cells
Authors:
Ogawa, Y., Tanaka, M.
Journal:
Anal Biochem
(2016)
: 49-55
Determination of Dynamics of Plant Plasma Membrane Proteins with Fluorescence Recovery and Raster Image Correlation Spectroscopy
Authors:
Lankova, M., Humpolickova, J., Vosolsobe, S., Cit, Z., Lacek, J., Covan, M., Covanova, M., Hof, M., Petrasek, J.
Journal:
Microsc Microanal
(2016)
: 290-9
Single-molecule Super-resolution Imaging of Phosphatidylinositol 4,5-bisphosphate in the Plasma Membrane with Novel Fluorescent Probes
Authors:
Ji, C., Lou, X.
Journal:
J Vis Exp
(2016)
: se name="22682.enl" path="C:\Users\aatbi\Drop
Fluorescent protein-based biosensors to visualize signal transduction beneath the plasma membrane
Authors:
Fujioka, Y., Nanbo, A., Nishide, S. Y., Ohba, Y.
Journal:
Anal Sci
(2015)
: 267-74
Role of the nucleocapsid domain in HIV-1 Gag oligomerization and trafficking to the plasma membrane: a fluorescence lifetime imaging microscopy investigation
Authors:
El Meshri, S. E., Dujardin, D., Godet, J., Richert, L., Boudier, C., Darlix, J. L., Didier, P., Mely, Y., de Rocquigny, H.
Journal:
J Mol Biol
(2015)
: 1480-1494
Imaging sub-plasma membrane cAMP dynamics with fluorescent translocation reporters
Authors:
Tengholm, A., Idevall-Hagren, O.
Journal:
Methods Mol Biol
(2015)
: 85-101
References
Probing endocytosis from the enterocyte brush border using fluorescent lipophilic dyes: lipid sorting at the apical cell surface
Authors:
Danielsen EM., undefined
Journal:
Histochem Cell Biol
(2015)
: 545
Activation of the neurokinin 3 receptor promotes filopodia growth and sprouting in rat embryonic hypothalamic cells
Authors:
Flynn FW, Kinney-Lang E, Hoekstra C, Pratt DL, Thakar A.
Journal:
Dev Neurobiol
(2015)
: 12
Imaging fenestrations in liver sinusoidal endothelial cells by optical localization microscopy
Authors:
Monkemoller V, Schuttpelz M, McCourt P, Sorensen K, Smedsrod B, Huser T.
Journal:
Phys Chem Chem Phys
(2014)
: 12576
Effects of corticotrophin releasing hormone (CRH) on cell viability and differentiation in the human BeWo choriocarcinoma cell line: a potential syncytialisation inducer distinct from cyclic adenosine monophosphate (cAMP)
Authors:
Chen Y, Allars M, Pan X, Maiti K, Angeli G, Smith R, Nicholson RC.
Journal:
Reprod Biol Endocrinol
(2013)
: 30
Evaluation of high-throughput screening for in vitro micronucleus test using fluorescence-based cell imaging
Authors:
Shibai-Ogata A, Kakinuma C, Hioki T, Kasahara T.
Journal:
Mutagenesis
(2011)
: 709
A rapid, inexpensive high throughput screen method for neurite outgrowth
Authors:
Yeyeodu ST, Witherspoon SM, Gilyazova N, Ibeanu GC.
Journal:
Curr Chem Genomics
(2010)
: 74