ReadiLink™ Rapid FITC Antibody Labeling Kit *Microscale Optimized for Labeling 50 μg Antibody Per Reaction*
Ordering information
| | |
| --- | --- |
| Price | |
| Catalog Number | |
| Unit Size | |
| Quantity | |
Additional ordering information
| | |
| --- | --- |
| Telephone | 1-800-990-8053 |
| Fax | 1-800-609-2943 |
| Email | sales@aatbio.com |
| International | See distributors |
| Bulk request | Inquire |
| Custom size | Inquire |
| Shipping | Standard overnight for United States, inquire for international |
Spectral properties
| | |
| --- | --- |
| Correction Factor (280 nm) | 0.35 |
| Extinction coefficient (cm -1 M -1) | 73000 |
| Excitation (nm) | 491 |
| Emission (nm) | 516 |
| Quantum yield | 0.92 |
Storage, safety and handling
| | |
| --- | --- |
| H-phrase | H303, H313, H333 |
| Hazard symbol | XN |
| Intended use | Research Use Only (RUO) |
| R-phrase | R20, R21, R22 |
| UNSPSC | 12171501 |
| | | | | |
| --- | --- | --- | --- | --- |
| Correction Factor (280 nm) | Extinction coefficient (cm -1 M -1) | | | |
FITC is still the most popular fluorescent labeling dye for preparing green fluorescent bioconjugates. However, most of commercial FITC labeling kits require intensive hands-on time. This FITC ReadiLink™ labeling kit essentially only requires 2 simple mixing steps without a column purification needed. The kit provides all the essential components for labeling ~2x50 ug antibody. Each of the two vials of FITC dye provided in the kit is optimized for labeling ~50 µg antibody. This FITC protein labeling kit provides a convenient method to label monoclonal, polyclonal antibodies or other proteins (>10 kDa).
Figure 1. Overview of the ReadiLink™ Rapid Antibody Labeling protocol. In just two simple steps, and with no purification necessary, covalently label microgram amounts of antibodies in under an hour.
Example protocol
AT A GLANCE
Important
Warm all the components and centrifuge the vials briefly before opening, and immediately prepare the required solutions before starting your conjugation. The following protocol is for recommendation.
PREPARATION OF WORKING SOLUTION
Protein working solution (Solution A)
For labeling 50 µg of protein (assuming the target protein concentration is 1 mg/mL), mix 5 µL (10% of the total reaction volume) of Reaction Buffer (Component B) with 50 µL of the target protein solution.


Note

     If you have a different protein concentration, adjust the protein volume accordingly to make ~50 µg of protein available for your labeling reaction.


Note

     For labeling 100 µg of protein (assuming the target protein concentration is 1 mg/mL), mix 10 µL (10% of the total reaction volume) of Reaction Buffer (Component B) with 100 µL of the target protein solution.


Note

     The protein should be dissolved in 1X phosphate buffered saline (PBS), pH 7.2 - 7.4; if the protein is dissolved in glycine buffer, it must be dialyzed against 1X PBS, pH 7.2 - 7.4, or use Amicon Ultra-0.5, Ultracel-10 Membrane, 10 kDa (cat# UFC501008 from Millipore) to remove free amines or ammonium salts (such as ammonium sulfate and ammonium acetate) that are widely used for protein precipitation.


Note

     Impure antibodies or antibodies stabilized with bovine serum albumin (BSA) or gelatin will not be labeled well.


Note

     For optimal labeling efficiency, a final protein concentration range of 1 - 2 mg/mL is recommended, with a significantly reduced conjugation efficiency at less than 1 mg/mL.
SAMPLE EXPERIMENTAL PROTOCOL
Run conjugation reaction
Add the protein working solution (Solution A) to ONE vial of labeling dye (Component A), and mix them well by repeatedly pipetting for a few times or vortex the vial for a few seconds.


Note

     If labeling 100 µg of protein, use both vials (Component A) of labeling dye by dividing the 100 µg of protein into 2 x 50 µg of protein and reacting each 50 µg of protein with one vial of labeling dye. Then combine both vials for the next step.

Keep the conjugation reaction mixture at room temperature for 30 - 60 minutes.


Note

     The conjugation reaction mixture can be rotated or shaken for longer time if desired. 
Stop Conjugation reaction
Add 5 µL (for 50 µg protein) or 10 µL (for 100 µg protein) which is 10% of the total reaction volume of TQ™-Dyed Quench Buffer (Component C) into the conjugation reaction mixture; mix well.

Incubate at room temperature for 10 minutes. The labeled protein (antibody) is now ready to use. 
Storage of Protein Conjugate
The protein conjugate should be stored at > 0.5 mg/mL in the presence of a carrier protein (e.g., 0.1% bovine serum albumin). For longer storage, the protein conjugates could be lyophilized or divided into single-used aliquots and stored at ≤ –20°C.
Spectrum
Open in Advanced Spectrum Viewer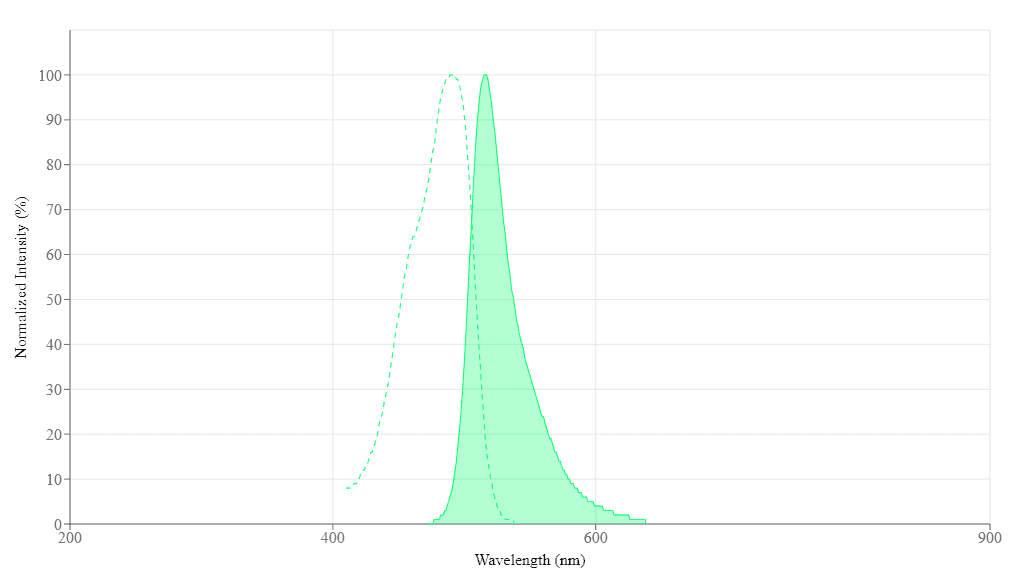 Spectral properties
| | |
| --- | --- |
| Correction Factor (280 nm) | 0.35 |
| Extinction coefficient (cm -1 M -1) | 73000 |
| Excitation (nm) | 491 |
| Emission (nm) | 516 |
| Quantum yield | 0.92 |
Images
Figure 1.
HeLa cells were incubated with (Tubulin+) or without (Tubulin-) mouse anti-tubulin followed by AAT's FITC goat anti-mouse IgG conjugate (Green, Left) or Jackson's FITC goat anti-mouse IgG conjugate (Green, Right), respectively. Cell nuclei were stained with Hoechst 33342 (Blue, Cat# 17530).
Citations
Utilizing the nanosecond pulse technique to improve antigen intracellular delivery and presentation to treat tongue squamous cell carcinoma
Authors:
Gao, Cen and Zhang, Xingxing and Chen, Jian and Zhao, Jiayuan and Liu, Yanmei and Zhang, Jue and Wang, Jing
Journal:
Medicina oral, patologia oral y cirugia bucal
(2018)
: e344
Role of reactive oxygen species-mediated MAPK and NF-$\kappa$B activation in polygonatum cyrtonema lectin-induced apoptosis and autophagy in human lung adenocarcinoma A549 cells
Authors:
Liu, Tao and Wu, Lei and Wang, Di and Wang, Haiyang and Chen, Jinwu and Yang, Chunlan and Bao, Jinku and Wu, Chuanfang
Journal:
The Journal of Biochemistry
(2016)
: 315--324
Complexes containing cationic and anionic pH-sensitive liposomes: comparative study of factors influencing plasmid DNA gene delivery to tumors
Authors:
Chen, Yan and Sun, Ji and Lu, Ying and Tao, Chun and Huang, Jingbin and Zhang, He and Yu, Yuan and Zou, Hao and Gao, Jing and Zhong, Yanqiang
Journal:
International journal of nanomedicine
(2013)
: 1573
References
Isothiocyanato Boron Dipyrromethenes - The First BODIPY Analogues of Fluorescein Isothiocyanate (FITC)
Authors:
Malatesti N, Hudson R, Smith K, Savoie H, Rix K, Welham K, Boyle RW.
Journal:
Photochem Photobiol.
(2006)
Detection of FITC-cortisol via modulated supraparticle lighthouses
Authors:
Petkus MM, McLauchlin M, Vuppu AK, Rios L, Garcia AA, Hayes MA.
Journal:
Anal Chem
(2006)
: 1405
Clathrin-mediated endocytosis of FITC-albumin in alveolar type II epithelial cell line RLE-6TN
Authors:
Yumoto R, Nishikawa H, Okamoto M, Katayama H, Nagai J, Takano M.
Journal:
Am J Physiol Lung Cell Mol Physiol
(2006)
: L946
Fluorescein isothiocyanate labelled bovine serum albumin (FITC-BSA) as a model protein drug: opportunities and drawbacks
Authors:
Wischke C, Borchert HH.
Journal:
Pharmazie
(2006)
: 770
Increased FITC fluorescence on LPS stimulated neutrophils cultured in whole blood
Authors:
Wilkins RC, Bellier PV, Kutzner BC, McNamee JP.
Journal:
Cell Biol Int
(2006)
: 394
Effects of pretreatment of needle puncture and sandpaper abrasion on the in vitro skin permeation of fluorescein isothiocyanate (FITC)-dextran
Authors:
Wu XM, Todo H, Sugibayashi K.
Journal:
Int J Pharm
(2006)
: 102
Uptake of dextran-FITC by epithelial cells of the chorioallantoic placentome and the omphalopleure of the placentotrophic lizard, Pseudemoia entrecasteauxii
Authors:
Stewart JR, Thompson MB, Attaway MB, Herbert JF, Murphy CR.
Journal:
J Exp Zoolog A Comp Exp Biol
(2006)
: 883
Intracellular FITC-derivatization with PEG
Authors:
Chen F, Zhi D, Xia G.
Journal:
Electrophoresis
(2005)
: 4204
Potential determination of aminated pesticides and metabolites by cyclodextrin capillary electrophoresis-laser-induced fluorescence using FITC as labelling
Authors:
Navarrete-Casas M, Segura-Carretero A, Cruces-Blanco C, Fern and ez-Gutierrez A., undefined
Journal:
Pest Manag Sci
(2005)
: 197
Preparation and characterization of a directly labeled mouse anti-human CD14 monoclonal antibody ZCH-2F9-FITC.
Authors:
Ning BT, Tang YM, Shen HQ, Yang SL, Chen YH, Song H, Shi SW, Qian BQ, Xu WQ.
Journal:
Zhejiang Da Xue Xue Bao Yi Xue Ban
(2005)
: 167