ReadiLink™ xtra Rapid FITC Antibody Labeling Kit *BSA-Compatible*
Ordering information
| | |
| --- | --- |
| Price | |
| Catalog Number | |
| Unit Size | |
| Quantity | |
Additional ordering information
| | |
| --- | --- |
| Telephone | 1-800-990-8053 |
| Fax | 1-800-609-2943 |
| Email | sales@aatbio.com |
| International | See distributors |
| Bulk request | Inquire |
| Custom size | Inquire |
| Shipping | Standard overnight for United States, inquire for international |
Spectral properties
| | |
| --- | --- |
| Correction Factor (280 nm) | 0.35 |
| Extinction coefficient (cm -1 M -1) | 73000 |
| Excitation (nm) | 491 |
| Emission (nm) | 516 |
| Quantum yield | 0.92 |
Storage, safety and handling
| | |
| --- | --- |
| H-phrase | H303, H313, H333 |
| Hazard symbol | XN |
| Intended use | Research Use Only (RUO) |
| R-phrase | R20, R21, R22 |
| UNSPSC | 12171501 |
| | | | | |
| --- | --- | --- | --- | --- |
| Correction Factor (280 nm) | Extinction coefficient (cm -1 M -1) | | | |
ReadiLink™ xtra rapid antibody labeling kits require essentially only 2 simple mixing steps without a column purification needed. Specially formulated FITC used in this ReadiLink™ kit is quite stable and shows good reactivity and selectivity with antibodies. The kit has all the essential components for labeling ~2x50 ug antibody. Each of the two vials of specially formulated FITC dye provided in the kit is optimized for labeling ~50 µg antibody. ReadiLink™ xtra FITC rapid antibody labeling kit provides a convenient and robust method to label monoclonal and polyclonal antibodies with the green fluorescent FITC fluorophore. FITC is one of the most commonly used fluorophores for labeling antibodies.
Figure 1. Overview of the ReadiLink™ xtra Rapid Antibody Labeling protocol. In just two simple steps, and with no purification necessary, covalently label microgram amounts of antibodies in under an hour.
Example protocol
AT A GLANCE
Important
Warm all the components and centrifuge the vials briefly before opening, and immediately prepare the required solutions before starting your conjugation. The following protocol is for recommendation.
PREPARATION OF WORKING SOLUTION
Protein working solution (Solution A)
For labeling 50 µg of protein (assuming the target protein concentration is 1 mg/mL), mix 5 µL (10% of the total reaction volume) of Reaction Buffer (Component B) with 50 µL of the target protein solution.


Note

     If you have a different protein concentration, adjust the protein volume accordingly to make ~50 µg of protein available for your labeling reaction.


Note

     For labeling 100 µg of protein (assuming the target protein concentration is 1 mg/mL), mix 10 µL (10% of the total reaction volume) of Reaction Buffer (Component B) with 100 µL of the target protein solution.


Note

     The protein should be dissolved in 1X phosphate buffered saline (PBS), pH 7.2 - 7.4; if the protein is dissolved in glycine buffer, it must be dialyzed against 1X PBS, pH 7.2 - 7.4, or use Amicon Ultra-0.5, Ultracel-10 Membrane, 10 kDa (cat# UFC501008 from Millipore) to remove free amines or ammonium salts (such as ammonium sulfate and ammonium acetate) that are widely used for protein precipitation.


Note

     Impure antibodies or antibodies stabilized with bovine serum albumin (BSA) with 0.1 to 0.5 % will be labeled well.


Note

     For optimal labeling efficiency, a final protein concentration range of 1 - 2 mg/mL is recommended, with a significantly reduced conjugation efficiency at less than 1 mg/mL.
SAMPLE EXPERIMENTAL PROTOCOL
Run conjugation reaction
Add the protein working solution (Solution A) to ONE vial of labeling dye (Component A), and mix them well by repeatedly pipetting for a few times or vortex the vial for a few seconds.


Note

     If labeling 100 µg of protein, use both vials (Component A) of labeling dye by dividing the 100 µg of protein into 2 x 50 µg of protein and reacting each 50 µg of protein with one vial of labeling dye. Then combine both vials for the next step.

Keep the conjugation reaction mixture at room temperature for 30 - 60 minutes.


Note

     The conjugation reaction mixture can be rotated or shaken for longer time if desired. 
Stop Conjugation reaction
Add 5 µL (for 50 µg protein) or 10 µL (for 100 µg protein) which is 10% of the total reaction volume of TQ™-Dyed Quench Buffer (Component C) into the conjugation reaction mixture; mix well.

Incubate at room temperature for 10 minutes. The labeled protein (antibody) is now ready to use. 
Storage of Protein Conjugate
The protein conjugate should be stored at > 0.5 mg/mL in the presence of a carrier protein (e.g., 0.1% bovine serum albumin). For longer storage, the protein conjugates could be lyophilized or divided into single-used aliquots and stored at ≤ –20 °C.
Spectrum
Open in Advanced Spectrum Viewer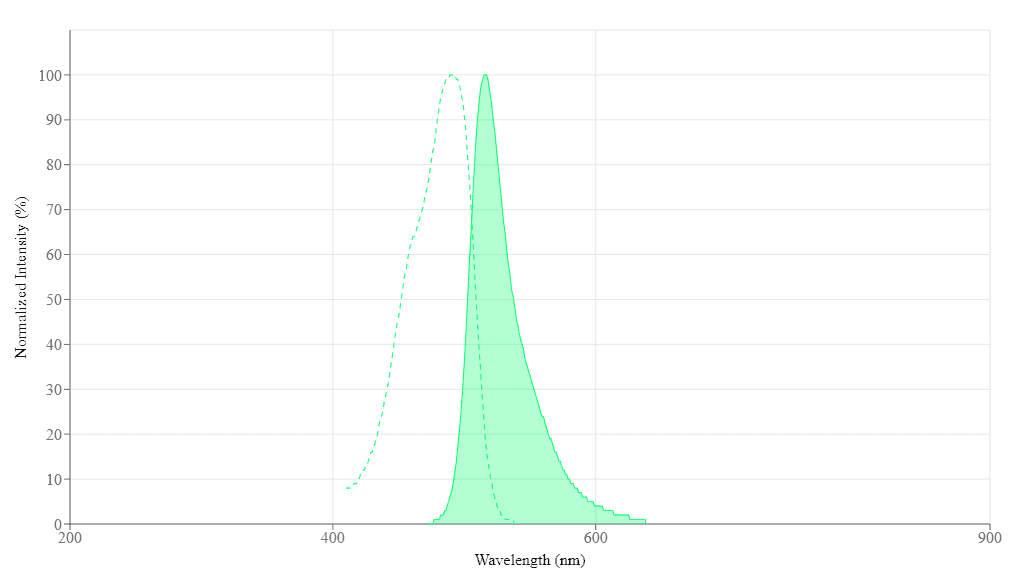 Spectral properties
| | |
| --- | --- |
| Correction Factor (280 nm) | 0.35 |
| Extinction coefficient (cm -1 M -1) | 73000 |
| Excitation (nm) | 491 |
| Emission (nm) | 516 |
| Quantum yield | 0.92 |
Images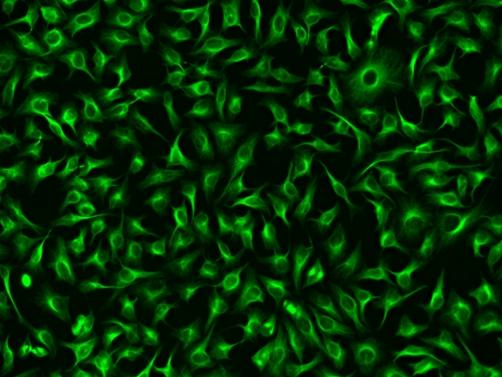 Figure 1.
Immunofluorescence staining of tubulin in HeLa cells. HeLa cells were fixed with 4% PFA, permeabilized with 0.1% Triton X-100 and blocked. Cells were then incubated with rabbit anti-tubulin monoclonal antibody and stained with a goat anti-rabbit IgG labeled using the ReadiLink™ xtra Rapid FITC Antibody Labeling Kit (Cat No. 1970).
References
Influence of Liver Intoxication by Carbon Tetrachloride or D-Galactosamine on Absorption of Fluorescein Isothiocyanate-Dextran-10 and Other Marker Compounds with Different Molecular Weights from the Rat Liver Surface.
Authors:
Miyamoto, Hirotaka and Tsuda, Kayoko and Honda, Tominori and Tokunaga, Ayako and Fumoto, Shintaro and Nishida, Koyo
Journal:
Biological & pharmaceutical bulletin
(2020)
: 319-324
Fluorescein isothiocyanate and blue light irradiation alter cell-adhesiveness of cross-linked albumin films for cell patterning.
Authors:
Tachibana, Akira and Iida, Atsuko and Tanabe, Toshizumi
Journal:
Bioscience, biotechnology, and biochemistry
(2020)
: 800-803
Methodological improvement of fluorescein isothiocyanate peanut agglutinin (FITC-PNA) acrosomal integrity staining for frozen-thawed Japanese Black bull spermatozoa.
Authors:
Rajabi-Toustani, Reza and Akter, Quzi Sharmin and Almadaly, Essam A and Hoshino, Yoichiro and Adachi, Hiromichi and Mukoujima, Koushi and Murase, Tetsuma
Journal:
The Journal of veterinary medical science
(2019)
: 694-702
Molecular characterization of the β-lactoglobulin conjugated with fluorescein isothiocyanate: Binding sites and structure changes as function of pH.
Authors:
Zhang, Xiaoning and Hemar, Yacine and Lv, Lei and Zhao, Tao and Yang, Yuhong and Han, Zhonghui and Li, Meifeng and He, Jinxing
Journal:
International journal of biological macromolecules
(2019)
: 377-383
Competitive and noncompetitive immunoassays for the detection of benzothiostrobin using magnetic nanoparticles and fluorescein isothiocyanate-labeled peptides.
Authors:
Chen, He and Yang, Qian and Ding, Yuan and Vasylieva, Natalia and Bever, Candace S and Hua, Xiude and Wang, Minghua and Hammock, Bruce D
Journal:
Analytical and bioanalytical chemistry
(2019)
: 527-535
Fluorescein- and EGFR-Antibody Conjugated Silica Nanoparticles for Enhancement of Real-time Tumor Border Definition Using Confocal Laser Endomicroscopy in Squamous Cell Carcinoma of the Head and Neck.
Authors:
Watermann, Anna and Gieringer, Rita and Bauer, Anna-Maria and Kurch, Sven and Kiesslich, Ralf and Tremel, Wolfgang and Gosepath, Jan and Brieger, Juergen
Journal:
Nanomaterials (Basel, Switzerland)
(2019)
Surface curvature-dependent adsorption and aggregation of fluorescein isothiocyanate on gold nanoparticles.
Authors:
Xue, Shan and Liu, Xinxin and Chen, Shun-Li and Gan, Wei and Yuan, Qunhui
Journal:
Physical chemistry chemical physics : PCCP
(2019)
: 26598-26605
Electromembrane Extraction of Unconjugated Fluorescein Isothiocyanate from Solutions of Labeled Proteins Prior to Flow Induced Dispersion Analysis.
Authors:
Restan, Magnus Saed and Pedersen, Morten E and Jensen, Henrik and Pedersen-Bjergaard, Stig
Journal:
Analytical chemistry
(2019)
: 6702-6708
Fluorescent property of glycol chitosan-fluorescein isothiocyanate conjugate for bio-imaging material.
Authors:
Kim, Hee Cheol and Park, Won Ho
Journal:
International journal of biological macromolecules
(2019)
: 1217-1221
Highly Sensitive Measurement of Glomerular Permeability in Mice with Fluorescein Isothiocyanate-polysucrose 70.
Authors:
Königshausen, Eva and Potthoff, Sebastian A and Woznowski, Magdalena and Stegbauer, Johannes and Rump, Lars C and Sellin, Lorenz
Journal:
Journal of visualized experiments : JoVE
(2019)