ReadiLink™ xtra Rapid XFD594 Antibody Labeling Kit *BSA-Compatible, XFD594 Same Structure to Alexa Fluor™ 594*
| | | | | |
| --- | --- | --- | --- | --- |
| | Extinction coefficient (cm -1 M -1) | | | |
XFD594 is manufactured by AAT Bioquest, and it has the same chemical structure of Alexa Fluor® 594 (Alexa Fluor® is the trademark of ThermoFisher). ReadiLink™ xtra rapid antibody labeling kits require essentially only 2 simple mixing steps without a column purification needed. Specially formulated and preactivated XFD594 (chemically equivalent to Alexa Fluor® 594) used in this ReadiLink™ kit is quite stable and shows good reactivity and selectivity with antibodies. The kit has all the essential components for labeling ~2x50 ug antibody. Each of the two vials of preactivated XFD594 dye provided in the kit is optimized for labeling ~50 µg antibody. ReadiLink™ xtra XFD594 rapid antibody labeling kit provides a convenient and robust method to label monoclonal and polyclonal antibodies with red fluorescent XFD594 fluorophore. XFD594 is one of the most used fluorophores for labeling antibodies.
Example protocol
AT A GLANCE
Important
Warm all the components and centrifuge the vials briefly before opening, and immediately prepare the required solutions before starting your conjugation. The following protocol is for recommendation.
PREPARATION OF WORKING SOLUTION
Protein working solution (Solution A)
For labeling 50 µg of protein (assuming the target protein concentration is 1 mg/mL), mix 5 µL (10% of the total reaction volume) of Reaction Buffer (Component B) with 50 µL of the target protein solution.
Note        If you have a different protein concentration, adjust the protein volume accordingly to make ~50 µg of protein available for your labeling reaction.
Note        For labeling 100 µg of protein (assuming the target protein concentration is 1 mg/mL), mix 10 µL (10% of the total reaction volume) of Reaction Buffer (Component B) with 100 µL of the target protein solution.
Note        The protein should be dissolved in 1X phosphate buffered saline (PBS), pH 7.2 - 7.4; if the protein is dissolved in glycine buffer, it must be dialyzed against 1X PBS, pH 7.2 - 7.4, or use Amicon Ultra-0.5, Ultracel-10 Membrane, 10 kDa (cat# UFC501008 from Millipore) to remove free amines or ammonium salts (such as ammonium sulfate and ammonium acetate) that are widely used for protein precipitation.
Note        Impure antibodies or antibodies stabilized with bovine serum albumin (BSA) with 0.1 to 0.5 % will be labeled well.
Note        For optimal labeling efficiency, a final protein concentration range of 1 - 2 mg/mL is recommended, with a significantly reduced conjugation efficiency at less than 1 mg/mL.
SAMPLE EXPERIMENTAL PROTOCOL
Run conjugation reaction
Add the protein working solution (Solution A) to ONE vial of labeling dye (Component A), and mix them well by repeatedly pipetting for a few times or vortex the vial for a few seconds.

Note        If labeling 100 µg of protein, use both vials (Component A) of labeling dye by dividing the 100 µg of protein into 2 x 50 µg of protein and reacting each 50 µg of protein with one vial of labeling dye. Then combine both vials for the next step.
Keep the conjugation reaction mixture at room temperature for 30 - 60 minutes.

Note        The conjugation reaction mixture can be rotated or shaken for longer time if desired.
Stop Conjugation reaction
Add 5 µL (for 50 µg protein) or 10 µL (for 100 µg protein) which is 10% of the total reaction volume of TQ™-Dyed Quench Buffer (Component C) into the conjugation reaction mixture; mix well.
Incubate at room temperature for 10 minutes. The labeled protein (antibody) is now ready to use.
Storage of Protein Conjugate
The protein conjugate should be stored at > 0.5 mg/mL in the presence of a carrier protein (e.g., 0.1% bovine serum albumin). For longer storage, the protein conjugates could be lyophilized or divided into single-used aliquots and stored at ≤ –20 °C.
Spectrum
Open in Advanced Spectrum Viewer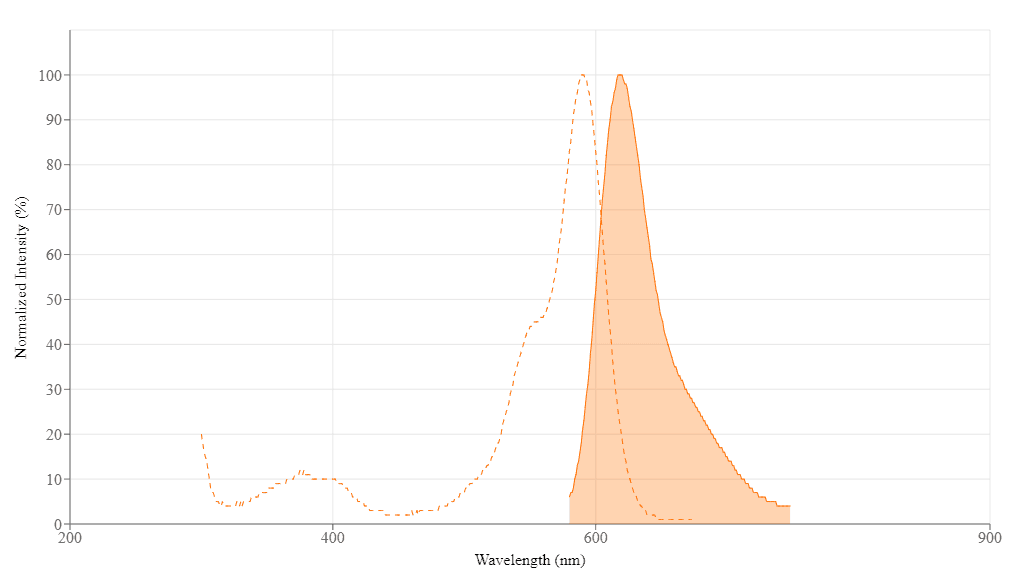 Spectral properties
| | |
| --- | --- |
| Absorbance (nm) | 592 |
| Extinction coefficient (cm -1 M -1) | 92000 |
| Excitation (nm) | 590 |
| Emission (nm) | 618 |
| Quantum yield | 0.661 |
References
Fluorescently-labeled fremanezumab is distributed to sensory and autonomic ganglia and the dura but not to the brain of rats with uncompromised blood brain barrier.
Authors:
Noseda, Rodrigo and Schain, Aaron J and Melo-Carrillo, Agustin and Tien, Jason and Stratton, Jennifer and Mai, Fanny and Strassman, Andrew M and Burstein, Rami
Journal:
Cephalalgia : an international journal of headache
(2020)
: 229-240
Cell-based immunofluorescence assay for screening the neurogenesis potential of new drugs in adult hippocampal neural progenitor cells.
Authors:
Zhang, Kun and Li, Bin and Li, Peifang and Yang, Xiaoli and Cui, Huixian and Liu, Xiaoyun
Journal:
Acta neurobiologiae experimentalis
(2019)
: 302-308
Super blinking and biocompatible nanoprobes based on dye doped BSA nanoparticles for super resolution imaging.
Authors:
Zong, Shenfei and Pan, Fengmei and Zhang, Ruohu and Chen, Chen and Wang, Zhuyuan and Cui, Yiping
Journal:
Nanotechnology
(2019)
: 065701
[Sepsis impairs aggregation of nicotinic acetylcholine receptors on murine skeletal muscle cell membranes by inhibiting AKT/GSK3β phosphorylation].
Authors:
Li, Tianmei and Liu, Li and Wang, Xiaobin
Journal:
Nan fang yi ke da xue xue bao = Journal of Southern Medical University
(2019)
: 1337-1343
Super-resolution Microscopical Localization of Dopamine Receptors 1 and 2 in Rat Hippocampal Synaptosomes.
Authors:
Miklosi, Andras G and Del Favero, Giorgia and Bulat, Tanja and Höger, Harald and Shigemoto, Ryuichi and Marko, Doris and Lubec, Gert
Journal:
Molecular neurobiology
(2018)
: 4857-4869
Astrocytic Atrophy Following Status Epilepticus Parallels Reduced Ca2+ Activity and Impaired Synaptic Plasticity in the Rat Hippocampus.
Authors:
Plata, Alex and Lebedeva, Albina and Denisov, Pavel and Nosova, Olga and Postnikova, Tatiana Y and Pimashkin, Alexey and Brazhe, Alexey and Zaitsev, Aleksey V and Rusakov, Dmitri A and Semyanov, Alexey
Journal:
Frontiers in molecular neuroscience
(2018)
: 215
Bioorthogonal click chemistry for fluorescence imaging of choline phospholipids in plants.
Authors:
Paper, Janet M and Mukherjee, Thiya and Schrick, Kathrin
Journal:
Plant methods
(2018)
: 31
Inhibitory Projections in the Mouse Auditory Tectothalamic System.
Authors:
Clarke, Blaise A and Lee, Charles C
Journal:
Brain sciences
(2018)
[Adenoid cystic carcinoma cells produce exosomes that promote tumor cell proliferation].
Authors:
Liu, Xiaohao and Wang, Fangyuan and Hou, Jin and Zhang, Leitao and Chen, Zhifeng and Yin, Xuemin
Journal:
Nan fang yi ke da xue xue bao = Journal of Southern Medical University
(2018)
: 1008-1013
Intravitreal itraconazole inhibits laser-induced choroidal neovascularization in rats.
Authors:
Bae, Jeong Hun and Hwang, Ah Reum and Kim, Chan Yun and Yu, Hyeong Gon and Koh, Hyoung Jun and Yang, Woo Ick and Chang, Hae Ran and Lee, Sung Chul
Journal:
PloS one
(2017)
: e0180482