ReadiLink™ xtra Rapid XFD488 Antibody Labeling Kit *BSA-Compatible, XFD488 Same Structure to Alexa Fluor™ 488*
Ordering information
| | |
| --- | --- |
| Price | |
| Catalog Number | |
| Unit Size | |
| Quantity | |
Additional ordering information
| | |
| --- | --- |
| Telephone | 1-800-990-8053 |
| Fax | 1-800-609-2943 |
| Email | sales@aatbio.com |
| International | See distributors |
| Bulk request | Inquire |
| Custom size | Inquire |
| Shipping | Standard overnight for United States, inquire for international |
Spectral properties
| | |
| --- | --- |
| Correction Factor (260 nm) | 0.30 |
| Correction Factor (280 nm) | 0.11 |
| Extinction coefficient (cm -1 M -1) | 71000 |
| Excitation (nm) | 499 |
| Emission (nm) | 520 |
| Quantum yield | 0.921 |
Storage, safety and handling
| | |
| --- | --- |
| H-phrase | H303, H313, H333 |
| Hazard symbol | XN |
| Intended use | Research Use Only (RUO) |
| R-phrase | R20, R21, R22 |
| UNSPSC | 12171501 |
| | | | | | |
| --- | --- | --- | --- | --- | --- |
| Correction Factor (260 nm) | Correction Factor (280 nm) | Extinction coefficient (cm -1 M -1) | | | |
XFD488 is manufactured by AAT Bioquest, and it has the same chemical structure of Alexa Fluor® 488 (Alexa Fluor® is the trademark of ThermoFisher). ReadiLink™ xtra rapid antibody labeling kits require essentially only 2 simple mixing steps without a column purification needed. Specially formulated and preactivated XFD488 (chemically equivalent to Alexa Fluor® 488) used in this ReadiLink™ kit is quite stable and shows good reactivity and selectivity with antibodies. The kit has all the essential components for labeling ~2x50 ug antibody. Each of the two vials of preactivated XFD488 dye provided in the kit is optimized for labeling ~50 µg antibody. ReadiLink™ xtra XFD488 rapid antibody labeling kit provides a convenient and robust method to label monoclonal and polyclonal antibodies with green fluorescent XFD488 fluorophore. XFD488 is one of the most used fluorophores for labeling antibodies.
Example protocol
AT A GLANCE
Important
Warm all the components and centrifuge the vials briefly before opening, and immediately prepare the required solutions before starting your conjugation. The following protocol is for recommendation.
PREPARATION OF WORKING SOLUTION
Protein working solution (Solution A)
For labeling 50 µg of protein (assuming the target protein concentration is 1 mg/mL), mix 5 µL (10% of the total reaction volume) of Reaction Buffer (Component B) with 50 µL of the target protein solution. Note: If you have a different protein concentration, adjust the protein volume accordingly to make ~50 µg of protein available for your labeling reaction. Note: For labeling 100 µg of protein (assuming the target protein concentration is 1 mg/mL), mix 10 µL (10% of the total reaction volume) of Reaction Buffer (Component B) with 100 µL of the target protein solution. Note: The protein should be dissolved in 1X phosphate buffered saline (PBS), pH 7.2 - 7.4; if the protein is dissolved in glycine buffer, it must be dialyzed against 1X PBS, pH 7.2 - 7.4, or use Amicon Ultra-0.5, Ultracel-10 Membrane, 10 kDa (cat# UFC501008 from Millipore) to remove free amines or ammonium salts (such as ammonium sulfate and ammonium acetate) that are widely used for protein precipitation. Note: Impure antibodies or antibodies stabilized with bovine serum albumin (BSA) with 0.1 to 0.5 % will be labeled well. Note: For optimal labeling efficiency, a final protein concentration range of 1 - 2 mg/mL is recommended, with a significantly reduced conjugation efficiency at less than 1 mg/mL.
SAMPLE EXPERIMENTAL PROTOCOL
Run conjugation reaction
Add the protein working solution (Solution A) to ONE vial of labeling dye (Component A), and mix them well by repeatedly pipetting for a few times or vortex the vial for a few seconds. Note: If labeling 100 µg of protein, use both vials (Component A) of labeling dye by dividing the 100 µg of protein into 2 x 50 µg of protein and reacting each 50 µg of protein with one vial of labeling dye. Then combine both vials for the next step.

Keep the conjugation reaction mixture at room temperature for 30 - 60 minutes. Note: The conjugation reaction mixture can be rotated or shaken for longer time if desired. 
Stop Conjugation reaction
Add 5 µL (for 50 µg protein) or 10 µL (for 100 µg protein) which is 10% of the total reaction volume of TQ™-Dyed Quench Buffer (Component C) into the conjugation reaction mixture; mix well.

Incubate at room temperature for 10 minutes. The labeled protein (antibody) is now ready to use. 
Storage of Protein Conjugate
The protein conjugate should be stored at > 0.5 mg/mL in the presence of a carrier protein (e.g., 0.1% bovine serum albumin). For longer storage, the protein conjugates could be lyophilized or divided into single-used aliquots and stored at ≤ –20°C.
Spectrum
Open in Advanced Spectrum Viewer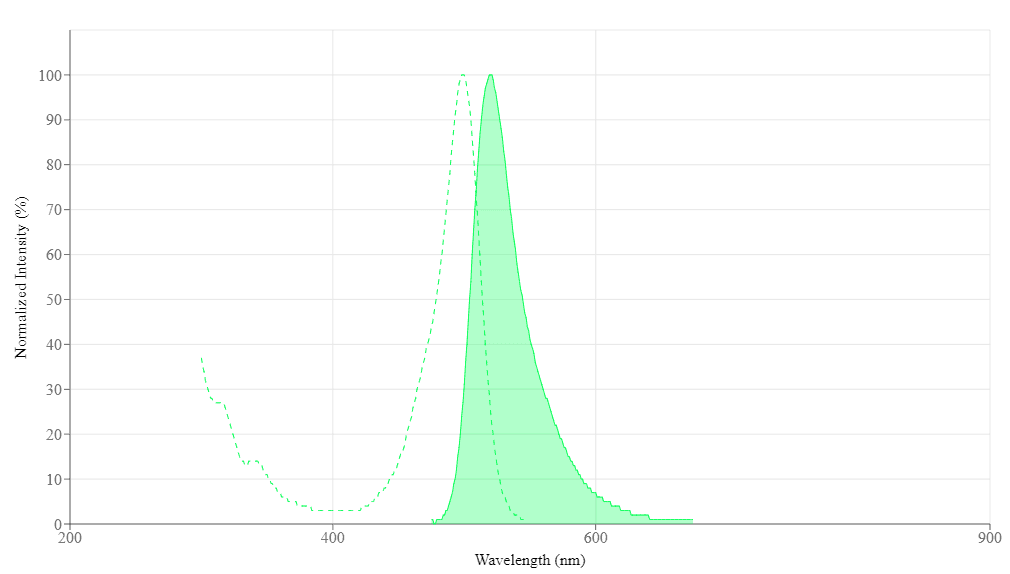 Spectral properties
| | |
| --- | --- |
| Correction Factor (260 nm) | 0.30 |
| Correction Factor (280 nm) | 0.11 |
| Extinction coefficient (cm -1 M -1) | 71000 |
| Excitation (nm) | 499 |
| Emission (nm) | 520 |
| Quantum yield | 0.921 |
References
TiO2 Nanoparticles and Commensal Bacteria Alter Mucus Layer Thickness and Composition in a Gastrointestinal Tract Model.
Authors:
Limage, Rhodesherdeline and Tako, Elad and Kolba, Nikolai and Guo, Zhongyuan and García-Rodríguez, Alba and Marques, Cláudia N H and Mahler, Gretchen J
Journal:
Small (Weinheim an der Bergstrasse, Germany)
(2020)
: e2000601
Expression of Cl- channels/transporters in nasal polyps.
Authors:
Nguyen, Thi Nga and Do, Ba Hung and Kitamura, Takuro and Ohkubo, Jun-Ichi and Wakasugi, Tetsuro and Ohbuchi, Toyoaki and Suzuki, Hideaki
Journal:
European archives of oto-rhino-laryngology : official journal of the European Federation of Oto-Rhino-Laryngological Societies (
(2020)
Aviculin Isolated from Lespedeza cuneata Induce Apoptosis in Breast Cancer Cells through Mitochondria-Mediated Caspase Activation Pathway.
Authors:
Lee, Dahae and Lee, Yong Hoon and Lee, Kwang Ho and Lee, Bum Soo and Alishir, Akida and Ko, Yoon-Joo and Kang, Ki Sung and Kim, Ki Hyun
Journal:
Molecules (Basel, Switzerland)
(2020)
Integration of Enzymatic Labeling with Single-Molecule Detection for Sensitive Quantification of Diverse DNA Damages.
Authors:
Zhang, Yan and Hua, Ruo-Nan and Zhang, Chun-Yang
Journal:
Analytical chemistry
(2020)
: 4700-4706
A cell-based assay for the detection of neutralizing antibodies against alemtuzumab.
Authors:
Ali, Liaqat and Saxena, Gauri and Jones, Meleri and Leisegang, Georgia R and Gammon, Luke and Gnanapavan, Sharmilee and Giovannoni, Gavin and Schmierer, Klaus and Baker, David and Kang, Angray S
Journal:
BioTechniques
(2020)
: 185-190
Cholinergic and adrenergic innervation of the pancreas in chinchilla (Chinchilla Laniger Molina).
Authors:
Radzimirska, Malgorzata and Kuchinka, Jacek and Nowak, Elzbieta and Trybus, Wojciech and Szczurkowski, Aleksander
Journal:
Folia histochemica et cytobiologica
(2020)
: 54-60
Influence of carbon source complexity on porosity, water retention and extracellular matrix composition of Neurospora discreta biofilms.
Authors:
Ahmed, A and Narayanan, R A and Veni, A R
Journal:
Journal of applied microbiology
(2020)
: 1099-1108
Semi-quantification of antibody-dependent enhancement (ADE) in the uptake of Adenovirus serotype 5 into THP-1 cells.
Authors:
Valliyott, Lathika and Dungdung, Ranjeet and Pilankatta, Rajendra
Journal:
Analytical biochemistry
(2020)
: 113568
Generation of biparatopic antibody through two-step targeting of fragment antibodies on antigen using SpyTag and SpyCatcher.
Authors:
Akiba, Hiroki and Takayanagi, Kensuke and Kusano-Arai, Osamu and Iwanari, Hiroko and Hamakubo, Takao and Tsumoto, Kouhei
Journal:
Biotechnology reports (Amsterdam, Netherlands)
(2020)
: e00418
Tracking the physical stability of fluorescent-labeled mAbs under physiologic in vitro conditions in human serum and PBS.
Authors:
Schuster, Joachim and Mahler, Hanns-Christian and Koulov, Atanas and Joerg, Susanne and Racher, Andy and Huwyler, Joerg and Detampel, Pascal and Mathaes, Roman
Journal:
European journal of pharmaceutics and biopharmaceutics : official journal of Arbeitsgemeinschaft fur Pharmazeutische Verfahrenst
(2020)
: 193-201