iFluor® 594 Tyramide
Ordering information
| | |
| --- | --- |
| Price | |
| Catalog Number | |
| Unit Size | |
| Quantity | |
Additional ordering information
| | |
| --- | --- |
| Telephone | 1-800-990-8053 |
| Fax | 1-800-609-2943 |
| Email | sales@aatbio.com |
| Quotation | Request |
| International | See distributors |
| Shipping | Standard overnight for United States, inquire for international |
Physical properties
| | |
| --- | --- |
| Molecular weight | 841.95 |
| Solvent | DMSO |
Spectral properties
| | |
| --- | --- |
| Absorbance (nm) | 587 |
| Correction Factor (260 nm) | 0.05 |
| Correction Factor (280 nm) | 0.04 |
| Extinction coefficient (cm -1 M -1) | 1800001 |
| Excitation (nm) | 588 |
| Emission (nm) | 604 |
| Quantum yield | 0.531 |
Storage, safety and handling
| | |
| --- | --- |
| H-phrase | H303, H313, H333 |
| Hazard symbol | XN |
| Intended use | Research Use Only (RUO) |
| R-phrase | R20, R21, R22 |
| Storage | Freeze (< -15 °C); Minimize light exposure |
| UNSPSC | 12171501 |
| | | | | | | | |
| --- | --- | --- | --- | --- | --- | --- | --- |
| | | Correction Factor (260 nm) | Correction Factor (280 nm) | Extinction coefficient (cm -1 M -1) | | | |
For many immunohistochemical (IHC) applications, the traditional enzymatic amplification procedures are sufficient for achieving adequate antigen detection. However, several factors limit the sensitivity and utility of these procedures. Tyramide signal amplification (TSA) has proven to be a particularly versatile and powerful enzyme amplification technique with improved assay sensitivity. TSA is based on the ability of HRP, in the presence of low concentrations of hydrogen peroxide, to convert labeled tyramine-containing substrate into an oxidized, highly reactive free radical that can covalently bind to tyrosine residues at or near the HRP. To achieve maximal IHC detection, tyramine is prelabeled with a fluorophore. The signal amplification conferred by the turnover of multiple tyramide substrates per peroxidase label translates ultrasensitive detection of low-abundance targets and the use of smaller amounts of antibodies and hybridization probes. In immunohistochemical applications, sensitivity enhancements derived from TSA method allow primary antibody dilutions to be increased to reduce nonspecific background signals, and can overcome weak immunolabeling caused by suboptimal fixation procedures or low levels of target expression. iFluor 594 tyramide contains the bright iFluor 594 that can be readily detected with the standard Texas Red filter set. It is an excellent replacement for Alexa Fluor® 594 tyramide (Alexa Fluor® is the trade mark of ThermoFisher) or other spectrally similar fluorescent tyramide conjugates or TSA reagents (such as fluorescein tyramide).
Calculators
Common stock solution preparation
Table 1.
Volume of DMSO needed to reconstitute specific mass of iFluor® 594 Tyramide to given concentration. Note that volume is
only
for preparing stock solution. Refer to sample experimental protocol for appropriate experimental/physiological buffers.
| | | | | | |
| --- | --- | --- | --- | --- | --- |
| | 0.1 mg | 0.5 mg | 1 mg | 5 mg | 10 mg |
| 1 mM | 118.772 µL | 593.859 µL | 1.188 mL | 5.939 mL | 11.877 mL |
| 5 mM | 23.754 µL | 118.772 µL | 237.544 µL | 1.188 mL | 2.375 mL |
| 10 mM | 11.877 µL | 59.386 µL | 118.772 µL | 593.859 µL | 1.188 mL |
Molarity calculator
Enter any two values (mass, volume, concentration) to calculate the third.
Mass (

Calculate

)
Molecular weight
Volume (

Calculate

)
Concentration (

Calculate

)
Moles
/
=
x
=
Spectrum
Open in Advanced Spectrum Viewer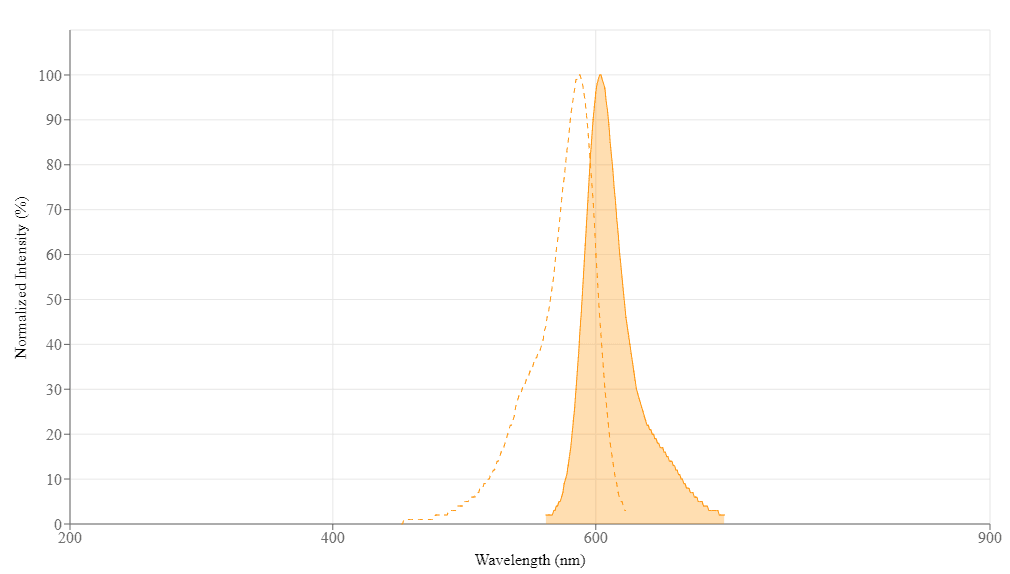 Spectral properties
| | |
| --- | --- |
| Absorbance (nm) | 587 |
| Correction Factor (260 nm) | 0.05 |
| Correction Factor (280 nm) | 0.04 |
| Extinction coefficient (cm -1 M -1) | 1800001 |
| Excitation (nm) | 588 |
| Emission (nm) | 604 |
| Quantum yield | 0.531 |
Images

Figure 1.
Formalin-fixed, paraffin-embedded (FFPE) human lung tissue was labeled with anti-EpCAM mouse mAb followed by HRP-labeled goat anti-mouse IgG (Cat No. 16728). The fluorescence signal was developed using iFluor® 594 tyramide (Cat No. 45107) and detected with a TRITC/Cy3 filter set. Nuclei (blue) were counterstained with DAPI (Cat No. 17507).
Figure 2.
Superior sensitivity with iFluor® 594 tyramide. HeLa cells were incubated with primary anti-tubulin antibodies followed by detection with HRP-Goat anti-Mouse IgG and iFluor® 594 tyramide (Left) or Alexa Fluor® 594 tyramide (Right). Fluorescence images were taken on a Keyence BZ-X710 fluorescence microscope equipped with a TRITC filter set.
References
Time Gated Luminescence Imaging of Immunolabeled Human Tissues.
Authors:
Chen, Ting and Hong, Rui and Magda, Darren and Bieniarz, Christopher and Morrison, Larry and Miller, Lawrence W
Journal:
Analytical chemistry
(2017)
: 12713-12719
Whole Mount RNA-FISH on Ovules and Developing Seeds.
Authors:
Bleckmann, Andrea and Dresselhaus, Thomas
Journal:
Methods in molecular biology (Clifton, N.J.)
(2017)
: 159-171
Reliable protocols for whole-mount fluorescent in situ hybridization (FISH) in the pea aphid Acyrthosiphon pisum: a comprehensive survey and analysis.
Authors:
Chung, Chen-yo and Cook, Charles E and Lin, Gee-way and Huang, Ting-Yu and Chang, Chun-che
Journal:
Insect science
(2014)
: 265-77
Quantum dot-based FRET for sensitive determination of hydrogen peroxide and glucose using tyramide reaction.
Authors:
Huang, Xiangyi and Wang, Jinjie and Liu, Heng and Lan, Tao and Ren, Jicun
Journal:
Talanta
(2013)
: 79-84
NIR-labeled perfluoropolyether nanoemulsions for drug delivery and imaging.
Authors:
O'Hanlon, Claire E and Amede, Konjit G and O'Hear, Meredith R and Janjic, Jelena M
Journal:
Journal of fluorine chemistry
(2012)
: 27-33
Anisotropic magnetic porous assemblies of oxide nanoparticles interconnected via silica bridges for catalytic application.
Authors:
Wacker, Josias B and Parashar, Virendra K and Gijs, Martin A M
Journal:
Langmuir : the ACS journal of surfaces and colloids
(2011)
: 4380-5
Methoxychlor and estradiol induce oxidative stress DNA damage in the mouse ovarian surface epithelium.
Authors:
Symonds, Daniel A and Merchenthaler, Istvan and Flaws, Jodi A
Journal:
Toxicological sciences : an official journal of the Society of Toxicology
(2008)
: 182-7
mRNA-targeted fluorescent in situ hybridization (FISH) of Gram-negative bacteria without template amplification or tyramide signal amplification.
Authors:
Coleman, James R and Culley, David E and Chrisler, William B and Brockman, Fred J
Journal:
Journal of microbiological methods
(2007)
: 246-55
Multiplex fluorescent in situ hybridization in zebrafish embryos using tyramide signal amplification.
Authors:
Clay, Hilary and Ramakrishnan, Lalita
Journal:
Zebrafish
(2005)
: 105-11
Oligo(dA-dT)-dependent signal amplification for the detection of proteins in cells.
Authors:
Hanaki, Ken-ichi and Ohka, Seii and Yamamoto, Kenji and Nomoto, Akio and Yoshikura, Hiroshi
Journal:
BioTechniques
(2004)
: 856-60, 862-3