iFluor® 430 Tyramide *Superior Replacement for Opal 480*
Ordering information
| | |
| --- | --- |
| Price | |
| Catalog Number | |
| Unit Size | |
| Quantity | |
Additional ordering information
| | |
| --- | --- |
| Telephone | 1-800-990-8053 |
| Fax | 1-800-609-2943 |
| Email | sales@aatbio.com |
| International | See distributors |
| Bulk request | Inquire |
| Custom size | Inquire |
| Shipping | Standard overnight for United States, inquire for international |
Physical properties
| | |
| --- | --- |
| Molecular weight | 710.89 |
| Solvent | DMSO |
Spectral properties
| | |
| --- | --- |
| Correction Factor (260 nm) | 0.68 |
| Correction Factor (280 nm) | 0.3 |
| Extinction coefficient (cm -1 M -1) | 400001 |
| Excitation (nm) | 433 |
| Emission (nm) | 498 |
| Quantum yield | 0.781 |
Storage, safety and handling
| | |
| --- | --- |
| H-phrase | H303, H313, H333 |
| Hazard symbol | XN |
| Intended use | Research Use Only (RUO) |
| R-phrase | R20, R21, R22 |
| Storage | Freeze (< -15 °C); Minimize light exposure |
| UNSPSC | 12171501 |
| | | | | | | |
| --- | --- | --- | --- | --- | --- | --- |
| | Correction Factor (260 nm) | Correction Factor (280 nm) | Extinction coefficient (cm -1 M -1) | | | |
iFluor® 430 tyramide is optimized to a superior replacement for Opal 480 or other spectrally similar fluorescent tyramide conjugates or TSA reagents. Tyramide reagetns can be used to detect extremely low-abundance targets in cells and tissues with significantly improved fluorescence signal than the direct fluorescence labeling reagents. In combination with our superior iFluor® dyes that have higher florescence intensity, increased photostability and enhanced water solubility, the iFluor® dye-labeled tyramide conjugates can generate fluorescence signal with significantly higher precision and sensitivity.
Platform
Fluorescence microscope
| | |
| --- | --- |
| Excitation | Violet filter set |
| Emission | Violet filter set |
| Recommended plate | Black wall/clear bottom |
Example protocol
AT A GLANCE
Protocol Summary
Fix/permeabilize/block cells or tissue

Add primary antibody in blocking buffer

Add HRP-conjugated secondary antibody

Prepare tyramide working solution and apply in cells or tissue for 5-10 minutes at room temperature 
PREPARATION OF STOCK SOLUTIONS
Unless otherwise noted, all unused stock solutions should be divided into single-use aliquots and stored at -20 °C after preparation. Avoid repeated freeze-thaw cycles.
iFluor™ 430 Tyramide stock solution (200X)
Add 100 µL DMSO to vial and mix well.


Note

     Unused tyramide stock solution can be stored at 2-8 °C.
PREPARATION OF WORKING SOLUTION
iFluor™ 430 Tyramide working solution (1X)
Add 100 µL of Tyramide stock solution into 20 mL of buffer of your choice containing 0.003% H2O2.


Note

     Tris Buffer, pH=7.4 can be used for optimal performance.


Note

     Tyramide working solution should be used immediately and made fresh on the day of use.


Note

     20 mL solution is good for 200 tests.
SAMPLE EXPERIMENTAL PROTOCOL
This protocol is applicable for both cells and tissues staining.
Cell fixation and permeabilization
Fix the cells or tissue with 3.7% formaldehyde or paraformaldehyde, in PBS at room temperature for 20 minutes.

Rinse the cells or tissue with PBS twice.

Permeabilize the cells with 0.1% Triton X-100 solution for 1-5 minutes at room temperature.

Rinse the cells or tissue with PBS twice. 
Tissue fixation, deparaffinization and rehydration
Deparaffinize and dehydrate the tissue according to the standard IHC protocols. Perform antigen retrieval with preferred specific solution/protocol as needed.
Protocol can be found at
https://www.aatbio.com/resources/guides/paraffin-embedded-tissue-immunohistochemistry-protocol.html
Peroxidase labeling
Optional: Quench endogenous peroxidase activity by incubating cell or tissue sample in peroxidase quenching solution (such as 3% hydrogen peroxide) for 10 minutes. Rinse with PBS twice at room temperature.

Optional: If using HRP-conjugated streptavidin, it is advisable to block endogenous biotins by biotin blocking buffer.

Block with preferred blocking solution (such as PBS with 1% BSA) for 30 minutes at 4 °C.

Remove blocking solution and add primary antibody diluted in recommended antibody diluent for 60 minutes at room temperature or overnight at 4 °C.

Wash with PBS three times for 5 minutes each.

Apply 100 µL of secondary antibody-HRP working solution to each sample and incubate for 60 minutes at room temperature.


Note

     Incubation time and concentration can be varied depending on the signal intensity.

Wash with PBS three times for 5 minutes each. 
Tyramide labeling
Prepare and apply 100 µL of tyramide working solution to each sample and incubate for 5-10 minutes at room temperature.


Note

     If you observe non-specific signal, you can shorten the incubation time with tyramide. You should optimize the incubation period using positive and negative control samples at various incubation time points. Or you can use lower concentration of tyramide in the working solution.

Rinse with PBS three times. 
Counterstain and fluorescence imaging
Counterstain the cell or tissue samples as needed. AAT provides a series of nucleus counterstain reagents as listed in Table 1. Follow the instruction provided with the reagents.

Mount the coverslip using a mounting medium with anti-fading properties.

Use the appropriate filter set to visualize the signal from the tyramide labeling. 
Table 1.
Products recommended for nucleus counterstain.
| | | |
| --- | --- | --- |
| Cat# | Product Name | Ex/Em (nm) |
| 17548 | Nuclear Blue™ DCS1 | 350/461 |
| 17550 | Nuclear Green™ DCS1 | 503/526 |
| 17551 | Nuclear Orange™ DCS1 | 528/576 |
| 17552 | Nuclear Red™ DCS1 | 642/660 |
Calculators
Common stock solution preparation
Table 1.
Volume of DMSO needed to reconstitute specific mass of iFluor® 430 Tyramide *Superior Replacement for Opal 480* to given concentration. Note that volume is
only
for preparing stock solution. Refer to sample experimental protocol for appropriate experimental/physiological buffers.
| | | | | | |
| --- | --- | --- | --- | --- | --- |
| | 0.1 mg | 0.5 mg | 1 mg | 5 mg | 10 mg |
| 1 mM | 140.669 µL | 703.344 µL | 1.407 mL | 7.033 mL | 14.067 mL |
| 5 mM | 28.134 µL | 140.669 µL | 281.337 µL | 1.407 mL | 2.813 mL |
| 10 mM | 14.067 µL | 70.334 µL | 140.669 µL | 703.344 µL | 1.407 mL |
Molarity calculator
Enter any two values (mass, volume, concentration) to calculate the third.
Mass (

Calculate

)
Molecular weight
Volume (

Calculate

)
Concentration (

Calculate

)
Moles
/
=
x
=
Spectrum
Open in Advanced Spectrum Viewer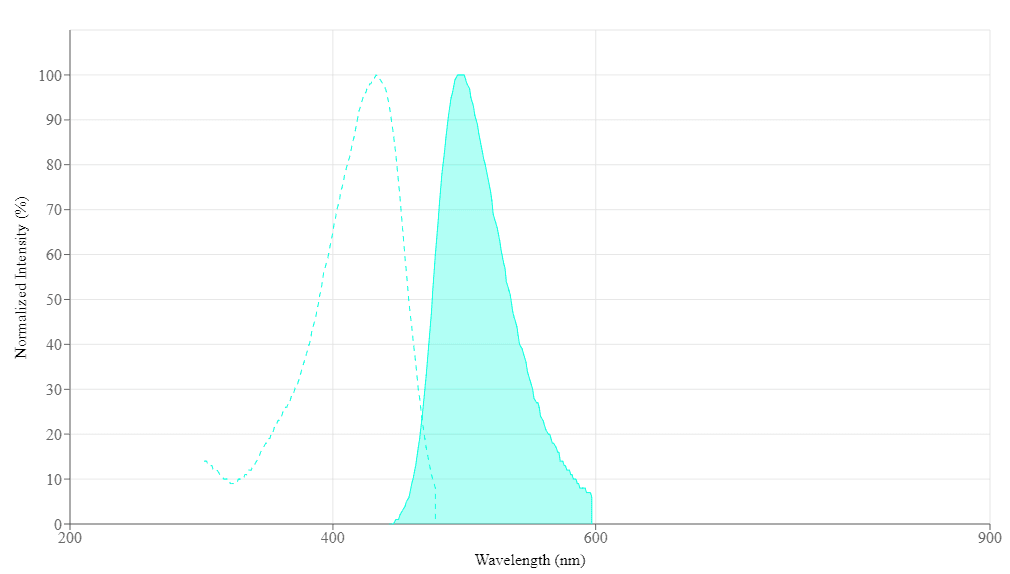 Spectral properties
| | |
| --- | --- |
| Correction Factor (260 nm) | 0.68 |
| Correction Factor (280 nm) | 0.3 |
| Extinction coefficient (cm -1 M -1) | 400001 |
| Excitation (nm) | 433 |
| Emission (nm) | 498 |
| Quantum yield | 0.781 |
Images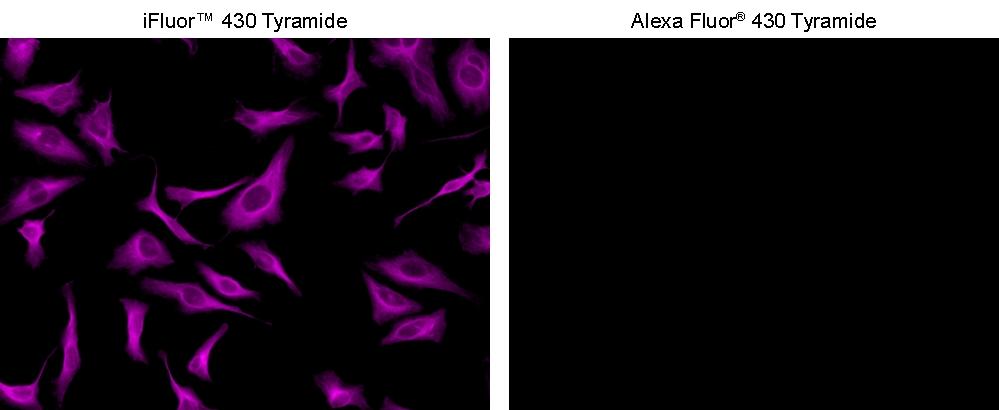 Figure 1.
Superior sensitivity with iFluor® 430 tyramide. HeLa cells were incubated with primary anti-tubulin antibodies followed by detection with HRP-Goat anti-Mouse IgG and iFluor® 430 tyramide™ (Left) or Alexa Fluor® 430 tyramide (Right). Fluorescence images were taken on a Keyence BZ-X710 fluorescence microscope equipped with a violet filter set.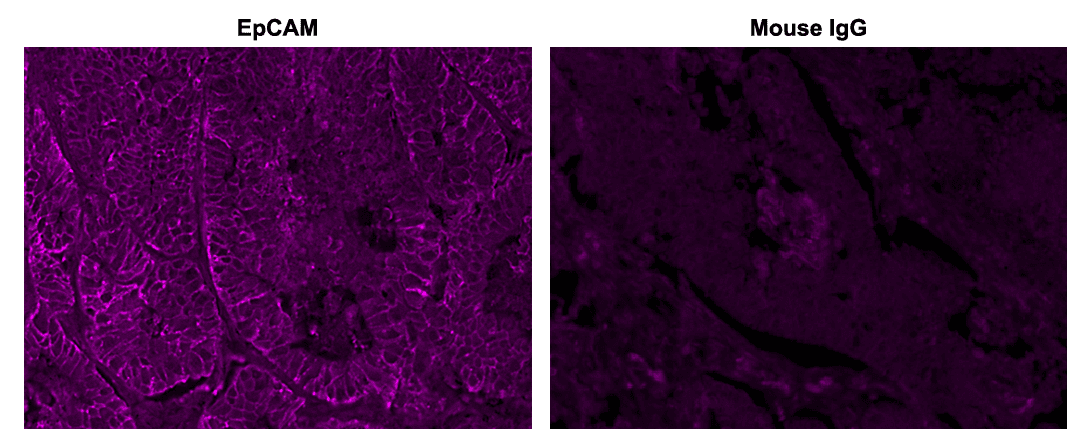 Figure 2.
Formalin-fixed, paraffin-embedded (FFPE) human lung adenocarcinoma tissue was incubated with an anti-EpCAM primary antibody, and an HRP conjugated anti-mouse secondary antibody. TSA signal was developed by incubation of tissue section with 5 µg/mL of iFluor® 430 tyramide (Cat No. 45096) for 10 minutes. Images were acquired on a confocal microscope equipped with a Violet filter set.
Citations
MDIG-mediated H3K9me3 demethylation upregulates Myc by activating OTX2 and facilitates liver regeneration
Authors:
Du, Jinpeng and Liao, Wenwei and Wang, Haichuan and Hou, Guimin and Liao, Min and Xu, Lin and Huang, Jiwei and Yuan, Kefei and Chen, Xiangzheng and Zeng, Yong
Journal:
Signal Transduction and Targeted Therapy
(2023)
: 351
References
Immunofluorescent Staining of Adult Murine Paraffin-Embedded Skeletal Tissue.
Authors:
Felsenthal, Neta and Zelzer, Elazar
Journal:
Methods in molecular biology (Clifton, N.J.)
(2021)
: 337-344
Highly Sensitive and Multiplexed In Situ RNA Profiling with Cleavable Fluorescent Tyramide.
Authors:
Xiao, Lu and Labaer, Joshua and Guo, Jia
Journal:
Cells
(2021)
Single-cell RNA sequencing of human liver reveals hepatic stellate cell heterogeneity.
Authors:
Payen, Valéry L and Lavergne, Arnaud and Alevra Sarika, Niki and Colonval, Megan and Karim, Latifa and Deckers, Manon and Najimi, Mustapha and Coppieters, Wouter and Charloteaux, Benoît and Sokal, Etienne M and El Taghdouini, Adil
Journal:
JHEP reports : innovation in hepatology
(2021)
: 100278
Multiplexed In Situ Protein Profiling with High-Performance Cleavable Fluorescent Tyramide.
Authors:
Pham, Thai and Liao, Renjie and Labaer, Joshua and Guo, Jia
Journal:
Molecules (Basel, Switzerland)
(2021)
Accessibility-dependent topology studies of membrane proteins using a SpyTag/SpyCatcher protein-ligation system.
Authors:
Bae, Yoonji and Lee, Sang Kwon and Chae, Young Chan and Park, Chan Young and Kang, Sebyung
Journal:
International journal of biological macromolecules
(2021)
: 171-178
Immunohistochemical Detection of 5-Hydroxymethylcytosine and 5-Carboxylcytosine in Sections of Zebrafish Embryos.
Authors:
Jessop, Peter and Gering, Martin
Journal:
Methods in molecular biology (Clifton, N.J.)
(2021)
: 193-208
Phenoxy Radical Reactivity of Nucleic Acids: Practical Implications for Biotinylation.
Authors:
Wilbanks, Brandon and Garcia, Brian and Byrne, Shane and Dedon, Peter and Maher, L James
Journal:
Chembiochem : a European journal of chemical biology
(2021)
: 1400-1404
Adoptive cell therapy of triple negative breast cancer with redirected cytokine-induced killer cells.
Authors:
Sommaggio, Roberta and Cappuzzello, Elisa and Dalla Pietà, Anna and Tosi, Anna and Palmerini, Pierangela and Carpanese, Debora and Nicolè, Lorenzo and Rosato, Antonio
Journal:
Oncoimmunology
(2020)
: 1777046
A simple, real-time assay of horseradish peroxidase using biolayer interferometry.
Authors:
Kojima, Takaaki and Nakane, Ayako and Zhu, Bo and Alfi, Almasul and Nakano, Hideo
Journal:
Bioscience, biotechnology, and biochemistry
(2019)
: 1822-1828
The EMARS Reaction for Proximity Labeling.
Authors:
Honke, Koichi and Miyagawa-Yamaguchi, Arisa and Kotani, Norihiro
Journal:
Methods in molecular biology (Clifton, N.J.)
(2019)
: 1-12