iFluor® 700-Wheat Germ Agglutinin (WGA) Conjugate
Ordering information
| | |
| --- | --- |
| Price | |
| Catalog Number | |
| Unit Size | |
| Quantity | |
Additional ordering information
| | |
| --- | --- |
| Telephone | 1-800-990-8053 |
| Fax | 1-800-609-2943 |
| Email | sales@aatbio.com |
| International | See distributors |
| Bulk request | Inquire |
| Custom size | Inquire |
| Shipping | Standard overnight for United States, inquire for international |
Spectral properties
| | |
| --- | --- |
| Correction Factor (260 nm) | 0.09 |
| Correction Factor (280 nm) | 0.04 |
| Correction Factor (565 nm) | 0.0766 |
| Correction Factor (650 nm) | 0.4004 |
| Extinction coefficient (cm -1 M -1) | 2200001 |
| Excitation (nm) | 690 |
| Emission (nm) | 713 |
| Quantum yield | 0.231 |
Storage, safety and handling
| | |
| --- | --- |
| H-phrase | H303, H313, H333 |
| Hazard symbol | XN |
| Intended use | Research Use Only (RUO) |
| R-phrase | R20, R21, R22 |
| Storage | Freeze (< -15 °C); Minimize light exposure |
| UNSPSC | 12171501 |
| | | | | | | | |
| --- | --- | --- | --- | --- | --- | --- | --- |
| Correction Factor (260 nm) | Correction Factor (280 nm) | Correction Factor (565 nm) | Correction Factor (650 nm) | Extinction coefficient (cm -1 M -1) | | | |
Wheat germ agglutinin (WGA) is a well-studied lectin known for its binding affinity to N-acetyl-D-glucosamine and sialic acid, making it a valuable tool in various biological applications. Its interaction with glycoconjugates enables widespread use of WGA derivatives and conjugates for fluorescence imaging and analysis, facilitating the labeling of yeast bud scars, fibrotic scar tissue, and the cell membranes of gram bacteria and mammalian cells. WGA specifically targets sequences of β-1,4-GlcNAc-linked residues known as chitodextrins. Each monomer contains two identical, non-interacting binding sites complementary to 3 or 4 β-1,4-GlcNAc units. Among the monosaccharides tested, only GlcNAc shows strong binding to WGA, while ManNAc demonstrates no binding, and GalNAc exhibits weak binding. The iFluor® 700 conjugate of WGA possesses a bright, far-red fluorescence characteristic of the iFluor® 700 dye (Ex/Em = 690/713 nm). Notably, the iFluor® 700 WGA conjugate retains its ability to bind to sialic acid and N-acetylglucosaminyl residues, enhancing its utility in fluorescence imaging and analysis for various scientific investigations.
Platform
Fluorescence microscope
| | |
| --- | --- |
| Excitation | Cy5 filter set |
| Emission | Cy5 filter set |
| Recommended plate | Black wall/clear bottom |
Example protocol
PREPARATION OF STOCK SOLUTIONS
Unless otherwise noted, all unused stock solutions should be divided into single-use aliquots and stored at -20 °C after preparation. Avoid repeated freeze-thaw cycles
iFluor® 700-Wheat Germ Agglutinin (WGA) Conjugate stock solution (200X)
Add 500 µL of ddH2O into the powder form to make a 2 mg/mL stock solution.

Note: The reconstituted conjugate solution can be stored at 2-8 °C for short-term storage or at -20 °C for long-term storage.
PREPARATION OF WORKING SOLUTION
iFluor® 700-Wheat Germ Agglutinin (WGA) Conjugate working solution (1X)
Add 5 µL of 200X WGA conjugate solution to 1 mL HHBS Buffer.

Note: The optimized staining concentration may be different with different cell lines. The recommended starting concentration is 5-10 µg/mL for live cells.
SAMPLE EXPERIMENTAL PROTOCOL
Warm the vial to room temperature centrifuge briefly before opening. Staining protocols vary with applications. Appropriate dilution of conjugates should be determined experimentally.
Live Cells Stain
Wash cells twice with a HHBS buffer.

Add 100 µL iFluor® 700-WGA working solution.

Incubate cells with WGA working solution for 10-30 minutes at 37 °C.
Wash cells twice with HHBS buffer.

Image cells on a fluorescence microscope using Cy5 filter set.
Fixed Cells Stain
WGA conjugates can be also used to stain fixed cells.
Fix cells with 4% Formaldehyde in PBS.

Note: For fixed cell membrane staining, it is recommended to stain without the permeabilization step. A permeabilization step after fixation can facilitate staining intracellular compartments such as Golgi and Endoplasmic Reticulum (ER) structures.

Add 100 µL iFluor® 700-WGA working solution.

Incubate cells with WGA working solution for 10-30 minutes at room temperature.
Wash cells twice with HHBS buffer.

Image cells on a fluorescence microscope using Cy5 filter set.
Spectrum
Open in Advanced Spectrum Viewer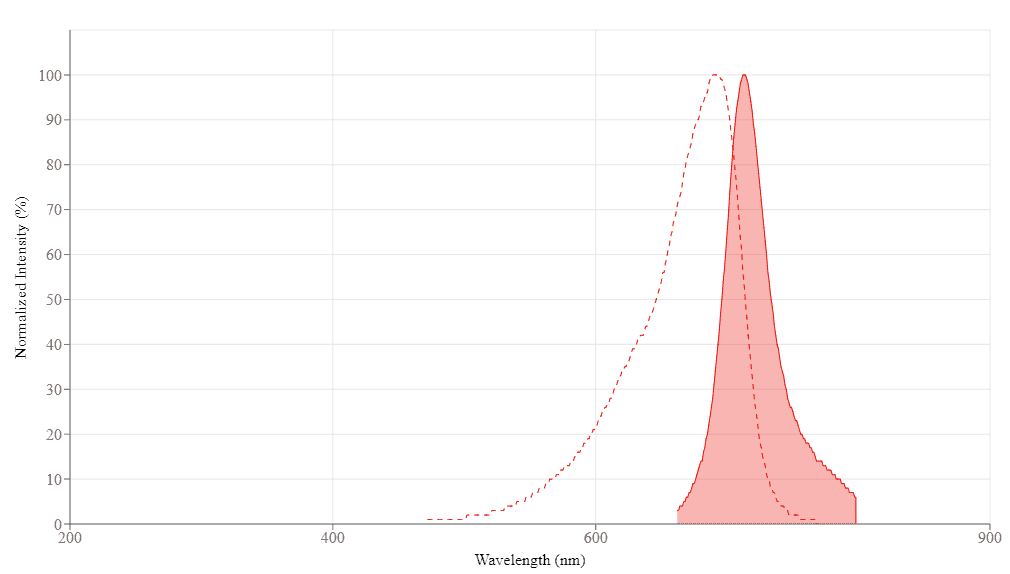 Spectral properties
| | |
| --- | --- |
| Correction Factor (260 nm) | 0.09 |
| Correction Factor (280 nm) | 0.04 |
| Correction Factor (565 nm) | 0.0766 |
| Correction Factor (650 nm) | 0.4004 |
| Extinction coefficient (cm -1 M -1) | 2200001 |
| Excitation (nm) | 690 |
| Emission (nm) | 713 |
| Quantum yield | 0.231 |
Images
References
Resolving arteriolar wall structures in mouse brain in vivo with three-photon microscopy.
Authors:
Qin, Mengyuan and Huang, Jie and Zhong, Jincheng and Zhang, Yingxian and Tong, Shen and Cheng, Hui and Deng, Xiangquan and Zheng, Lei and Zhang, Wanjian and Qiu, Ping and Wang, Ke
Journal:
Journal of biophotonics
(2023)
: e202200365
A Review of Reagents for Fluorescence Microscopy of Cellular Compartments and Structures, Part III: Reagents for Actin, Tubulin, Cellular Membranes, and Whole Cell and Cytoplasm.
Authors:
Golub, Oggie and Kilgore, Jason A and Dolman, Nick J
Journal:
Current protocols
(2023)
: e754
Expansion Microscopy of Bacillus subtilis.
Authors:
Middelhauve, Viola and Siebrasse, Jan Peter and Kubitscheck, Ulrich
Journal:
Methods in molecular biology (Clifton, N.J.)
(2023)
: 191-202
Silicate Ions Derived from Calcium Silicate Extract Decelerate Ang II-Induced Cardiac Remodeling.
Authors:
Li, Xin and Zhang, Yanxin and Jin, Qishu and Song, Qiaoyu and Fan, Chen and Jiao, Yiren and Yang, Chen and Chang, Jiang and Dong, Zhihong and Que, Yumei
Journal:
Tissue engineering and regenerative medicine
(2023)
: 671-681
Evaluation of human platelet granules by structured illumination laser fluorescence microscopy.
Authors:
Pluthero, Fred G and Kahr, Walter H A
Journal:
Platelets
(2023)
: 2157808
Profiling specific cell populations within the inflammatory tumor microenvironment by oscillating-gradient diffusion-weighted MRI.
Authors:
Hoffmann, Emily and Gerwing, Mirjam and Niland, Stephan and Niehoff, Rolf and Masthoff, Max and Geyer, Christiane and Wachsmuth, Lydia and Wilken, Enrica and Höltke, Carsten and Heindel, Walter L and Hoerr, Verena and Schinner, Regina and Berger, Philipp and Vogl, Thomas and Eble, Johannes A and Maus, Bastian and Helfen, Anne and Wildgruber, Moritz and Faber, Cornelius
Journal:
Journal for immunotherapy of cancer
(2023)
Intercomparison of Two Fluorescent Dyes to Visualize Parasitic Fungi (Chytridiomycota) on Phytoplankton.
Authors:
Klawonn, Isabell and Dunker, Susanne and Kagami, Maiko and Grossart, Hans-Peter and Van den Wyngaert, Silke
Journal:
Microbial ecology
(2023)
: 9-23
LogP of N-acyl-gemcitabine and lectin-corona emerge as key parameters in nanoparticulate intravesical cancer therapy.
Authors:
Anzengruber, Maria and Wimmer, Lukas and Szuchar, Raffaela and Skoll, Katharina and Wirth, Michael and Gabor, Franz
Journal:
European journal of pharmaceutical sciences : official journal of the European Federation for Pharmaceutical Sciences
(2023)
: 106330
Microscopy Techniques for Interpreting Fungal Colonization in Mycoheterotrophic Plants Tissues and Symbiotic Germination of Seeds.
Authors:
Pena-Passos, Matheus and Sisti, Laís Soêmis and Mayer, Juliana Lischka Sampaio
Journal:
Journal of visualized experiments : JoVE
(2022)
A simple and versatile fluorochrome-based procedure for imaging of lipids in arbuscule-containing cells.
Authors:
Montero, Héctor and Paszkowski, Uta
Journal:
The Plant journal : for cell and molecular biology
(2022)
: 294-301