iFluor® 460 maleimide
Ordering information
| | |
| --- | --- |
| Price | |
| Catalog Number | |
| Unit Size | |
| Quantity | |
Additional ordering information
| | |
| --- | --- |
| Telephone | 1-800-990-8053 |
| Fax | 1-800-609-2943 |
| Email | sales@aatbio.com |
| International | See distributors |
| Bulk request | Inquire |
| Custom size | Inquire |
| Shipping | Standard overnight for United States, inquire for international |
Physical properties
| | |
| --- | --- |
| Molecular weight | 831.88 |
| Solvent | DMSO |
Spectral properties
| | |
| --- | --- |
| Correction Factor (260 nm) | 0.98 |
| Correction Factor (280 nm) | 0.46 |
| Extinction coefficient (cm -1 M -1) | 800001 |
| Excitation (nm) | 468 |
| Emission (nm) | 493 |
| Quantum yield | ~0.81 |
Storage, safety and handling
| | |
| --- | --- |
| H-phrase | H303, H313, H333 |
| Hazard symbol | XN |
| Intended use | Research Use Only (RUO) |
| R-phrase | R20, R21, R22 |
| Storage | Freeze (< -15 °C); Minimize light exposure |
| UNSPSC | 12171501 |
| | | | | | | |
| --- | --- | --- | --- | --- | --- | --- |
| | Correction Factor (260 nm) | Correction Factor (280 nm) | Extinction coefficient (cm -1 M -1) | | | |
AAT Bioquest's iFluor® dyes are optimized for labeling proteins, particularly antibodies. These dyes are bright, photostable, and have minimal quenching on proteins. Although the 460 nm blue diode laser is being installed in numerous new fluorescence instruments, few dyes can be well excited at 460 nm. iFluor® 460 is optimized to be well excited by the blue diode laser at 460 nm, enabling new biological applications for the new fluorescence instruments equipped with the 460 nm blue diode laser. iFluor® 460 maleimide is stable and shows good reactivity and selectivity with the thiol group.
Example protocol
PREPARATION OF STOCK SOLUTIONS
Unless otherwise noted, all unused stock solutions should be divided into single-use aliquots and stored at -20 °C after preparation. Avoid repeated freeze-thaw cycles.
1. iFluor™ 460 maleimide stock solution (Solution B)
Add anhydrous DMSO into the vial of iFluor™ 460 maleimide to make a 10 mM stock solution. Mix well by pipetting or vortex.


Note

     Prepare the dye stock solution (Solution B) before starting the conjugation. Use promptly. Extended storage of the dye stock solution may reduce the dye activity. Solution B can be stored in freezer for upto 4 weeks when kept from light and moisture. Avoid freeze-thaw cycles.
2. Protein stock solution (Solution A)
Mix 100 µL of a reaction buffer (e.g., 100 mM MES buffer with pH ~6.0) with 900 µL of the target protein solution (e.g. antibody, protein concentration >2 mg/mL if possible) to give 1 mL protein labeling stock solution.


Note

     The pH of the protein solution (Solution A) should be 6.5 ± 0.5.


Note

     Impure antibodies or antibodies stabilized with bovine serum albumin (BSA) or other proteins will not be labeled well.


Note

     The conjugation efficiency is significantly reduced if the protein concentration is less than 2 mg/mL. For optimal labeling efficiency the final protein concentration range of 2-10 mg/mL is recommended.
Optional: if your protein does not contain a free cysteine, you must treat your protein with DTT or TCEP to generate a thiol group. DTT or TCEP are used for converting a disulfide bond to two free thiol groups. If DTT is used you must remove free DTT by dialysis or gel filtration before conjugating a dye maleimide to your protein. Following is a sample protocol for generating a free thiol group:
Prepare a fresh solution of 1 M DTT (15.4 mg/100 µL) in distilled water.

Make IgG solution in 20 mM DTT: add 20 µL of DTT stock per ml of IgG solution while mixing. Let stand at room temp for 30 minutes without additional mixing (to minimize reoxidation of cysteines to cystines).

Pass the reduced IgG over a filtration column pre-equilibrated with "Exchange Buffer". Collect 0.25 mL fractions off the column.

Determine the protein concentrations and pool the fractions with the majority of the IgG. This can be done either spectrophotometrically or colorimetrically.

Carry out the conjugation as soon as possible after this step (see Sample Experiment Protocol).


Note

     IgG solutions should be >4 mg/mL for the best results. The antibody should be concentrated if less than 2 mg/mL. Include an extra 10% for losses on the buffer exchange column.


Note

     The reduction can be carried out in almost any buffers from pH 7-7.5, e.g., MES, phosphate or TRIS buffers.


Note

     Steps 3 and 4 can be replaced by dialysis. 
SAMPLE EXPERIMENTAL PROTOCOL
This labeling protocol was developed for the conjugate of Goat anti-mouse IgG with iFluor™ 460 maleimide. You might need further optimization for your particular proteins.


Note

     Each protein requires distinct dye/protein ratio, which also depends on the properties of dyes. Over labeling of a protein could detrimentally affects its binding affinity while the protein conjugates of low dye/protein ratio gives reduced sensitivity.
Run conjugation reaction
Use 10:1 molar ratio of Solution B (dye)/Solution A (protein) as the starting point:  Add 5 µL of the dye stock solution (Solution B, assuming the dye stock solution is 10 mM) into the vial of the protein solution (95 µL of Solution A) with effective shaking. The concentration of the protein is ~0.05 mM assuming the protein concentration is 10 mg/mL and the molecular weight of the protein is ~200KD.


Note

     We recommend to use 10:1 molar ratio of Solution B (dye)/Solution A (protein). If it is too less or too high, determine the optimal dye/protein ratio at 5:1, 15:1 and 20:1 respectively.

Continue to rotate or shake the reaction mixture at room temperature for 30-60 minutes. 
Purify the conjugation
The following protocol is an example of dye-protein conjugate purification by using a Sephadex G-25 column.
Prepare Sephadex G-25 column according to the manufacture instruction.

Load the reaction mixture (From "Run conjugation reaction") to the top of the Sephadex G-25 column.

Add PBS (pH 7.2-7.4) as soon as the sample runs just below the top resin surface.

Add more PBS (pH 7.2-7.4) to the desired sample to complete the column purification. Combine the fractions that contain the desired dye-protein conjugate.


Note

     For immediate use, the dye-protein conjugate need be diluted with staining buffer, and aliquoted for multiple uses.


Note

     For longer term storage, dye-protein conjugate solution need be concentrated or freeze dried. 
Calculators
Common stock solution preparation
Table 1.
Volume of DMSO needed to reconstitute specific mass of iFluor® 460 maleimide to given concentration. Note that volume is
only
for preparing stock solution. Refer to sample experimental protocol for appropriate experimental/physiological buffers.
| | | | | | |
| --- | --- | --- | --- | --- | --- |
| | 0.1 mg | 0.5 mg | 1 mg | 5 mg | 10 mg |
| 1 mM | 120.21 µL | 601.048 µL | 1.202 mL | 6.01 mL | 12.021 mL |
| 5 mM | 24.042 µL | 120.21 µL | 240.419 µL | 1.202 mL | 2.404 mL |
| 10 mM | 12.021 µL | 60.105 µL | 120.21 µL | 601.048 µL | 1.202 mL |
Molarity calculator
Enter any two values (mass, volume, concentration) to calculate the third.
Mass (

Calculate

)
Molecular weight
Volume (

Calculate

)
Concentration (

Calculate

)
Moles
/
=
x
=
Spectrum
Open in Advanced Spectrum Viewer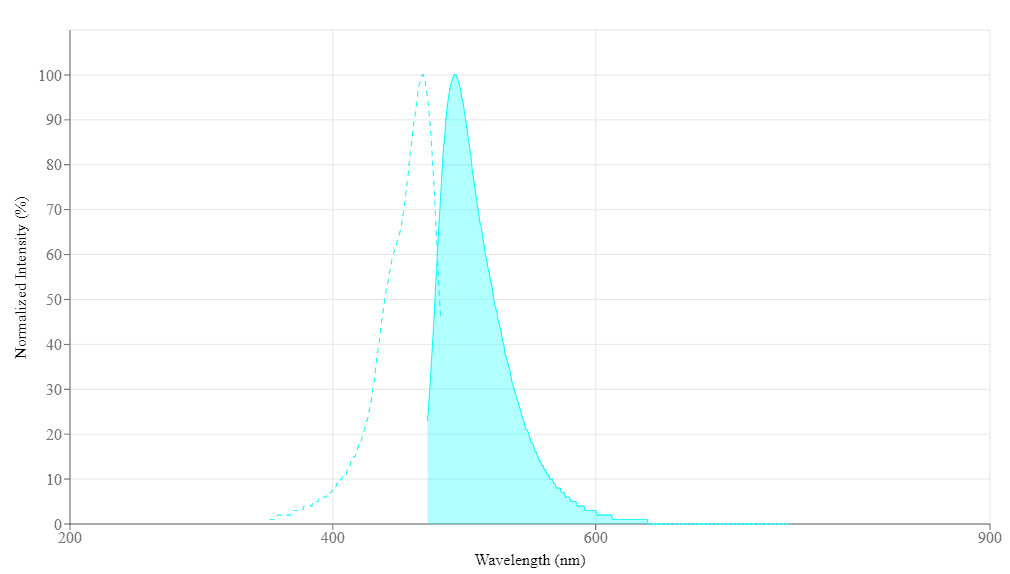 Spectral properties
| | |
| --- | --- |
| Correction Factor (260 nm) | 0.98 |
| Correction Factor (280 nm) | 0.46 |
| Extinction coefficient (cm -1 M -1) | 800001 |
| Excitation (nm) | 468 |
| Emission (nm) | 493 |
| Quantum yield | ~0.81 |
References
Toward the Clinical Development and Validation of a Thy1-Targeted Ultrasound Contrast Agent for the Early Detection of Pancreatic Ductal Adenocarcinoma.
Authors:
Bam, Rakesh and Daryaei, Iman and Abou-Elkacem, Lotfi and Vilches-Moure, Jose G and Meuillet, Emmanuelle J and Lutz, Amelie and Marinelli, Edmund R and Unger, Evan C and Gambhir, Sanjiv S and Paulmurugan, Ramasamy
Journal:
Investigative radiology
(2020)
Tracking the physical stability of fluorescent-labeled mAbs under physiologic in vitro conditions in human serum and PBS.
Authors:
Schuster, Joachim and Mahler, Hanns-Christian and Koulov, Atanas and Joerg, Susanne and Racher, Andy and Huwyler, Joerg and Detampel, Pascal and Mathaes, Roman
Journal:
European journal of pharmaceutics and biopharmaceutics : official journal of Arbeitsgemeinschaft fur Pharmazeutische Verfahrenst
(2020)
: 193-201
Tylophorine reduces protein biosynthesis and rapidly decreases cyclin D1, inhibiting vascular smooth muscle cell proliferation in vitro and in organ culture.
Authors:
Joa, Helge and Blažević, Tina and Grojer, Christoph and Zeller, Iris and Heiss, Elke H and Atanasov, Atanas G and Feldler, Ines and Gruzdaitis, Päivi and Czaloun, Christa and Proksch, Peter and Messner, Barbara and Bernhard, David and Dirsch, Verena M
Journal:
Phytomedicine : international journal of phytotherapy and phytopharmacology
(2019)
: 152938
Development of sesbania mosaic virus nanoparticles for imaging.
Authors:
Vishnu Vardhan, G P and Hema, M and Sushmitha, C and Savithri, H S and Natraj, Usha and Murthy, M R N
Journal:
Archives of virology
(2019)
: 497-507
Altered activation of integrin ɑIIbβ3 on platelets irradiated with ultraviolet C from pathogen-reducing xenon flash.
Authors:
Abe, Hideki and Shiba, Masayuki and Satake, Masahiro
Journal:
Transfusion and apheresis science : official journal of the World Apheresis Association : official journal of the European Socie
(2019)
: 337-340
Environmentally compatible bioconjugated gold nanoparticles as efficient contrast agents for inflammation-induced cancer imaging.
Authors:
Garcia, Vinícius Barreto and de Carvalho, Thaís Gomes and da Silva Gasparotto, Luiz Henrique and da Silva, Heloiza Fernanda Oliveira and de Araújo, Aurigena Antunes and Guerra, Gerlane Coelho Bernardo and Schomann, Timo and Cruz, Luis J and Chan, Alan B and de Araújo Júnior, Raimundo Fernandes
Journal:
Nanoscale research letters
(2019)
: 166
PET imaging of EGFR expression using an 18F-labeled RNA aptamer.
Authors:
Cheng, Siyuan and Jacobson, Orit and Zhu, Guizhi and Chen, Zhen and Liang, Steve H and Tian, Rui and Yang, Zhen and Niu, Gang and Zhu, Xiaohua and Chen, Xiaoyuan
Journal:
European journal of nuclear medicine and molecular imaging
(2019)
: 948-956
Effect of human tubal fluid medium and hyperactivation inducers on stallion sperm capacitation and hyperactivation.
Authors:
Arroyo-Salvo, Camila and Sanhueza, Francisco and Fuentes, Fernanda and Treulén, Favián and Arias, María Elena and Cabrera, Paulina and Silva, Mauricio and Felmer, Ricardo
Journal:
Reproduction in domestic animals = Zuchthygiene
(2019)
: 184-194
OMIP-061: 20-Color Flow Cytometry Panel for High-Dimensional Characterization of Murine Antigen-Presenting Cells.
Authors:
DiPiazza, Anthony T and Hill, Juliane P and Graham, Barney S and Ruckwardt, Tracy J
Journal:
Cytometry. Part A : the journal of the International Society for Analytical Cytology
(2019)
: 1226-1230
Detection of Histone H2AX Phosphorylation on Ser-139 as an Indicator of DNA Damage.
Authors:
Zhao, Hong and Huang, Xuan and Halicka, H Dorota and Darzynkiewicz, Zbigniew
Journal:
Current protocols in cytometry
(2019)
: e55