iFluor® 510 succinimidyl ester
Ordering information
| | |
| --- | --- |
| Price | |
| Catalog Number | |
| Unit Size | |
| Quantity | |
Additional ordering information
| | |
| --- | --- |
| Telephone | 1-800-990-8053 |
| Fax | 1-800-609-2943 |
| Email | sales@aatbio.com |
| International | See distributors |
| Bulk request | Inquire |
| Custom size | Inquire |
| Shipping | Standard overnight for United States, inquire for international |
Physical properties
| | |
| --- | --- |
| Molecular weight | 951.91 |
| Solvent | DMSO |
Spectral properties
| | |
| --- | --- |
| Excitation (nm) | 511 |
| Emission (nm) | 530 |
Storage, safety and handling
| | |
| --- | --- |
| H-phrase | H303, H313, H333 |
| Hazard symbol | XN |
| Intended use | Research Use Only (RUO) |
| R-phrase | R20, R21, R22 |
| Storage | Freeze (< -15 °C); Minimize light exposure |
iFluor® 510 succinimidyl ester is the most convenient form of activated iFluor® 510 derivatives that can be used for labeling proteins such as antibodies. It is a new fluorescent dye belonging to the iFluor® family of dyes. These dyes are known for their bright fluorescence, photostability, and compatibility with various imaging techniques and instruments. iFluor® 510 emits green fluorescence when excited with light in the blue to green range (around 488 to 514 nm). Its emission peak is typically around 520 to 530 nm. The number "510" in its name represents the approximate maximum excitation wavelength. Like other iFluor® dyes, iFluor® 510 is commonly used to develop a variety of conjugates in biological research and imaging applications. It can be conjugated to various biomolecules, such as antibodies, proteins, nucleic acids, and small molecules, for fluorescence microscopy, flow cytometry, immunohistochemistry, and other fluorescence-based assays. The iFluor® dyes are designed to offer enhanced performance compared to traditional dyes, with features like high quantum yields, excellent brightness, minimal background noise, and resistance to photobleaching. iFluor® 510, specifically, is suitable for applications where green fluorescence is desired.
Example protocol
PREPARATION OF STOCK SOLUTIONS
Unless otherwise noted, all unused stock solutions should be divided into single-use aliquots and stored at -20 °C after preparation. Avoid repeated freeze-thaw cycles
Protein stock solution (Solution A)
Mix 100 µL of a reaction buffer (e.g., 1 M  sodium carbonate solution or 1 M phosphate buffer with pH ~9.0) with 900 µL of the target protein solution (e.g., antibody, protein concentration >2 mg/mL if possible) to give 1 mL protein labeling stock solution.
Note: The pH of the protein solution (Solution A) should be 8.5 ± 0.5. If the pH of the protein solution is lower than 8.0, adjust the pH to the range of 8.0-9.0 using 1 M  sodium bicarbonate solution or 1 M pH 9.0 phosphate buffer.
Note: The protein should be dissolved in 1X phosphate-buffered saline (PBS), pH 7.2-7.4. If the protein is dissolved in Tris or glycine buffer, it must be dialyzed against 1X PBS, pH 7.2-7.4, to remove free amines or ammonium salts (such as ammonium sulfate and ammonium acetate) that are widely used for protein precipitation.
Note: Impure antibodies or antibodies stabilized with bovine serum albumin (BSA) or gelatin will not be labeled well. The presence of sodium azide or thimerosal might also interfere with the conjugation reaction. Sodium azide or thimerosal can be removed by dialysis or spin column for optimal labeling results.
Note: The conjugation efficiency is significantly reduced if the protein concentration is less than 2 mg/mL. For optimal labeling efficiency, the final protein concentration range of 2-10 mg/mL is recommended.
iFluor® 510 SE stock solution (Solution B)
Add anhydrous DMSO into the vial of iFluor® 510 SE to make a 10 mM stock solution. Mix well by pipetting or vortex.
Note: Prepare the dye stock solution (Solution B) before starting the conjugation. Use promptly. Extended storage of the dye stock solution may reduce the dye activity. Solution B can be stored in the freezer for two weeks when kept from light and moisture. Avoid freeze-thaw cycles.
SAMPLE EXPERIMENTAL PROTOCOL
This labeling protocol was developed for the conjugate of Goat anti-mouse IgG with iFluor® 510 SE. You might need further optimization for your particular proteins.
Note: Each protein requires a distinct dye/protein ratio, which also depends on the properties of dyes. Over-labeling of a protein could detrimentally affect its binding affinity, while the protein conjugates of low dye/protein ratio give reduced sensitivity.
Run conjugation reaction
Use a 10:1 molar ratio of Solution B (dye)/Solution A (protein) as the starting point. Add 5 µL of the dye stock solution (Solution B, assuming the dye stock solution is 10 mM) into the vial of the protein solution (95 µL of Solution A) with effective shaking. The concentration of the protein is ~0.05 mM assuming the protein concentration is 10 mg/mL, and the molecular weight of the protein is ~200KD.

Note: We recommend using a 10:1 molar ratio of Solution B (dye)/Solution A (protein). If it is too less or too high, determine the optimal dye/protein ratio at 5:1, 15:1, and 20:1, respectively.

Continue to rotate or shake the reaction mixture at room temperature for 30-60 minutes.
Purify the conjugation
The following protocol is an example of dye-protein conjugate purification by using a Sephadex G-25 column.
Prepare Sephadex G-25 column according to the manufacture instruction.
Load the reaction mixture (From "Run conjugation reaction") to the top of the Sephadex G-25 column.
Add PBS (pH 7.2-7.4) as soon as the sample runs just below the top resin surface.

Add more PBS (pH 7.2-7.4) to the desired sample to complete the column purification. Combine the fractions that contain the desired dye-protein conjugate.

Note: For immediate use, the dye-protein conjugate needs to be diluted with staining buffer and aliquoted for multiple uses.

Note: For longer-term storage, the dye-protein conjugate solution needs to be concentrated or freeze-dried.
Calculators
Common stock solution preparation
Table 1.
Volume of DMSO needed to reconstitute specific mass of iFluor® 510 succinimidyl ester to given concentration. Note that volume is
only
for preparing stock solution. Refer to sample experimental protocol for appropriate experimental/physiological buffers.
| | | | | | |
| --- | --- | --- | --- | --- | --- |
| | 0.1 mg | 0.5 mg | 1 mg | 5 mg | 10 mg |
| 1 mM | 105.052 µL | 525.26 µL | 1.051 mL | 5.253 mL | 10.505 mL |
| 5 mM | 21.01 µL | 105.052 µL | 210.104 µL | 1.051 mL | 2.101 mL |
| 10 mM | 10.505 µL | 52.526 µL | 105.052 µL | 525.26 µL | 1.051 mL |
Molarity calculator
Enter any two values (mass, volume, concentration) to calculate the third.
Mass (

Calculate

)
Molecular weight
Volume (

Calculate

)
Concentration (

Calculate

)
Moles
/
=
x
=
Spectrum
Open in Advanced Spectrum Viewer
Spectral properties
| | |
| --- | --- |
| Excitation (nm) | 511 |
| Emission (nm) | 530 |
Images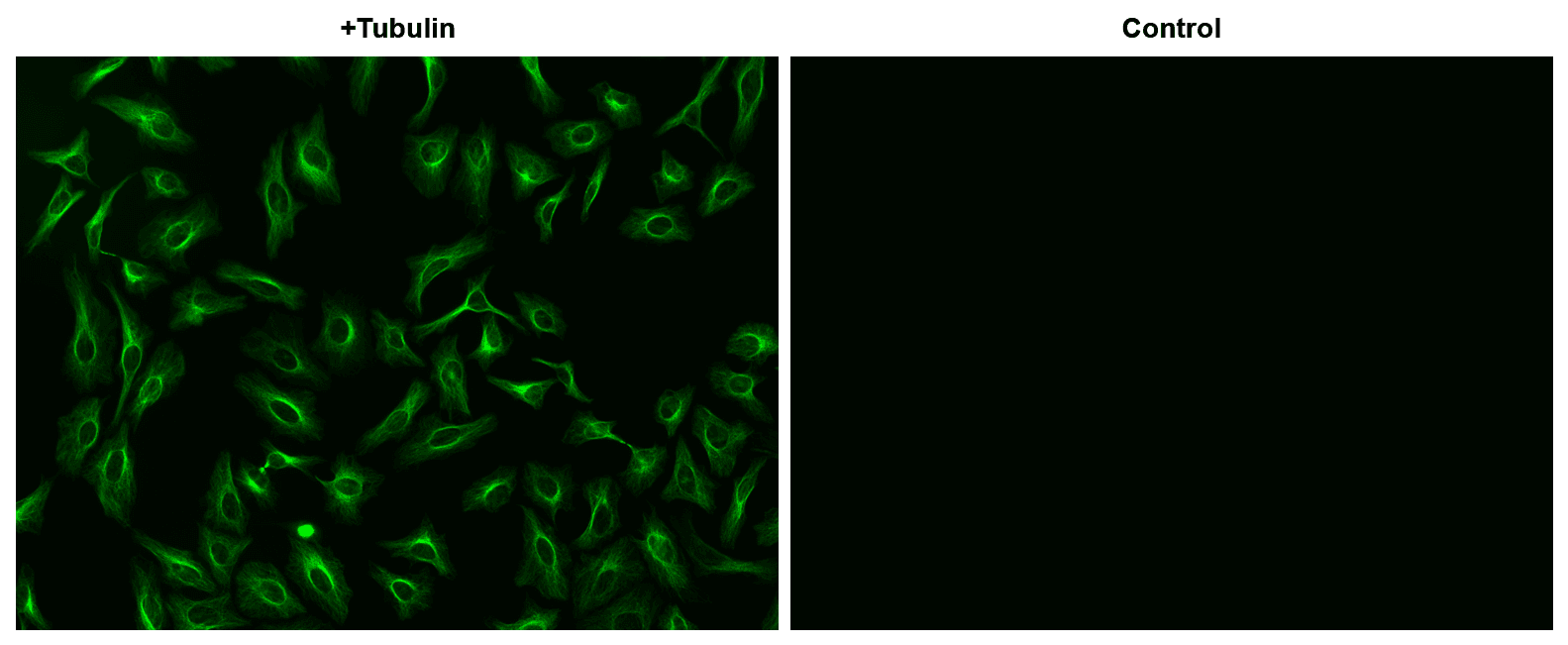 Figure 1.
HeLa cells were incubated with (+Tubulin) or without (control) mouse anti-tubulin followed by iFluor® 510 goat anti-mouse IgG conjugate. Cells were imaged using a fluorescence microscope equipped with a FITC filter set.
References
A dual-mode optical fiber sensor for SERS and fluorescence detection in liquid.
Authors:
Li, Minglu and Yan, Mingming and Xu, Ben and Zhao, Chunliu and Wang, Dongning and Wang, Yi and Chen, Huifang
Journal:
Spectrochimica acta. Part A, Molecular and biomolecular spectroscopy
(2023)
: 122267
Toward Plasmonic Neural Probes: SERS Detection of Neurotransmitters through Gold-Nanoislands-Decorated Tapered Optical Fibers with Sub-10 nm Gaps.
Authors:
Zheng, Di and Pisano, Filippo and Collard, Liam and Balena, Antonio and Pisanello, Marco and Spagnolo, Barbara and Mach-Batlle, Rosa and Tantussi, Francesco and Carbone, Luigi and De Angelis, Francesco and Valiente, Manuel and de la Prida, Liset M and Ciracì, Cristian and De Vittorio, Massimo and Pisanello, Ferruccio
Journal:
Advanced materials (Deerfield Beach, Fla.)
(2023)
: e2200902
Label-free DNA detection using silver nanoprism decorated silicon nanoparticles: Effect of silicon nanoparticle size and doping levels.
Authors:
Daoudi, Kais and Columbus, Soumya and Falcão, Bruno P and Pereira, Rui N and Peripolli, Suzana B and Ramachandran, Krithikadevi and Hadj Kacem, Hassen and Allagui, Anis and Gaidi, Mounir
Journal:
Spectrochimica acta. Part A, Molecular and biomolecular spectroscopy
(2023)
: 122262
Manifold Learning Enables Interpretable Analysis of Raman Spectra from Extracellular Vesicle and Other Mixtures.
Authors:
Kazemzadeh, Mohammadrahim and Martinez-Calderon, Miguel and Otupiri, Robert and Artuyants, Anastasiia and Lowe, Moi M and Ning, Xia and Reategui, Eduardo and Schultz, Zachary D and Xu, Weiliang and Blenkiron, Cherie and Chamley, Lawrence W and Broderick, Neil G R and Hisey, Colin L
Journal:
bioRxiv : the preprint server for biology
(2023)
Toward SERS based localized thermometry of Polymer-Supported silver and gold nanostructures.
Authors:
Prezgot, Daniel and Cruikshank, Jack and Makila-Boivin, Merrick and Birgani, Saro and Ianoul, Anatoli
Journal:
Spectrochimica acta. Part A, Molecular and biomolecular spectroscopy
(2022)
: 121514
Microfiber-directed reversible assembly of Au nanoparticles for SERS detection of pollutants.
Authors:
Xu, Yu and Zhong, Huiqing and Shi, Meng and Zheng, Zhidong and Liu, Shaojing and Shou, Qian and Li, Heng and Yang, Guanjie and Li, Zongbao and Xing, Xiaobo
Journal:
Optics letters
(2022)
: 2028-2031
Label-Free Protein Analysis by Pyro-Electrohydrodynamic Jet Printing of Gold Nanoparticles.
Authors:
Vespini, Veronica and Grilli, Simonetta and Ferraro, Pietro and Rega, Romina and Ottevaere, Heidi and Nie, Yunfeng and Musto, Pellegrino and Pannico, Marianna
Journal:
Frontiers in bioengineering and biotechnology
(2022)
: 817736
Rapid determination of ethanol content based on an optical fiber-device and R6G-indicator.
Authors:
Yan, Mingming and Li, Minglu and Wang, Dongning and Chen, Huifang
Journal:
Analytical methods : advancing methods and applications
(2022)
: 4122-4126
Highly Sensitive, Robust, and Recyclable TiO2/AgNP Substrate for SERS Detection.
Authors:
Wu, Hsing-Yu and Lin, Hung-Chun and Liu, Yung-Hsien and Chen, Kai-Lin and Wang, Yu-Hsun and Sun, Yung-Shin and Hsu, Jin-Cherng
Journal:
Molecules (Basel, Switzerland)
(2022)
Cicada Wing Inspired Template-Stripped SERS Active 3D Metallic Nanostructures for the Detection of Toxic Substances.
Authors:
Nair, Srijit and Gomez-Cruz, Juan and Ascanio, Gabriel and Docoslis, Aristides and Sabat, Ribal Georges and Escobedo, Carlos
Journal:
Sensors (Basel, Switzerland)
(2021)