iFluor® 625 succinimidyl ester
Ordering information
| | |
| --- | --- |
| Price | |
| Catalog Number | |
| Unit Size | |
| Quantity | |
Additional ordering information
| | |
| --- | --- |
| Telephone | 1-800-990-8053 |
| Fax | 1-800-609-2943 |
| Email | sales@aatbio.com |
| International | See distributors |
| Bulk request | Inquire |
| Custom size | Inquire |
| Shipping | Standard overnight for United States, inquire for international |
Physical properties
| | |
| --- | --- |
| Molecular weight | 1141.99 |
| Solvent | DMSO |
Spectral properties
| | |
| --- | --- |
| Excitation (nm) | 624 |
| Emission (nm) | 640 |
Storage, safety and handling
| | |
| --- | --- |
| H-phrase | H303, H313, H333 |
| Hazard symbol | XN |
| Intended use | Research Use Only (RUO) |
| R-phrase | R20, R21, R22 |
| Storage | Freeze (< -15 °C); Minimize light exposure |
iFluor® 625 succinimidyl ester is the most convenient reactive form of iFluor® 625 dyes that can be readily used for labeling proteins such as antibodies. It is particularly useful for preparing PE tandems, a new unique color for multiplex flow cytometric applications. iFluor®625 is a fluorophore from the iFluor® family, which is known for its bright red fluorescence and compatibility with various fluorescence techniques and instruments. When excited with light in the red range (around 600 to 650 nm), iFluor® 625 emits strong red fluorescence. It can also be well excited with red lasers at 633 and 647 nm. iFluor® 625 can be conjugated to a variety of biomolecules, including antibodies, proteins, nucleic acids, and small molecules, enabling their visualization and tracking in cells and tissues. It is commonly used in fluorescence microscopy, immunohistochemistry, flow cytometry, and other fluorescence-based assays. The iFluor® dyes, including iFluor® 625, are designed to exhibit high brightness, photostability, and minimal background noise, making them ideal for demanding imaging applications. They are also compatible with multiplexing experiments, allowing for simultaneous visualization of multiple targets using different iFluor® dyes with distinct emission wavelengths.
Example protocol
PREPARATION OF STOCK SOLUTIONS
Unless otherwise noted, all unused stock solutions should be divided into single-use aliquots and stored at -20 °C after preparation. Avoid repeated freeze-thaw cycles
Protein stock solution (Solution A)
Mix 100 µL of a reaction buffer (e.g., 1 M  sodium bicarbonate solution or 1 M phosphate buffer with pH ~8.5 to 9.0) with 900 µL of the target protein solution (e.g., antibody, protein concentration >2 mg/mL if possible) to give 1 mL protein labeling stock solution.

Note: The pH of the protein solution (Solution A) should be 8.5 ± 0.5. If the pH of the protein solution is lower than 8.0, adjust the pH to the range of 8.0-9.0 using 1 M  sodium bicarbonate solution or 1 M pH 9.0 phosphate buffer.

Note: The protein should be dissolved in 1X phosphate buffered saline (PBS), pH 7.2-7.4. If the protein is dissolved in Tris or glycine buffer, it must be dialyzed against 1X PBS, pH 7.2-7.4, to remove free amines or ammonium salts (such as ammonium sulfate and ammonium acetate) that are widely used for protein precipitation.

Note: Impure antibodies or antibodies stabilized with bovine serum albumin (BSA) or gelatin will not be labeled well. The presence of sodium azide or thimerosal might also interfere with the conjugation reaction. Sodium azide or thimerosal can be removed by dialysis or spin column for optimal labeling results.

Note: The conjugation efficiency is significantly reduced if the protein concentration is less than 2 mg/mL. The final protein concentration range of 2-10 mg/mL is recommended for optimal labeling efficiency.
iFluor® 625 SE stock solution (Solution B)
Add anhydrous DMSO into the vial of iFluor® 625 SE to make a 10 mM stock solution. Mix well by pipetting or vortex.

Note: Prepare the dye stock solution (Solution B) before starting the conjugation. Use promptly. Extended storage of the dye stock solution may reduce the dye activity. Solution B can be stored in the freezer for two weeks when kept from light and moisture. Avoid freeze-thaw cycles.
SAMPLE EXPERIMENTAL PROTOCOL
This labeling protocol was developed for the conjugate of Goat anti-mouse IgG with iFluor® 625 SE. You might need further optimization for your particular proteins.
Note: Each protein requires a distinct dye/protein ratio, which also depends on the properties of dyes. Over-labeling of a protein could detrimentally affect its binding affinity, while the protein conjugates of low dye/protein ratio give reduced sensitivity.
Run conjugation reaction
Use a 10:1 molar ratio of Solution B (dye)/Solution A (protein) as the starting point:  Add 5 µL of the dye stock solution (Solution B, assuming the dye stock solution is 10 mM) into the vial of the protein solution (95 µL of Solution A) with effective shaking. The concentration of the protein is ~0.05 mM assuming the protein concentration is 10 mg/mL, and the molecular weight of the protein is ~200KD.

Note: We recommend using a 10:1 molar ratio of Solution B (dye)/Solution A (protein). If it is too less or too high, determine the optimal dye/protein ratio at 5:1, 15:1, and 20:1, respectively.

Continue to rotate or shake the reaction mixture at room temperature for 30-60 minutes.
Purify the conjugation
The following protocol is an example of dye-protein conjugate purification by using a Sephadex G-25 column.
Prepare Sephadex G-25 column according to the manufacture instruction.
Load the reaction mixture (From "Run conjugation reaction") to the top of the Sephadex G-25 column.
Add PBS (pH 7.2-7.4) as soon as the sample runs just below the top resin surface.

Add more PBS (pH 7.2-7.4) to the desired sample to complete the column purification. Combine the fractions that contain the desired dye-protein conjugate.

Note: For immediate use, the dye-protein conjugate must be diluted with staining buffer, and aliquoted for multiple uses.

Note: For longer-term storage, the dye-protein conjugate solution needs to be concentrated or freeze-dried.
Calculators
Common stock solution preparation
Table 1.
Volume of DMSO needed to reconstitute specific mass of iFluor® 625 succinimidyl ester to given concentration. Note that volume is
only
for preparing stock solution. Refer to sample experimental protocol for appropriate experimental/physiological buffers.
| | | | | | |
| --- | --- | --- | --- | --- | --- |
| | 0.1 mg | 0.5 mg | 1 mg | 5 mg | 10 mg |
| 1 mM | 87.566 µL | 437.832 µL | 875.664 µL | 4.378 mL | 8.757 mL |
| 5 mM | 17.513 µL | 87.566 µL | 175.133 µL | 875.664 µL | 1.751 mL |
| 10 mM | 8.757 µL | 43.783 µL | 87.566 µL | 437.832 µL | 875.664 µL |
Molarity calculator
Enter any two values (mass, volume, concentration) to calculate the third.
Mass (

Calculate

)
Molecular weight
Volume (

Calculate

)
Concentration (

Calculate

)
Moles
/
=
x
=
Spectrum
Open in Advanced Spectrum Viewer
Spectral properties
| | |
| --- | --- |
| Excitation (nm) | 624 |
| Emission (nm) | 640 |
Images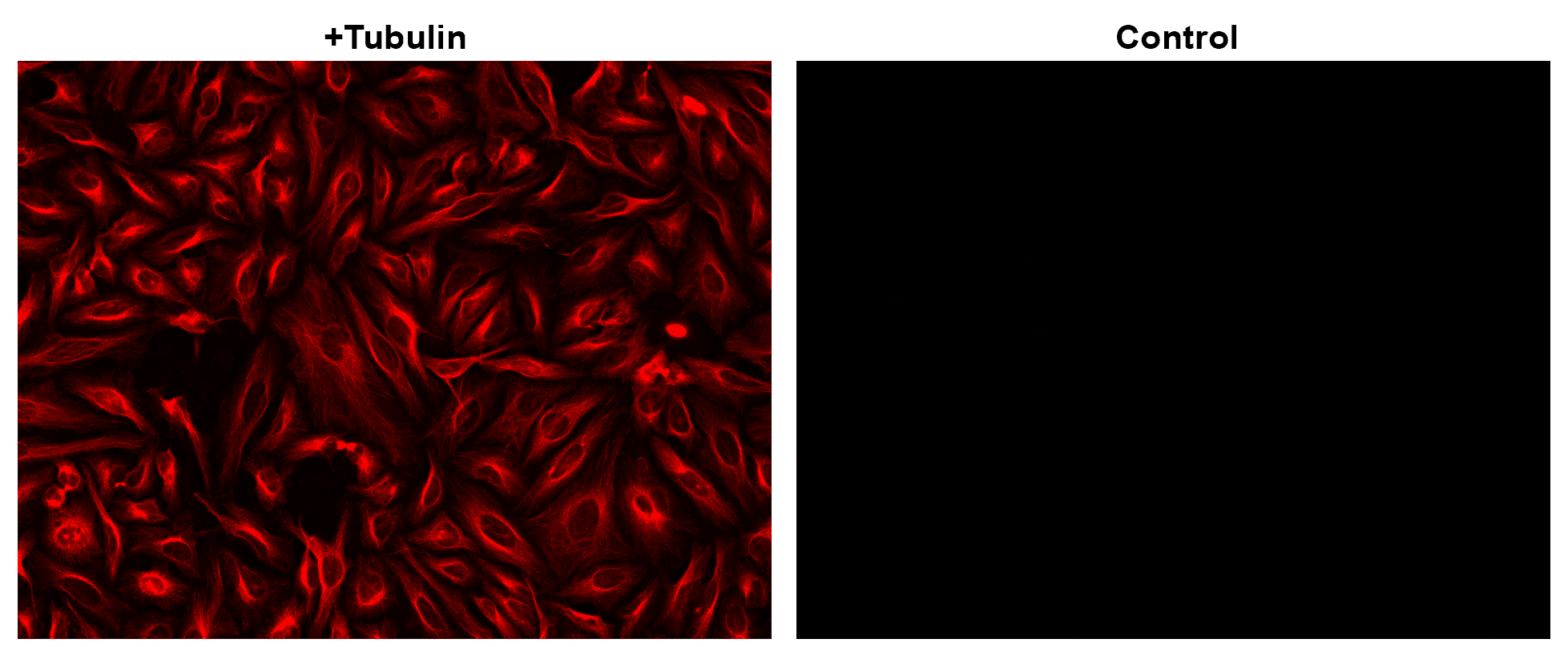 Figure 1.
HeLa cells were incubated with (+Tubulin) or without (control) mouse anti-tubulin followed by iFluor® 625 goat anti-mouse IgG conjugate.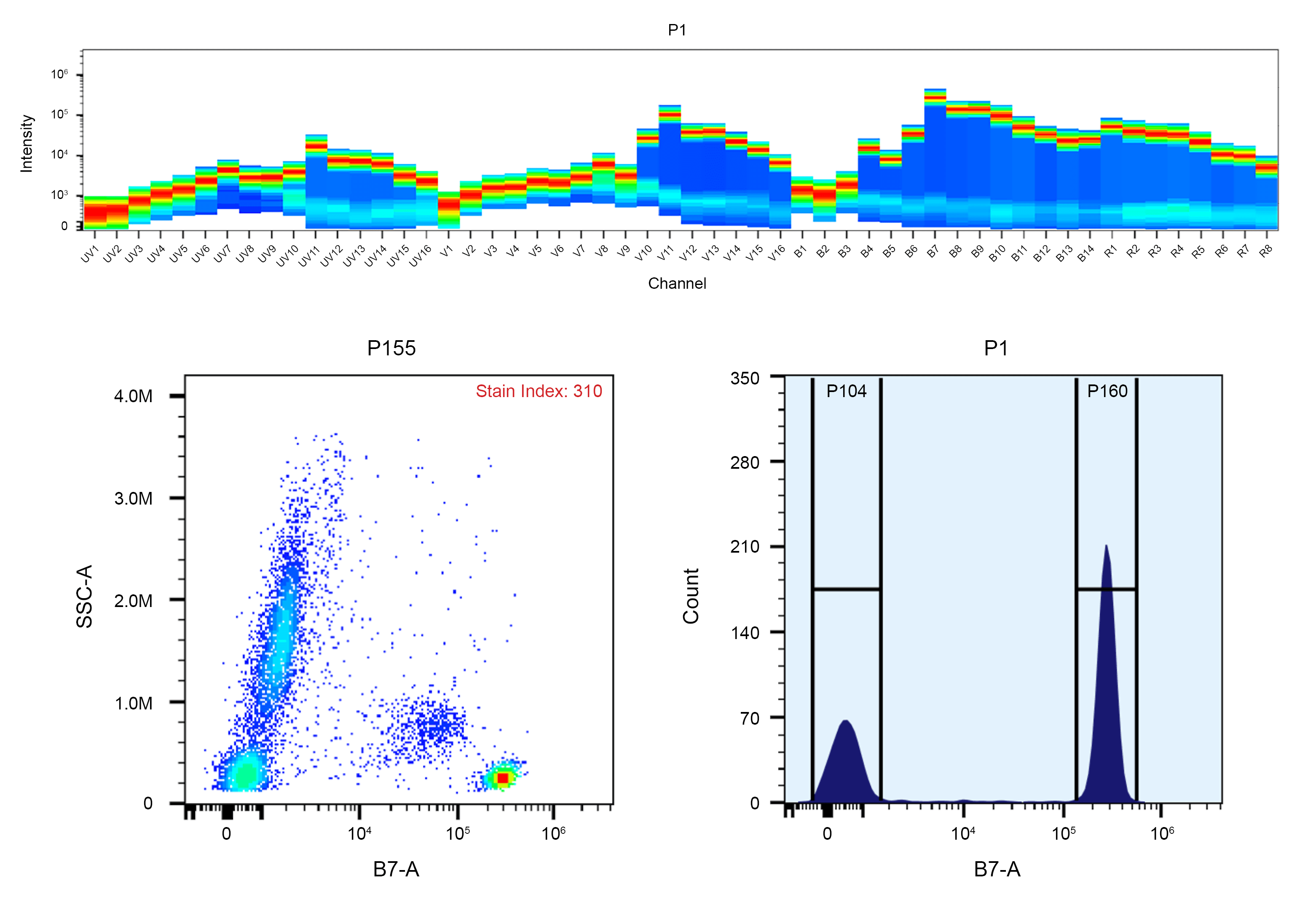 Figure 2.
Top) Spectral pattern was generated using a 4-laser spectral cytometer. Spatially offset lasers (355 nm, 405 nm, 488 nm, and 640 nm) were used to create four distinct emission profiles, then, when combined, yielded the overall spectral signature. Bottom) Flow cytometry analysis of whole blood stained with PE/iFlour® 625 anti-human CD4 *SK3* conjugate. The fluorescence signal was monitored using an Aurora spectral flow cytometer in the B7-A channel.
References
Ex-Vivo Adhesion of Enterococcus faecalis and Enterococcus faecium to the Intestinal Mucosa of Healthy Beagles.
Authors:
Hanifeh, Mohsen and Spillmann, Thomas and Huhtinen, Mirja and Sclivagnotis, Yannes S and Grönthal, Thomas and Hynönen, Ulla
Journal:
Animals : an open access journal from MDPI
(2021)
Analysis of lung stromal expression of the atypical chemokine receptor ACKR2 reveals unanticipated expression in murine blood endothelial cells.
Authors:
Hansell, Christopher A H and Love, Samantha and Pingen, Marieke and Wilson, Gillian J and MacLeod, Megan and Graham, Gerard J
Journal:
European journal of immunology
(2020)
: 666-675
Inhibition of HMGB1/RAGE-mediated endocytosis by HMGB1 antagonist box A, anti-HMGB1 antibodies, and cholinergic agonists suppresses inflammation.
Authors:
Yang, Huan and Liu, Hui and Zeng, Qiong and Imperato, Gavin H and Addorisio, Meghan E and Li, Jianhua and He, Mingzhu and Cheng, Kai Fan and Al-Abed, Yousef and Harris, Helena E and Chavan, Sangeeta S and Andersson, Ulf and Tracey, Kevin J
Journal:
Molecular medicine (Cambridge, Mass.)
(2019)
: 13
Epidermal growth factor receptor-targeted molecular imaging of colorectal tumors: Detection and treatment evaluation of tumors in animal models.
Authors:
Miyamoto, Yoshihiko and Muguruma, Naoki and Fujimoto, Shota and Okada, Yasuyuki and Kida, Yoshifumi and Nakamura, Fumika and Tanaka, Kumiko and Nakagawa, Tadahiko and Kitamura, Shinji and Okamoto, Koichi and Miyamoto, Hiroshi and Sato, Yasushi and Takayama, Tetsuji
Journal:
Cancer science
(2019)
: 1921-1930
Dynamics of Dengue Virus (DENV)-Specific B Cells in the Response to DENV Serotype 1 Infections, Using Flow Cytometry With Labeled Virions.
Authors:
Woda, Marcia and Friberg, Heather and Currier, Jeffrey R and Srikiatkhachorn, Anon and Macareo, Louis R and Green, Sharone and Jarman, Richard G and Rothman, Alan L and Mathew, Anuja
Journal:
The Journal of infectious diseases
(2016)
: 1001-9
Alexa fluor-labeled fluorescent cellulose nanocrystals for bioimaging solid cellulose in spatially structured microenvironments.
Authors:
Grate, Jay W and Mo, Kai-For and Shin, Yongsoon and Vasdekis, Andreas and Warner, Marvin G and Kelly, Ryan T and Orr, Galya and Hu, Dehong and Dehoff, Karl J and Brockman, Fred J and Wilkins, Michael J
Journal:
Bioconjugate chemistry
(2015)
: 593-601
Effects of employment of distinct strategies to capture antibody on antibody delivery into cultured cells.
Authors:
Kuwahara, Kana and Harada, Kazuki and Yamagoshi, Ryohei and Yamamoto, Takenori and Shinohara, Yasuo
Journal:
Molecular and cellular biochemistry
(2015)
: 25-30
Quantitative assessment of antibody internalization with novel monoclonal antibodies against Alexa fluorophores.
Authors:
Liao-Chan, Sindy and Daine-Matsuoka, Barbara and Heald, Nathan and Wong, Tiffany and Lin, Tracey and Cai, Allen G and Lai, Michelle and D'Alessio, Joseph A and Theunissen, Jan-Willem
Journal:
PloS one
(2015)
: e0124708
Unsaturated long-chain fatty acids inhibit the binding of oxidized low-density lipoproteins to a model CD36.
Authors:
Takai, Marie and Kozai, Yuki and Tsuzuki, Satoshi and Matsuno, Yukari and Fujioka, Maiko and Kamei, Kozue and Inagaki, Hitomi and Eguchi, Ai and Matsumura, Shigenobu and Inoue, Kazuo and Fushiki, Tohru
Journal:
Bioscience, biotechnology, and biochemistry
(2014)
: 238-44
Further validation of unsaturated long-chain fatty acids as inhibitors for oxidized low-density lipoprotein binding to CD36 via assays with synthetic CD36 peptide-cross-linked plates.
Authors:
Kozai, Yuki and Tsuzuki, Satoshi and Takai, Marie and Eguchi, Ai and Matsumura, Shigenobu and Inoue, Kazuo and Fushiki, Tohru
Journal:
Bioscience, biotechnology, and biochemistry
(2014)
: 839-42